Case Study
Leading provider of drying systems develops turnkey systems with Solid Edge
Advanced 3D design helps Lisky improve custom design capability
Lisky
With drum drying as its core technology, Lisky has developed a comprehensive system that encompasses unit machining, product manufacturing, computer controls, system network communications, precision temperature control, server technology, and drum-drying applications.
http://www.drum-dryer.net
Headquarters:

Huwei, Taiwan

Products:

Solid Edge

Industry Sector:

Industrial machinery
Dryer development specialist
Among food processing procedures, the drying of raw materials is a critical process that makes them highly concentrated, or reduced to a fine power or small granules that enable split packaging. Lisky TW Enterprise Company Ltd. (Lisky) is an outstanding player in the field, dedicated to developing all kinds of drum dryers.
Since its founding in 1989, Lisky has researched all aspects of dryers under the leadership of Lai Mingdao, the company's general manager, who is responsible for developing a line of products that range from conventional models to high-tech computer-controlled machines. With drumdrying as its core technology, Lisky has built a comprehensive business that encompasses component machining, product manufacturing and assembly, computer control, system network communications, precision temperature controls, server technology, and development of drumdrying applications. The company's portfolio includes single- and twin-drum dryers, experimental dryers, specialized dryers for biotechnology and traditional Chinese medicine, and turnkey output services.
One of the factors in Lisky's success is Lai's adherence to macroscopic thinking and his view that industrial manufacturing should be fully automated and networked to maximize performance with minimal human capital. One of the ways that Lisky has embraced automation is by introducing Solid Edge® software from product lifecycle management (PLM) specialist Siemens Digital Industries Software. Lisky relies on CADEX Technology, a Siemens Digital Industries Software solution partner, for expert consulting, implementation, training, service and support.
System-based approach to design
Lisky designs its systems to save money by saving time. "We have a world-class, customer-oriented approach that attaches greater importance to added value rather than to the pursuit of lower cost," says Lai. "This mindset has also influenced our investment in, and application of, the Solid Edge design solution from Siemens Digital Industries Software. Solid Edge is a good tool that enables us to create the maximum value with the minimum human capital."
Lisky has pursued maximum value with minimum human capital from its inception. The company has always valued the quality of its personnel above quantity, and currently employs 10 people, but the annual value contributed by each employee is as much as 5 million yuan. Lisky's factory in Huwei, Taiwan, is a small, successful and profitable business with a strategic focus on turnkey systems, intensive research into technical formulas and investments in production automation.
In modern production lines, electronic controls and networking are crucial to a high-yielding process. Lisky's management says that its superior management of these elements has helped the company gain a distinct competitive advantage over German competitors. "We are not making a standalone drum dryer, but rather focusing the design work to enable the machine to get the maximum productivity from the whole manufacturing process," says Lai. "That's what we talk about when we talk about turnkey systems."
Lisky's turnkey approach was well aligned with Siemens Digital Industries Software's focus on integrated solutions. "One of the reasons we chose Solid Edge 3D design technology is that we're interested in Siemens's brand as a world leader in the electromechanical manufacturing field, and in its holistic solutions rather than any individual product design software," says Lai.
The design of a holistic process for a factory requires close attention to system structure and tight connections between subsystems to make certain that the whole system achieves the highest possible output. For Lisky, a single machine commands a price as high as 3.5 million yuan, while a turnkey manufacturing system can easily sell for 15 million yuan. Solid Edge enables a modular design approach that helps Lisky develop turnkey system design concepts.
Lisky designs systems that help customers realize greater returns on their prior investments. "If a customer wants to expand their manufacturing equipment, they will certainly want to integrate the existing equipment to realize synergies," notes Lai. "Machines should be designed with the bigger picture in mind, performing core functions and scaling to additional functions to add value." With the help of Solid Edge, Lisky has established modular product architectures that enable customers to combine a variety of value-added modules that meet their production requirements while yielding continuous returns on their investments in older equipment.
Significantly improved design/ component re-use
Using Solid Edge, Lisky has built an extensive 3D parts library that includes models of components as small as fasteners used in its dryers. When developing new products, the company can save time and engineering effort by re-using proven components from the library. The detailed 3D model library supports precision manufacturing, accelerates the creation of variants, and makes the company's parts database more manageable. Lisky also uses the specialized pipe routing capabilities of Solid Edge, which are far more productive than general-purpose CAD tools and streamline the company's piping design work projects.
Lisky continuously updates the purchase prices of components so that designers can confidently protect the profit margin of each order when making offers and negotiating with customers. For manufacturing, Lisky values division of labor based on specialization, taking on the drafting and design work internally while outsourcing the machining work, such as lathe processing.
For the design of its machines, Lisky focuses on safety and operational factors, and introduces network connectivity in the man-machine interfaces so that alerts are issued automatically whenever a fault occurs. The network connectivity also enables remote diagnostic procedures when machines need to be repaired by the original factory. "Future maintenance should be altogether automated at the time of machine development," says Lai.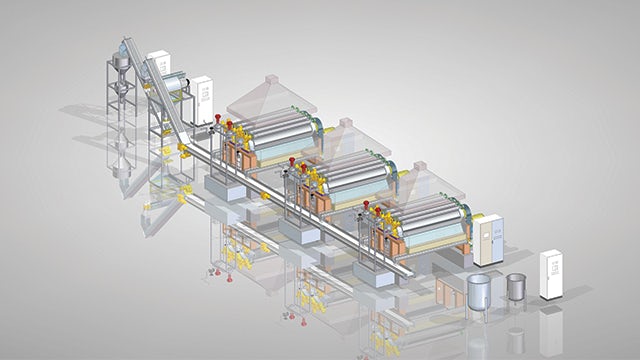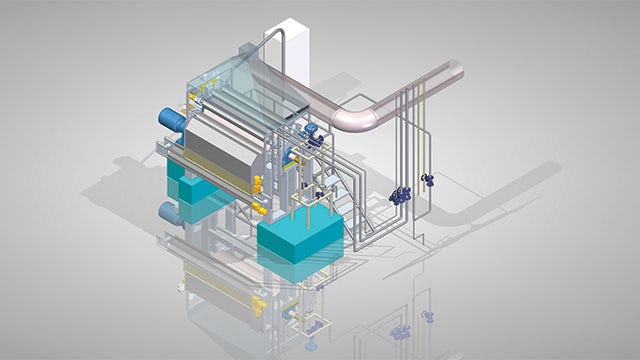 Technical formulas for food processing
Lisky adopts a high-variation/low-volume marketing strategy for its dryers, targeted specifically at food processing factories. Besides providing machines, Lisky also develops food processing applications. Lisky has hundreds of process formulas. If a customer adopts a new formula provided by Lisky, they are more likely to purchase new dryers needed for the manufacturing process from Lisky as well.
Lisky is collaborating with National Formosa University to conduct food safety testing, and has even invested in preparations for a food-related pilot factory. The pilot factory will enable quick verification of a formula's feasibility, so that practical innovations can continue without requiring significant human resources and equipment.
"There is a growing shortage of talent in manufacturing industries," says Lai. "To address that shortage, we have to strive for deeper automation and more intensive networking at all levels of the production process and in business management."
The use of Siemens Digital Industries Software's solutions have enhanced Lisky's competitive advantage and helped to incrementally expand the business. "After deploying Solid Edge, we became more competitive, and now have expanded our business from food dryers to cover sideline segments and incorporate commercial services bit-by-bit, thus forming a turnkey, value-added service chain," explains Lai.