Case Study
Global sports helmet manufacturer uses NX to realize significant time savings
Lazer Helmets uses Siemens solution to create a digital twin and push the boundaries of design sophistication
Lazer Helmets
Lazer was founded as a family business in 1919 and is the oldest manufacturer of sports helmets in the world. Every Lazer helmet is imagined, designed, conceived, manufactured and tested by people who are passionate about their craft.
http://www.lazerhelmets.com
Headquarters:

Mont-Saint-Guibert, Belgium

Products:

NX

Industry Sector:

Consumer products & retail
Motorcycle helmet design is not something that usually pops to mind when discussing a digital twin. If that is indeed the case, then you haven't met Alexander de Vos van Steenwijk and his team of passionate designers and engineers at Lazer Helmets in Mont-Saint-Guibert, Belgium.
Venerable helmet manufacturer
Lazer Helmets is the oldest helmet manufacturer in the world. With roots in the leather goods industry, the Belgian company first made leather sport caps over 100 years ago. Many more innovative designs followed: the first aluminum helmets in 1948; the first thermoplastic helmets in 1955; the first compulsory safety standards in 1964; the first full-faced helmets in 1972 and the first injection-molded helmets in 1974.
Today, a Lazer Helmets design and engineering team is busy creating some of the most sophisticated designs on the market. Hip, high-tech or nostalgically retro, there is a Lazer Helmets helmet for every taste. But how does such a small company offer so many possibilities, so well, and with so much passion?
It all starts with de Vos van Steenwijk, President of Lazer S.A., who is eager to share his interest in motorcycle history as well as modern helmet design techniques.
"Apart from being a historical brand, Lazer Helmets fully develops all of its own products," says de Vos van Steenwijk. "In the history of helmet making, Lazer Helmets has many firsts to its credit. There is a huge emphasis on engineering and the tools we need to do innovative engineering."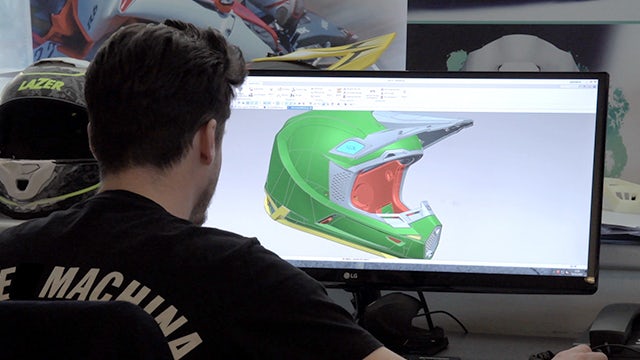 A historical brand
One wouldn't think that a simple leather cap would develop into such a complex piece of safety equipment, but it has. Lazer Helmets is the world's original sports helmet manufacturer. The company started producing leather goods and caps in 1919. Hundreds of thousands of helmets later, Lazer Helmets continues its philosophy of combining the best product design and engineering with the best material and technology available.
"The holy grail of protecting one's head is to absorb the impact gradually," says de Vos van Steenwijk. "Carbon is a strong material with very little resin. This allows the carbon's fibers to fracture individually and gradually. It absorbs the shock in a very good way."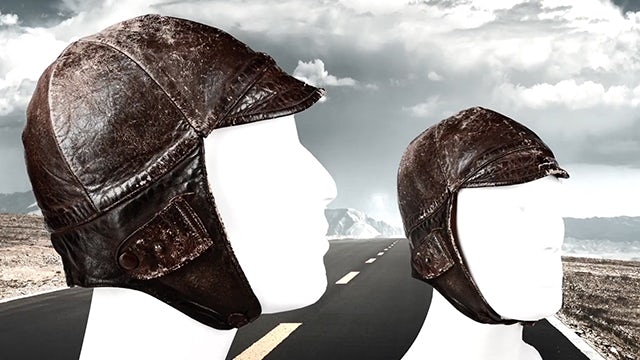 Innovative design and engineering
Today, Lazer Helmets is known for its dedication to technical innovation and advanced engineering. This has resulted in award-winning technology like SuperSkin® protection. With its brand history and dedication to safety and innovative engineering, it is not surprising that Lazer Helmets are worn by adventure-seeking, off-road racing and stunt teams from around the world – not to mention the Belgian and Nigerian national bobsled teams.
With a small development team of three, Lazer Helmets is pushing the boundaries of helmet design and high-tech molding capabilities. The process starts with Lazer Helmets head designer Aurélien Lemère, who combines his love of graphic design and motorcycling.
"I find my inspiration during motorcycle rallies and other things that I am especially passionate about," says Lemère. "I have lots of friends who are bikers and we ride together a lot. Our trips help me detect user problems firsthand and find new solutions that respond to these issues. These new solutions can be really innovative when put into practice. All of these ideas allow us to create more effective helmets while at the same time growing the Lazer Helmets brand."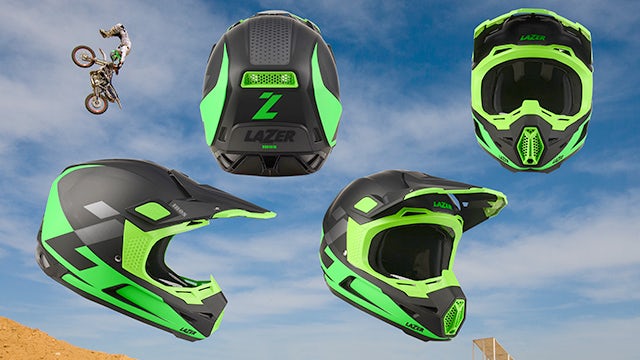 Designing a signature helmet
Lemère is a traditionalist when it comes to design. Trained as a designer in France, he still starts with pencil and paper sketches before moving onto physical mockups and basic computer-aided design (CAD) files. He draws inspiration from his fascination with art and graphic design as well as riding with fellow bikers. Like most designers, Lemère strives to put a signature visual element in every helmet design.
Similar to the automotive and other industries, what the designers first sketch and the final homologated product tends to be a bit different. This is where the tradeoffs start. Lemère hands his sketches and first NX™ CAD software files off to Lazer Helmets engineers Benoit Arnould and Alexandre Gilbert. Together, they pour over the details using a comprehensive digital twin as well as physical mockups. NX is a part of the Siemens Xcelerator business platform of software, hardware and services.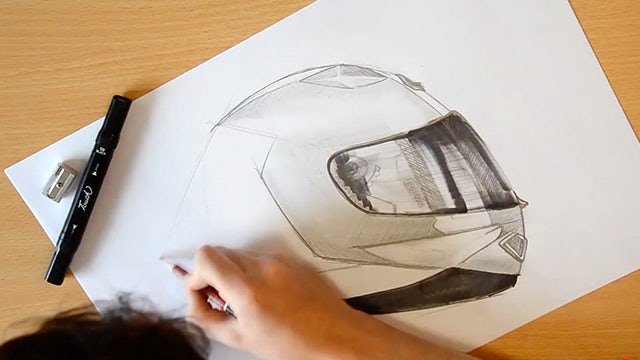 The all-important safety factor
Although aesthetics are important to the brand, Arnould knows how much safety impacts material choice and the testing standards required for certification. That being said, creating new helmets that meet market trends and consumer safety and style requirements with a team of three is a challenge.
Unlike previous solutions, NX allows Lazer Helmets to start the ideation and design phase digitally and eliminates the hassle of working in different software systems. Also, design sketches and mock-ups are kept to a minimum since this level of design work can also be completed in NX as well. In addition to this, NX excels in its ability to handle complex shapes, designs and linings. A modern helmet, in terms of shape complexity, can be best compared to contemporary cars.
"We use NX to make the design and to engineer all parts of the helmet," says Arnould. "We have to know how to assemble the parts and we have to take into account the impact test. By using NX, we are saving two to three weeks."
The enhanced design capabilities of NX, combined with the platform integration, offers an optimum foundation to reduce time-to-market and meet market demand for more personalized and individualized products.
Lazer Helmets is pleased with the results of the Siemens subscription model. This enabled Lazer Helmets to run an impactful digitalization initiative without any massive upfront investments.
Support from a Siemens solution partner
Lazer Helmets receives significant support from ADOPT id PLM, a Belgium-based Siemens solution partner. The team is up to speed on the latest developments in NX and is considering adding Simcenter™ 3D software and other Simcenter testing solutions to its processes. Having a partner that puts the right tools together and high-level training and support gives the Lazer Helmets team room to get to the business at hand: designing some of the most sophisticated helmets on the market today.
"You'll find each employee has a biker attitude," says Gilbert. "The helmets we produce are made with passion and with passion from everyone here. It is more, 'What do we want to do' rather than, 'How do we do it.'"
Adds de Vos van Steenwijk, "Shapes like these which try to give life to the shell itself are very difficult to engineer. There are also limits to what a mold maker can do but we seek the really extreme edges of molding capabilities. NX was good enough to do this and this is one of the most sophisticated solutions on the market today."