Case Study
Wood-burning stove maker heats up sales and expands market share with the aid of PLM
La Nordica-Extraflame uses NX and Teamcenter to help streamline operations across departments
La Nordica-Extraflame
The La Nordica-Extraflame Group specializes in wood and pellet burning heating appliances. La Nordica-Extraflame's continuous innovation and research has enabled notable growth worldwide, with its products now sold in more than 40 countries.
http://www.lanordica-extraflame.com
Headquarters:

Montecchio Precalcino, Italy

Products:

NX, Teamcenter

Industry Sector:

Consumer products & retail, Energy & utilities
Managing the entire product development lifecycle internally, from design to after-sales
Founded in 1967 by the Dal Zotto family, the La Nordica-Extraflame Group (La Nordica-Extraflame), comprising two prominent businesses (La Nordica S.p.A. and Extraflame S.p.A.), is driven by passion and hard work. The group is focused on innovation and research in biomass and has achieved a significant increase in market share in the design, construction and marketing of wood and pellet burning heating appliances, now selling products in more than 40 countries.
"The biomass heating business has developed positively despite difficult social and economic conditions," says Andrea Santambrogio, La Nordica sales manager. "Wood heating is rooted in the culture and traditions of Italy. In recent years, it has included the use of pellets, which greatly simplify fire management. Besides the charm of flames and fireplaces, biomass heating also offers significant savings – up to 60 percent, compared to other fuels – significant in this current economic crisis." Further support comes from tax allowances introduced by the Italian government, in line with global targets for reduced emissions and improved air quality.
The La Nordica-Extraflame Group has always been characterized by a strong determination to provide the market with high-quality products that meet energy-efficiency standards. "Our commercial offerings, including several brands that complement our two major lines, cover the entire wood biomass business," says Santambrogio. "Virtually all of our products are certified to the most restrictive Austrian standards and offer measurable benefits in terms of efficiency and emissions."
In a difficult market, La Nordica-Extraflame basically relies on two success factors. Santambrogio explains, "First, we use cross-industry distribution, not only via construction and HVAC (heating, ventilation, and air conditioning) companies, but also through the channels of hardware and household appliances stores and retail chains. Second, the secret is having effective projects. Today, you win if you have a design concept and invest with clear targets. Our owners have a vision and that makes the difference."
Such vision and design philosophy are embodied in a catalog with more than 200 products that feature a price-performance ratio optimized through accurate design, procurement and cost controls. "When you turn to La Nordica-Extraflame, you always find what you are looking for, and you can count on efficient service and spare parts availability," says Santambrogio.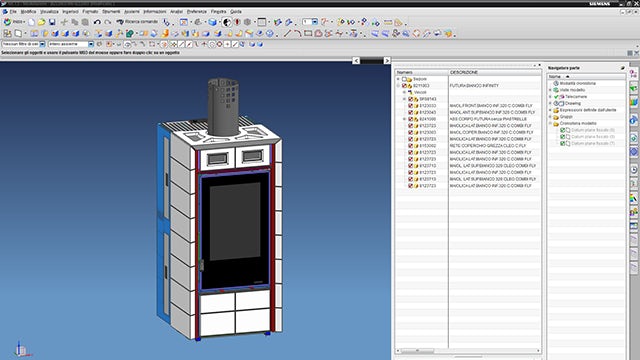 Tools to help grow the business
La Nordica-Extraflame's owners decided to develop products in-house, managing all process stages, including design, prototyping, machining, testing, certification, material procurement, manufacturing, stocking and sales. When business boomed at Extraflame, engineers needed suitable tools to handle advanced and intensive operations inside the company.
"In 2010, the company launched a process to analyze and evaluate software solutions to manage design and communications among departments – key factors for overall process efficiency," says Diego Zilio, PLM (product lifecycle management) project manager. "The first step was the introduction of NX™ 3D design software. Today, with eight NX licenses, the whole mechanical design activity is carried out internally using NX, as well as the development of the electronic sections of pellet stoves."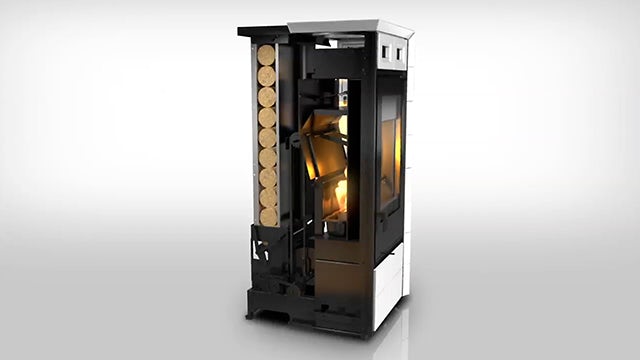 A single source for product data sharing
Pellet stoves are characterized by rapid product evolution, with continuous changes and modifications that arise during design that impact other departments, from purchasing to production, up to and including warehousing. As the company grew, the need to effectively communicate and exchange information among different departments with high efficiency and reliability grew accordingly.
"We needed a management system for data and operations processes that was easy and functional and would enable adequate data security," says Zilio. "After evaluating different PLM solutions, we selected Siemens PLM Software's Teamcenter®, supported by Siemens PLM Software's partner Tech-Value."
"Our product line is young and our organization is still being defined," adds Andrea Santambrogio. "We look to companies in other industries to see what we can do to improve. Design and project management fit into a growth plan that consists of gradual steps in specific directions to keep up with continuous change."
One of the most critical issues for La Nordica-Extraflame is the continuous evolution of regulations and standards. A new standard for 2015, for instance, has had a strong impact on all products, triggering a continuous cycle of changes and validations. "Any modification during design affects all processes downstream, including catalogs and brochures," says Zilio. "So, we must be sure that information is totally reliable and up-to-date. Beyond design, our greatest concern is the communication of all changes downstream."
Tech-Value executed a detailed analysis of the "state-of-the-art" and goals of La Nordica-Extraflame. Within six months, Teamcenter software was implemented, involving all areas where PLM could support the corporate strategy.
"In addition to documentation and BOM management, Teamcenter was also introduced in production," says Zilio. "In our factory and warehouse, we have installed advanced referencing and browsing tools, eliminating paper. Now, the line manager has a laptop to view, correct and update 3D assemblies at any time. The same access is available to people in the laboratory and testing rooms and, in general, to all offices that share documents and quality control. The analysis by Tech-Value helped us identify the most suitable solution and specifically understand that the scope of our challenges was far beyond simple CAD (computer-aided design) vaulting."
Substantial benefits across all departments
Production is the first department in which La Nordica managers have recorded substantial benefits following the adoption of Teamcenter. Before, there were no control tools and most operations and processes inevitably relied on the expertise and historical heritage of individual employees. "Bills of materials (BOMs) could only be found in the ERP (enterprise resource planning) system," says Zilio. "Our BOMs contain a few hundred parts, but they are difficult to manage because of the huge number of variations downstream, including color variants for the same stove model."
Another significant benefit came from file sharing. "Managing files using Teamcenter rather than a simple file system avoids duplicates, incorrect information and obsolete data," says Zilio. "All departments have benefited, with significant added value for the entire company. The use of Teamcenter puts all departments in the best situation to share, collaborate and make smart decisions. Among advantages, we have significantly cut the number of requests to engineering, especially from the factory. For us, the key added value of a complete approach to PLM lies in high-value information exchange."
In the wake of a successful implementation after less than one year, the group managers extended the organization's use of Teamcenter, executing its deployment independently to new users thanks to the software's ease-of-use. In addition, when desired, the company calls upon Tech-Value for support and consulting. "We regularly collaborate with Tech-Value. It is an important partnership for us, because Tech-Value helps us keep a fresh approach amid a new and constantly evolving project," says Zilio. "When implementation is complete, we will have approximately twenty people using Teamcenter, the benefits of which have also been appreciated by departments that are not primarily involved in design."