Case Study
Leading manufacturer uses Mechatronics Concept Designer to substantially reduce product development iterations
Kurtz uses Siemens Digital Industries Software solution to speed up processes while delivering high quality
Kurtz GmbH
Kurtz GmbH is an international market leader in particle foam processing and part of the Kurtz Ersa Corporation. The Kurtz portfolio ranges from project planning to maintenance and from standalone machines to entire plants. The company is focused on Industry 4.0 solutions, such as virtual commissioning, intelligent process control and central monitoring.
https://www.kurtzersa.com
Headquarters:

Kreuzwertheim, Germany

Products:

Mechatronics Concept Designer, NX

Industry Sector:

Industrial machinery
Shaping the future
Companies with roots that go back 240 years understand a thing or two about adapting to change and that certainly applies to the Kurtz Ersa Corporation, which is one of the few companies worldwide that has mastered all phases of industrialization. When it comes to Industry 4.0, implementing a virtual startup, which means getting an early grasp on machine data and behavior, is a strategic item on the agenda. The virtual startup facilitates cutting costs and development time and avoiding failures. Without a virtual setup, companies aren't likely to develop this kind of understanding until the end of the design process. Using Mechatronics Concept Designer™ software from Siemens Digital Industries Software helps Kurtz Ersa make this early determination.
The company, which is run out of what used to be a hammer mill, has developed into a global leader in its main segments of solder, foam and foundry machinery. The secret behind their success is skillfully combining tradition with innovation. Policies that are oriented toward long-term success that give the owner-operated company its values along with process-oriented solutions have laid the foundation required for survival and growth.
Virtually everyone has come into contact with products made on Kurtz GmbH machinery at least once in their lifetime: For example, expanded polystyrene (EPS) packaging or the soles of Adidas Boost athletic shoes come from Kurtz GmbH (Kurtz) molding machines. In the area of casting, machines from Kurtz, which is part of the Kurtz Ersa Corporation, produce parts for the automotive sector and industrial applications. The firm's offerings range from low pressure and gravity casting units to trimming presses and associated technologies.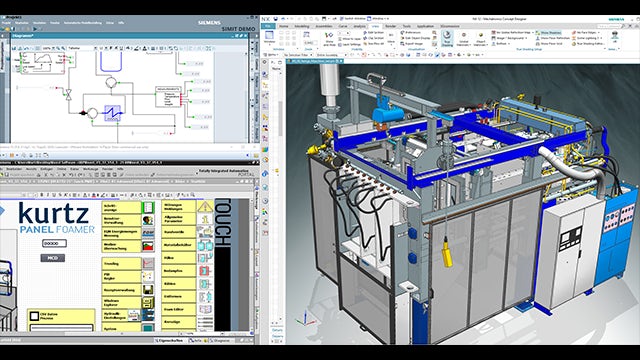 Process-oriented thinking
For chief executive officer (CEO), Uwe Rothaug, individual machines are no longer the sole focus: "Our customers expect solutions and functioning processes that achieve the desired production volumes within a reasonable amount of time," says Rothaug. "Single machines can be copied quickly. By contrast, entire lines require in-depth knowledge and experience. That's what customers appreciate about Kurtz GmbH."
The risk of construction site startup
Of course, costs also have to be considered. "We are taking on international competition and cost pressure with the new opportunities presented by digitization," says Rothaug. "Virtual startup plays a key role. We deliver our machines and production lines cold, meaning we don't do any test casting runs in-house. They are started up at the customer premises, presenting a major burden and a high cost risk. Our goal is to minimize errors in advance while reducing time on the construction site. Mechatronics Concept Designer has opened up that possibility for us."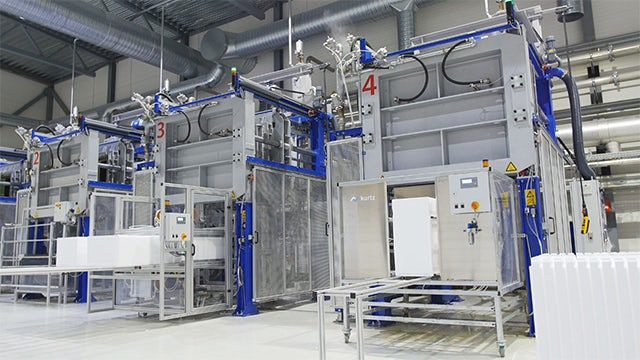 Digital twins
Mechatronics Concept Designer, which is part of the NX™ software family, is used to simulate the machine automation and motion. The result is a digital twin with a wide range of benefits.
"One aspect is reducing costs and risks when starting up systems for the first time," explains Rothaug. "We are already thinking about expanding to other areas, such as service. In case of an error, we simply read the data from our customers all over the world, import the current status into our digital twin and can quickly trace the fault without needing any employees on site. During conceptualization, sales can present future machines, and training sessions can be held on the digital twin instead of the real machine."
Many systems – one approach
At Kurtz, this means consolidating numerous data sources into Mechatronics Concept Designer, which then visualizes them. Mechanical design is performed in both HiCAD software and SolidWorks software, while electrical engineering is completed in EPLAN software. Mechatronics Concept Designer combines the external data with process data from the Siemens SIMIT simulation platform as a mechatronic concept. This platform features a SIMIT unit, that is, a hardware unit with its own central processing unit (CPU). As a virtual controller, the S7-PLCSIM Advanced simulation software provides a realistic rendering of the SPS SIMATIC S7-1500 control commands.
Synergies with totally integrated automation
Totally integrated automation (TIA) enables complete access to the entire digitized automation process. Kurtz GmbH benefits from synergies with Siemens thanks to the digital twin, connecting the real machine at Kurtz GmbH with the Siemens development software. The machine contains numerous Siemens products, from SIMATIC IPC277E with the SIMATIC software controller to the SIMATIC ET 200SP as a digital input module. Visualization software SIMATIC WinCC (TIA Portal) enables users to develop efficient interfaces for operating and monitoring production systems and processes.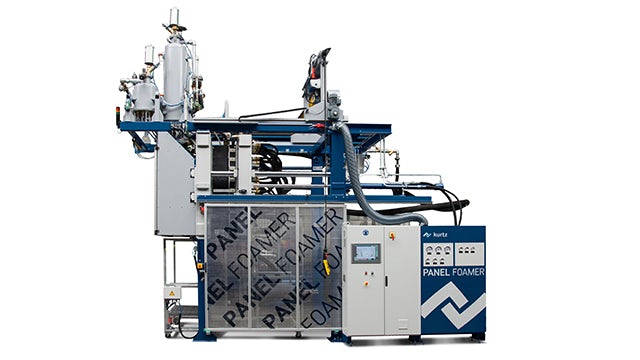 Flexible and adaptive
Stefan Knorr is the head of programmable logic controller (PLC) development and electrical design at Kurtz and is also responsible for implementing the Mechatronics Concept Designer project: "For us, the quality of the interfaces plays a decisive role. As is the case with many medium-sized companies, our CAD and system landscapes have grown heterogeneously. It's good to know that Siemens can cover the entire process chain and we are able to seamlessly exchange data between a wide range of systems with powerful interfaces such as JT, STEP, XML or even Excel.
"Next, the system can be fed with our parameters. As standard, Mechatronics Concept Designer relies on libraries such as SIMIT FLOWNET via the SIMIT simulation system, which contains standard values for thermodynamic variables of fluids, gases and water vapor that are required for producing particle foams, for example. We constantly refine this data framework with our values, deriving results with ever greater accuracy. This enables us to simulate all process steps with critical factors, such as time, temperature and pressure at a very early stage of development."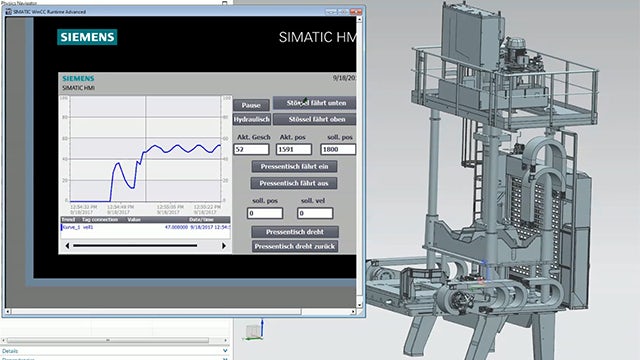 Modernized control development
This new approach with Mechatronics Concept Designer opens up new avenues in control programming. Although development steps were previously processed based on the known waterfall or V models, today Kurtz can perform iterative programming in parallel.
"Mechatronics Concept Designer has drastically reduced our iteration cycles," says Knorr. "In the model, we can quickly recognize mechanical and electrical limitations and respond accordingly in the PLC programming. Plus, it requires us to homogenize our programming because we are availing ourselves of a standardized language.
"Normally, 80 percent of time is spent on implementation to see how far along we have progressed. Today, we can recognize whether the programming is productive at a very early stage. Applying current methods such as continuous integration and test-driven development are the key to speeding up processes while delivering high quality. We get immediate feedback for each step and don't have to wait for the entire system to be implemented."
Custom sales configurator
Kurtz is at the stage where various machine variants can be opened virtually, such as modules. "We are now profiting from the time we invested in maintaining data in Mechatronics Concept Designer and SIMIT at the outset," says Knorr. "The challenge is not only entering data randomly, but to ensure a sufficient data depth for critical points."
Knorr and his team have programmed a custom sales configurator based on this. After entering various system parameters in the Kurtz configurator screen, Mechatronics Concept Designer then lays out and visualizes the data. This allows the sales group to give customers a first visual impression of how the production line can be configured. Change requests can be easily implemented, preventing misunderstandings and misinterpretations as a three-dimensional layout is available. Mechatronics Concept Designer even provides for videos and animations that simulate processes in a way that is easy to understand. Mechatronics Concept Designer supplies all data related to kinematics, while the SIMIT delivers the data on machine behavior. This provides a brilliant combination for a digital twin, reflecting reality that optimally supports the goals of the virtual startup.
Braced for the future
Rothaug sees major potential for the future: "When it comes to development, the pace is picking up. With virtual start-up, we can keep up and even lead the way. Our mission is to be the top technology leader, which we can achieve working with Siemens. I appreciate Siemens' extensive expertise and unparalleled range of solutions combined with excellent personal support. We have already taken the first step towards the digital age of mechanical engineering. Now it's time for our customers, suppliers and employees to join us in the next era of the Kurtz company history."