Case Study
Kunda Holdings improves mold design and production efficiency by 30 percent while cutting labor costs in half
Molding a better solution with NX
Kunda Technology Holdings Limited
Kunda Technology Holdings Limited provides mold design and manufacturing, precision injection molding, metal stamping molding, and related services.
http://www.kundamould.com
Headquarters:

Shenzhen, China

Products:

NX

Industry Sector:

Industrial machinery
Transformation to high-end manufacturing
Kunda Technology Holdings Limited (Kunda Holdings), established in China in 1994, specializes in advanced materials forming processes, precision and complex molding, and parts production for the automotive, information technology and household electric equipment industries. Early on, the company focused on designing molds for communication tools, electronic equipment, consumables and small household devices. In recent years, Kunda Holdings has been providing automotive plastic molds and parts for such automakers as BMW, General Motors, Mercedes-Benz and Volkswagen.
The transformation from low-end to highend manufacturing required Kunda Holdings to shift its focus to manufacturing equipment for the automotive, aerospace and shipbuilding markets and engage product lifecycle management (PLM) technology. To help the company complete this restructuring, and to better connect with upstream factories, Kunda Holdings worked closely with Siemens Digital Industries Software to implement NX™ software in its production research and development (R&D) department.
Optimizing design and production
Inefficient plastic injection mold design and irregular machining processes have long plagued mold manufacturers. Using NX, Kunda Holdings has virtually eliminated the problems associated with these activities.
Complex assembly design is now integrated into the product development process, helping Kunda Holdings institute working processes based on best practices and the comprehensive automation of design tasks specific to molding. The use of the standard plastic injection mold parts library of NX has enabled the company to establish a complete, phased design operating process.
To streamline its computer-aided engineering (CAM) operations, Kunda Holdings utilizes the NX standard parts library for the machining of high-level features. NX CAM is then used to identify precise specifications for every part. Using the synchronous technology capability of NX, engineers now directly edit part models and adjust part features.
With complete associativity between products and plastic injection mold models made possible using NX CAM, Kunda Holdings has achieved a fully integrated design and machining environment, including high-speed machining. In addition, based on the concept of a master model, the company uses NX to help connect a part's single model definition to the main body of the product, enabling concurrent design and numerical control (NC) programming, which allows NC programmers to begin part programming even before designers finish their work. Any changes to the design model will be automatically updated in real-time for machining and production.
Kunda Holdings has also established its own standard drawings library, which has further improved design efficiency. "In the past, engineers mainly focused on drafting, which is more like playing with building blocks," explains Yang Jinbiao, operations president of Kunda Holdings. "Using NX, we established a standard drawings library, which enables us to design new products simply by assembling one module after another. This reduces dimensional variations on engineering drawings, as well as greatly improves the engineer's work efficiency."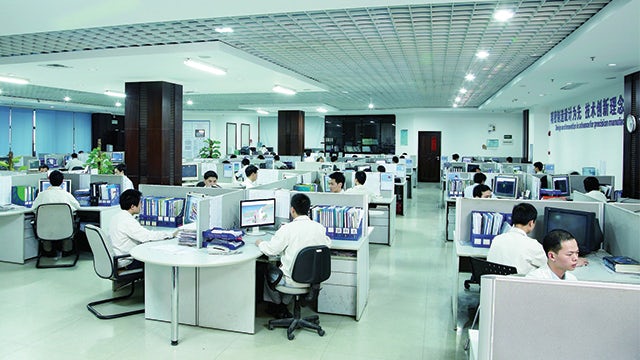 Enhancing the enterprise's technical strength
NX is also helping Kunda Holdings build and improve the company's information management system. Using NX helps the company combine the bill of materials (BOM), warehouse management and purchasing management at the mold design stage, which enables a reliable supply of materials. The use of NX also helps streamline relationships across the organization, and enables the efficient transfer of 2D and part assembly drawings between departments, including NC, machining, assembly, quality and mold testing.
Jinbiao notes that Kunda Holdings has achieved all of its intended objectives for NX. This includes completing the integration of mold design and production, introducing a more convenient design mode, significantly improving mold design efficiency, establishing a mold design standard parts library, improving machining best practices, and optimizing the whole production R&D process.
The use of NX is directly credited with generating great value for Kunda Holdings, enabling the company to grow mold output even while reducing resources. Total mold output has risen 30 percent since 2008.
Kunda Holding's future objectives include establishing a robust enterprise information management system, making the mold design and machining stages completely paperless, and establishing an enterprise knowledge base. Attaining these objectives will require critical input from the enterprise's information technology (IT) department as well as the implementation of additional PLM tools.
Jinbao concludes, "In the manufacturing industry, especially in the high-end equipment manufacturing field, the use of NX will be extended further and further. We look forward to the acceleration of comprehensive product data management solutions to help us better carry out information construction work across our enterprise, and provide better tools to build a digital, intelligent and informationbased manufacturing environment."