Case Study
Research institute uses Simcenter solutions to cut development time of magnetic levitation train by 50 percent
Korea Institute of Machinery and Materials develops comfortable and stable ride with Siemens PLM software solutions
Korea Institute of Machinery and Materials
Founded in 1976, the Korea Institute of Machinery and Materials (KIMM) is a government-funded research institute under the Ministry of Science, ICT and Future Planning. Its mission is to contribute to the economic growth of the nation by 1) performing R&D on key technologies in mechanical engineering, 2) conducting reliability test and evaluation of machine components and materials, and 3) commercializing the developed products or machineries through technology transfer and support for small and medium sized enterprises (SMEs).
http://www.kimm.re.kr/
Headquarters:

Daejeon
Developing future railway solutions
Over the last century, transportation has evolved enormously. Planes and highspeed trains take us hundreds or even thousands of kilometers in a matter of hours, instead of days or weeks. However, most established technologies emit pollutants, are noisy and rely on nonrenewable resources that may become scarce in the future.
The impact of traffic on the environment has become one of the industry's major concerns. The biggest engineering challenge in the coming decades will be to cope with an ever-increasing transportation demand in a sustainable way. Governments are investing heavily in new ideas that serve the social and economic needs of their society at minimum environmental costs.
Among these innovations are magnetic levitation trains (maglevs). These hightech vehicles move without touching the ground, thereby eliminating friction and allowing higher speeds. They present many advantages compared to conventional railway transport and show the potential to play an important role in the future, both in cities and between regions.
The big difference between maglevs and classic wheeled trains is that the maglev does not require an engine that pulls the cars along steel tracks. Instead, the train is lifted and propelled using the dynamic interaction between the magnetic fields produced by the onboard magnets and the guideway. Maglevs literally float as if they were on a cushion of air.
Combined with their aerodynamic designs, this frictionless trajectory allows maglevs to reach unprecedented ground transportation speeds of 500 kilometers per hour and more. This also limits mechanical wear and tear, so maintenance costs are limited. Maglev trains move smoothly and quietly, making them suitable for urban traffic as well, even without noise walls.
Since there is no rolling resistance (only air resistance and electromagnetic drag), maglevs are considerably more energy efficient than classic trains, especially for high-speed use. New technologies can even be expected to further reduce their emissions by recovering energy from harmonic oscillations of the guide rails or by using sustainable resources to generate the magnetic field.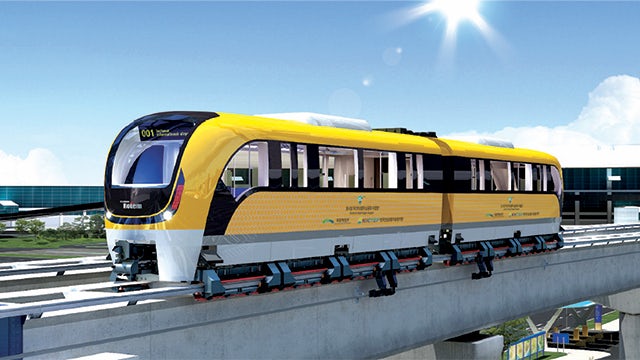 Korean research institute spearheading innovation
Despite all these advantages, very few commercial maglev transportation systems are currently in use. The trains are not compatible with conventional tracks and therefore require custom infrastructure for their entire route. This is a large investment that usually needs to be led and supported by the government.
One successful example is a brand-new maglev system in Seoul, South Korea. It connects the Incheon International Airport to the Yongyu Station and Leisure Complex while crossing Yeongjong Island. This prestigious project is a result of a collaboration between the Korea Institute of Machinery and Materials (KIMM), a governmentfunded research center under the Ministry of Science, ICT and Future Planning, and Hyundai Rotem. This low-speed train for urban traffic, also referred to as the ECOBEE, should become a springboard for more maglev technology in Korean railways. KIMM engineers are also participating in the next step that consists in developing the test vehicle SUMA550, a train that could reach speeds up to 550 kilometers per hour for intercity, interstate and international use.
Stabilizing a flying machine with electromagnets
KIMM engineers use Simcenter solutions from product lifecycle management (PLM) specialist Siemens PLM Software throughout the development cycle of their projects.
"The biggest challenge is to obtain a stable suspension by using electromagnets instead of steel wheels," says Hyungsuk Han, principle researcher in the department of magnetic levitation and linear drives at KIMM. As maglevs basically fly, it is essential to stabilize pitch, roll and yaw as well as surge (forward and backward motion), sway (sideway motion) and heave (up and down motion). As no combination of static of magnets can provide sufficient stability, the electric current constantly needs to be changed to maintain equilibrium, especially on a moving vehicle with varying mass distribution.
"Our contactless suspension uses feedback controllers that maintain the nominal clearance of eight millimeters between vehicle and track within an acceptable range of about six millimeters," says Han. "Simcenter solutions provide us with the most effective tools to refine the control system for the complete magnetic suspension that combines electrical, mechanical, structural and electronic components."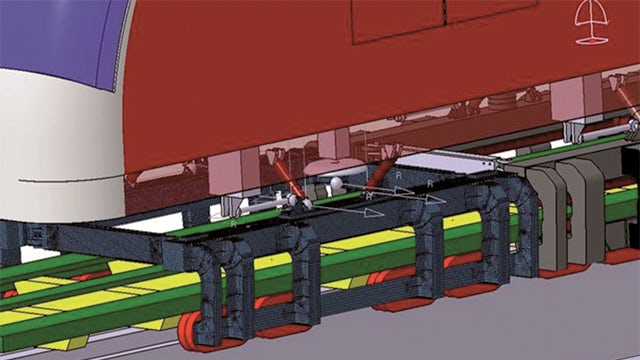 Cutting development time and cost
Simcenter solutions include simulation tools that front-load control system optimization in the early stages of the design process. In this way, the first controller prototype can produce better performance, which drastically reduces the total development time and cost. This multidisciplinary task can be accomplished by performing co-simulation with LMS Virtual.LabTM Motion software and Simcenter Amesim™ software.
KIMM engineers start by developing a detailed model in LMS Virtual.Lab Motion that accurately creates a 3D simulation of the dynamic behavior of the entire mechanical system. This software features a powerful and accurate solver and dedicated modeling functionalities, such as contacts, joints, constraints and flexible bodies, which are described by finite elements and include the modal behavior of components that easily deform.
"This approach helps us do the first analyses," says Han. "We first check the dynamic behavior of the magnetic vehicle assuming a rigid track. Afterwards, we investigate the interaction between the vehicle and a deformable track. If all kinematics work well, we can start including the electromagnetic systems and controls."
The electromagnetic systems can easily be modeled using Simcenter Amesim. This 1D multidomain system simulation software contains an extensive set of physical libraries that make the modeling task easy. It features powerful solvers that provide quick and accurate results, and can also work in conjunction with solutions such as the MATLAB® environment and Simulink® environment, which have mathematical codes that simulate controls. By including these combined models in the LMS Virtual.Lab Motion simulation, all physical aspects of the complete train with magnetic suspension can be considered.
"First analyses are related to the overall stability of the entire system," says Han. "Since both the mechanical and the electromagnetic system are dynamic, it is important to verify if there are resonances which interfere. On top of that, we define the basics of our controls strategy. Through optimization, we define the best possible control gain for an extensive set of stable levitation conditions."
Thanks to this approach, KIMM engineers can build a first prototype that only needs limited fine-tuning before the vehicle is ready.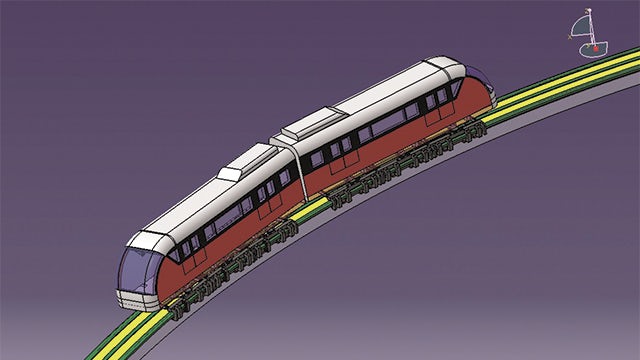 Accurate and efficient testing
Simcenter solutions are also particularly useful during the refinement phase. Before producing the actual vehicle, KIMM engineers extensively test the vibrations in the mechanical parts using Simcenter SCADASTM data acquisition systems hardware and Simcenter TestlabTM software. These tools provide powerful signal processing capabilities that allow real-time analysis for further controls optimization. Extra testing capabilities also enable KIMM to further enhance comfort with a smooth and quiet ride, which is a key advantage of maglevs compared to conventional trains, and definitely worth emphasizing. "The ECOBEE is a very environmentally friendly train," says Han. "It produces less than 65 A-weighted decibels (dBA) noise, which practically means that we don't have to build noise walls. Also, vibrations are very limited. That is crucial in an urban environment, because it means that the impact on buildings is low.
"The engineers from Siemens PLM Software are really experts in the field of noise and vibration analysis. That helps a lot when building such a prestigious vehicle that prioritizes the comfort of its passengers and the environment of operation."
Delivering a top-quality vehicle
KIMM engineers are rightfully proud of their achievement. The ECOBEE represents a historical milestone for the Korean railway industry. The government plans to continue investing in this technology and already has new projects in mind, both for extending the existing line and adding additional maglev systems. The Koreans are convinced that, in the long run, their innovations will solve traffic problems in urban areas worldwide. The engineers recognize the contribution of Simcenter solutions to this success.
"Having all these solutions integrated in one platform is definitely the strength of Siemens PLM Software," says Han. "We can use Simcenter solutions throughout the entire development process. All tools combined allow us to most effectively refine the levitation control system. This has reduced the total development time by over 50 percent." Yong-Taek Im, president, KIMM, concludes, "As one of the government-funded research institutes, KIMM collaborates with industries to create a mutually beneficial environment for both industry and research with the development of cuttingedge, pioneering technologies. KIMM also strives to support and promote science and technology in order to create a researchfriendly environment and make people happier and the future brighter."