Case Study
Digital twin results in new generation of vehicles
Kässbohrer achieves digital product development success using Solid Edge
Kässbohrer Geländefahrzeug AG
Kässbohrer Geländefahrzeug AG is a leading supplier of technology for the environment, nature and leisure. Kässbohrer's product portfolio includes the PistenBully snow groomer family for ski piste and cross-country ski trail maintenance.
http://www.pistenbully.com/
Headquarters:

Laupheim, Germany

Products:

NX, Solid Edge

Industry Sector:

Automotive & transportation
Highest quality for sporting events
Seizing on the popularity of skiing in the 1920s, members of the Kässbohrer family developed the first snow cats, and in 1969 introduced the PistenBully snow groomer. The PistenBully is an all-terrain vehicle equipped with chains that prepares ski slopes under extreme weather conditions with a snow blade, snow tiller and smoothing board. Following its international breakthrough during the 1972 Winter Olympics, there are 22,000 PistenBully snow groomers from Kässbohrer Geländefahrzeug AG (Kässbohrer) in use in 110 countries. The company has 550 employees with 350 in the main office in Laupheim, Germany, where 600 new vehicles are produced annually. This makes the family enterprise the global market leader.
The tracks and welded constructions of the cabins are manufactured in-house in bright and modern halls. Most of the other components – from powerful diesel engines, transmissions, hydraulic systems, and electrical components to sturdy mechanical components – are delivered just-in-time, assembled and programmed before being thoroughly tested. PistenBully vehicles must be able to withstand sub-zero temperatures as well as extreme ascents while boasting sufficient engine performance to drive all the systems that finish cross-country ski trails and slopes. Some PistenBully snow groomers treat steep hillsides on cable winches or build snow parks and indoor courses for snowboarders.
Powerful development environment
In 2002, the development department began its first 3D design projects with Solid Edge® software, the innovative 2D/3D computer-aided design (CAD) system developed and distributed by Siemens Digital Industries Software.
"In almost no time at all we created all of our new components in 3D and migrated the data from the existing 2D system to Solid Edge," says Roland Weidmann, mechanical engineering technician at Kässbohrer. "With our close ties to development, we can ensure that all of the technical requirements down to the smallest detail are met ergonomically and efficiently. Under the efficiency pressure of a medium-sized manufacturer, the developers only accept solutions that bring added value."
Working with authorized Solid Edge reseller PBU CAD-Systeme, the company supplemented Solid Edge with a product data management (PDM) system for all engineering workflows. The systems were combined with the SAP® enterprise resource planning (ERP) solution so that developers only have to enter a minimum of data. NX™ software, a powerful 3D CAD/CAM/CAE system from Siemens Digital Industries Software, is used for the modeling of freeform surfaces. Subsequently, the models are transferred to Solid Edge.
"Solid Edge is the engineering backbone with which we create the digital twins of our products at around 50 workstations," says Weidmann.
In addition to Solid Edge, Kässbohrer uses PARTsolutions software from Cadenas as a 3D standard parts library. Existing purchased parts are simply loaded into Solid Edge and visualized. Designers can identify new requirements in the manufacturer catalogs of the supplier and report them to a standards department for verification. After approval, a workflow arranges for the provision of the model as well as the maintenance in the PLM solution. "A simple traffic light system in PARTsolutions limits the variety of parts and the designers don't have to do much to use the standard parts," says Andreas Winter, mechanical engineering technician at Kässbohrer.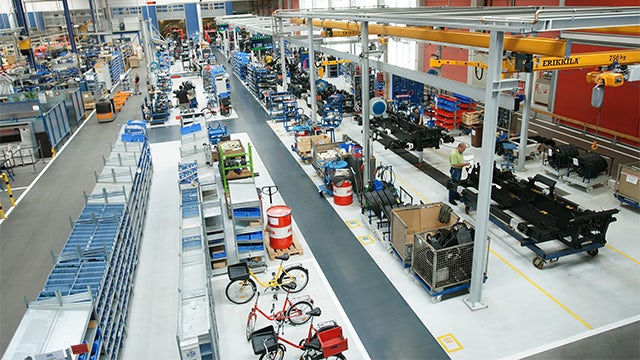 Solid Edge to digital twin
Designing sheet metal parts requires a different approach, which not every 3D system can support. Solid Edge has its own module for sheet metal design. At Kässbohrer, this is a high priority: around 40 percent of the components developed using Solid Edge are sheet metal parts. With the comprehensive functions of the sheet metal module, the system supports designers with the developed view as well as with flat patterns, and accelerates many routine activities. "With the powerful sheet metal design tools of Solid Edge, our designers are able to get the desired results quickly," says Weidmann.
Kässbohrer is increasingly using Solid Edge Simulation, the embedded simulation solution, to analyze and verify the performance of components. Using Solid Edge Simulation has enabled the company to reduce weight, space and energy consumption and improve stability.
"With the full integration of Solid Edge Simulation, the iteration loops of simulation and change become a process in which nothing more gets lost, thanks to the history," says Weidmann. "All developers, not just specialists, are able to work with this analysis tool."
Powerful assembly modeling functions simplify the handling of the expanding range of product models. The digital twin of the most recent PistenBully snow groomer, representing virtually all mechanical components, comprises several thousand individual parts. In the assembly design process, kinematic simulations are carried out in order to fully verify that components can be installed in tight spaces.
"With each generation of vehicles the digital product model becomes more detailed," says Weidmann. "With our new PistenBully 100 4F, we have created a digital twin with almost 100 percent of all mechanical components, and thus achieved a new level in product development."
The passenger-friendly PistenBully 100 4F
The higher degree of detail primarily relates to the representation of the hydraulic piping with XpresRoute, the specialized add-on module for Solid Edge. The pipes and cables are designed at the end of the development process, when the digital twin is already several gigabytes (GB) in size. To handle the large models, new computers have up to 32 GB of random access memory (RAM) and are running the latest version of Solid Edge.
With the comprehensive functions of XpresRoute, pipes with connecting pieces can be quickly defined and routed in tight spaces. The XpresRoute software automatically creates bend tables that can be used directly by tube bending machines. At the same time, designers define and position electrical wiring with Solid Edge Wire Harness Design, a fully integrated add-on application. These subsystems are under the driver's cab of the densely packed PistenBully 100 4F.Many additional innovations are evident in the PistenBully's intuitive operating environment with touchscreen and function keys, which have been developed using cutting-edge ergonomic design technology. A spacious cockpit with comfortable seating and increased elbow room delivers safety and comfort for the driver, who spends eight hours at the workstation.
"Without the comprehensive use of NX freeform surface modeling and Solid Edge solutions in digital product development, we would not have been able to develop this generation of vehicles in this way," says Weidmann. "With more detailed and comprehensive digital twins, we can deliver better vehicles to our clients."
Long-term partnership
Kässbohrer's success is the result of a long-term partnership with Siemens Digital Industries Software, which updates Solid Edge yearly, and with PBU CAD-Systeme, which has been advising and supporting Kässbohrer since 2002 in accordance with a comprehensive maintenance contract.
"Because of the competent support we receive from PBU (CAD-Systeme), we no longer need to concern ourselves with a lot of details and are able to concentrate on the essentials," says Weidmann. Winter adds, "We are satisfied with the development of Solid Edge, especially when the many small modules are enhanced."
The comprehensive performance of Solid Edge is especially important for Kässbohrer. However, the company does not want to implement more than one new version per year as this requires updating numerous interfaces and preparing a professional disclosure to end-users that will feature explanations, trainings and guidelines.