Case Study
Using Simcenter to equip students with the valuable skills required by companies
KAIST leverages Siemens solution to support innovation in education, research and entrepreneurship
KAIST
Established by the South Korean government in 1971 as the nation's first public, research-oriented science and engineering institution, KAIST is recognized as a gateway to innovation and entrepreneurship. The university's main campus in Daejeon, South Korea, acts as a hub for research and its graduates have been key players in the development of the country.
https://www.kaist.ac.kr/en
Headquarters:

Daejeon

Products:

Simcenter Products, Simcenter STAR-CCM+
Thinking globally
Widely recognized for its contribution to the industrial development of South Korea over the past 50 years, KAIST's vision for the future is to innovate for the benefit of all by focusing on global challenges.
Formerly known as The Korea Advanced Institute of Science and Technology, the university has grown along with the South Korean economy and now has over 10,000 students and more than 700 faculty members. It is considered South Korea's top technical university and is in the world's top tier of institutions of higher learning.
Donghyuk Shin is an assistant professor in the department of aerospace engineering. A specialist in thermofluids, he gives lectures, supervises masters level and doctoral students and conducts research in the combustion modeling laboratory. "In our lab we develop computer simulations and methodologies to enhance fundamental understanding of combustion processes and contribute to the development of new engines," he explains.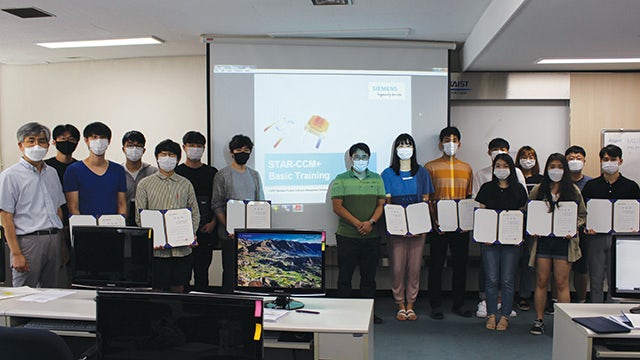 Searching for the right tool
"When I started to teach computational fluid dynamics, the lecture notes I inherited focused primarily on theory and the final project was about writing one's own flow solver," says Shin. "I wondered how many students would actually continue to write flow solvers after this lecture so I began searching for commercial software.
"Initially I thought about using the free student version of a commercially available software, but I found Siemens really approachable and responsive. With the Siemens Academic Partner Program, I was able to include Simcenter STAR-CCM+ in my lectures and an engineer from Siemens gave us some very useful training."
The use of Simcenter™ software at KAIST is now supporting an industry-focused education, expanding engineering expertise, helping students prepare for life beyond university and enhancing the quality of individual learning.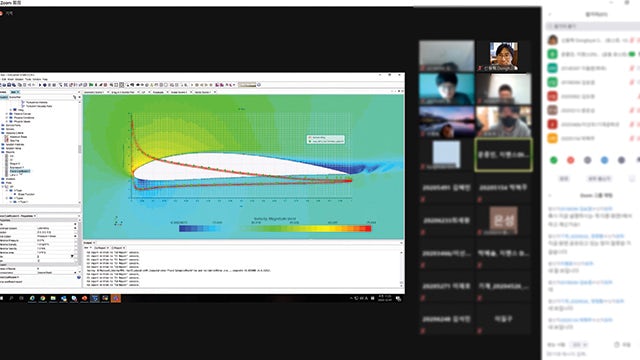 An industry-focused education
"I think most students register for my course simply to gain some experience on a commercial CFD software," comments Shin. "The final project was about calculating drag on a F1 racing car, which they seemed to enjoy. Now the students have a tool they can apply immediately. In product design, for example, I estimate they can simulate flow around a product within a month, which is important in the fast-moving development environment.
"It is critical that we teach students how to use engineering software solutions because these are the norm in industry. I am currently conducting a research project with a gas turbine manufacturer and I frequently ask the company engineers if they are interested in high-fidelity simulation using our research code. But for complicated geometry they prefer to use a commercial CFD software, which they can also run on their side."
Simcenter STAR-CCM+™ software, which is part of the Siemens Xcelerator business platform of software, hardware and services, has become a fundamental tool for Shin's department, along with Siemens Xcelerator Academy, the Siemens training platform. Lectures on theory are complemented by extracurricular activities such as programs that teach competency in specific engineering software solutions. The regular curriculum also features a seminar series in which speakers from different fields of engineering and business give their perspective on industry trends. Guests have included representatives from Hyundai and the South Korean Army.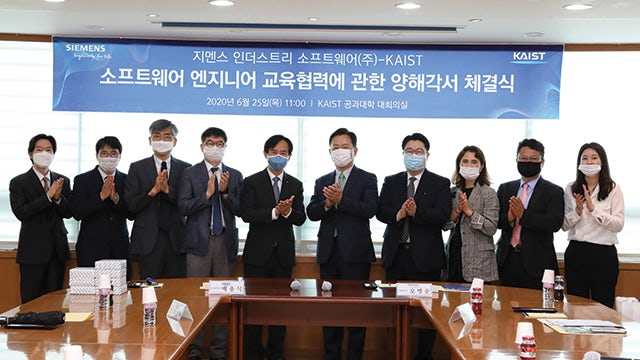 Expanding engineering expertise
"With access to Simcenter STAR-CCM+, teachers and students can go deeper into engineering problems right from the first time they use it," observes Shin. He cites two research students who are using Simcenter STAR-CCM+ to simulate gas combustion in an industry-led project that will facilitate product development. "With the functionality available to them in Simcenter, the students can explore more widely; for example, moving boundary conditions for turbine blades. They can also address and resolve problems quickly. If they were relying on in-house code a complex simulation would involve a high level of expertise and three to four years of development and implementation. By using Simcenter STAR-CCM+ the same problem would typically take six months, which is 85 percent faster."
According to Shin, it is invaluable for students to learn the power of simulation and at the same time appreciate the limits of any software tool: "As engineers we have to figure out how to reach certain targets and within the aerospace sector, for example, we often need to explore very low temperature or low pressure situations. There may be some specific physics conditions that are not available within a software solution and students need to be able to identify how and when to conduct a physical test."
Digital proficiency at work
"Students come to university to build something they dreamed of; for example, aerospace engineering students come to work on airplanes, rockets and satellites," comments Shin. "Hands-on practice, from making paper planes to developing algorithms for drone maneuvers, certainly motivates students.
"However, the education offered at KAIST is not only about fostering engineers; it is also about fostering researchers. For example, we need to teach students, as engineers, how to use a fluid dynamics simulation software. We also need to teach them, as researchers, how the program is written."
Shin is confident that knowledge of an industry-standard software helps students when they are looking for funding or employment. As a direct result of her use of Simcenter STAR-CCM+, the university gave one of his research students $3,500 to conduct research on the use of hydrogen gas turbines to reduce carbon dioxide (CO2) emissions. "I think learning to use the Siemens solution helps students prepare for work as an engineer," he says. "Recruiters want students who are strong in their major discipline and are equipped with the latest skills. Car companies, for example, prefer students with a mechanical engineering background because they know the basics of car dynamics. However, they also need an understanding of artificial intelligence because there is an urgent requirement to implement AI in new cars."
Quality is crucial when learning has no borders
Shin admits that it is an ongoing challenge for educators to extend their own subject knowledge and keep up with the interests of students: "As engineers, we have to be ready for the next trending technology so we can equip students with the range of skills that society expects from engineers.
"COVID-19 has been the most influencing event in my lifetime. Online and virtual have become key words in education, for both lecturing and setting exams. Video sharing platforms are changing education as well. Some top-tier universities are publicly sharing full lectures and I often watch them so that I can pick up useful styles and materials."
He notes the trend toward everything being online has already broken the physical boundaries of education: "Students do not need to reside in the same country as their university and a determined student can gain knowledge without attending a specific university. This means that personalized guidance from teachers plus access to specialist learning platforms and industry-standard tools will become even more important.
"I was very lucky to come across Simcenter STAR-CCM+ just when I needed it," says Shin. "Since then, the university and Siemens have built a really strong relationship.´ The two organizations have signed a memorandum of understanding to support further collaboration. Although our laboratory currently focuses on combustion engines, the plan is to extend its scope with simulation playing a key role. Across the university there is a lot of interest from other professors, so I expect the use of Simcenter to expand."