Case Study
JSC Aviaagregat reduces development time by 50 percent
JSC Aviaagregat is a leading Russian aircraft landing gear developer and producer.
Leveraging PLM to increase productivity, global presence
JSC Aviaagregat is one of the leading Russian aircraft equipment suppliers. The company designs and makes landing gear and other original equipment manufacturer (OEM) parts for many aircraft types, including the Tupolev 204, Ilyushin 96 and Antonov 72. The company's excellent design quality can also be found in new landing gear for the Ilyushin 112V, Antonov 148 and Tupolev 204 SM, as well as in recent achievements such as the design and manufacture of the first prototype landing gear for the D-Jet (Diamond Aircraft, Austria). Established in 1932 in Stupino (Moscow region), JSC Aviaagregat moved to Kuybyshev, now Samara, in 1941.
JSC Aviaagregat's strategic goal is to become a leader in landing gear production for civil and cargo aircraft both in Russia and abroad. The company plans to triple its output within a decade while developing new products. Such an ambitious task requires production reorganization, advanced information technology (IT) implementation and management enhancement based on lean production principles. One of the most important milestones for achieving company goals is the successful deployment of advanced design, engineering analysis and collaborative tools of product lifecycle management (PLM).
Selecting the right technology
The company has been using information technologies for a long time. Initially it was a local automation system with a problem-specific database management system (DBMS). Design documentation was paper-based. The emergence of paperless production principles in the 1990s and hardware advancements enabled the company to switch from the drawing board to the computer. At the new century's beginning, JSC Aviaagregat faced the issue of selecting a computer-aided design/ computer-aided manufacturing/computeraided engineering (CAD/CAM/CAE) system that would satisfy its designers' needs and significantly enhance productivity. A critical requirement was the system's ability to integrate into a company-wide information framework since CAD product data would be used for production cycle management.
"The enterprise followed a consistent approach to IT deployment," says Ilya Prilepsky, who directs the Enterprise Management Systems Department. "A consistent information system at JSC Aviaagregat is a hardware and software combination that serves as an integrated company-wide information solution in executing tasks within the framework of approved business processes and procedures. Productivity enhancement directly depends on the speed, size and up-to-date sharing of information. Considering these factors, the company selected and deployed NX CAD/CAM/CAE software."
JSC Aviaagregat management chose NX™ software from Siemens PLM Software for a number of reasons. The NX master model approach enables higher designer productivity compared to other competitive systems. Total support for the entire product development cycle within a single software solution facilitates excellent associativity between design and production planning documents. NX advanced CAE capabilities enable product simulation and virtual testing, so decisions are made based on sound criteria. NX is tightly integrated with Siemens PLM Software's Teamcenter® software, one of the most powerful product and process data management systems available, enabling close integration with a number of technologies, including enterprise resource planning (ERP), advanced planning and scheduling (APS) and manufacturing execution systems (MES). In addition, management notes that Siemens PLM Software's solutions are the de facto standard for domestic aircraft and helicopter makers.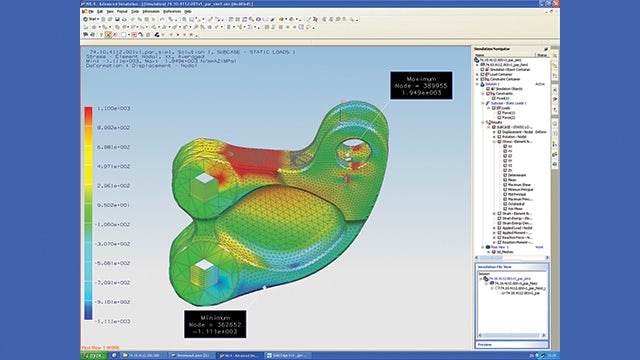 Deployment approach is key
The first step to implementing the Siemens PLM Software solution was a transfer from paper to what JSC Aviaagregat refers to as "pseudo-paper" design, meaning the computer was used to mirror the drawing board design, with the final drawing executed exactly like the drawing the engineers had originally created. Management felt that it was critical to motivate users early on. Therefore, the primary purpose of this stage was that every expert saw, understood and acknowledged the advantages of computer-aided design.
The next step was to equip workstations with modern hardware and install a LAN. The company's server hosted a unified data repository with shared access to the model files. Manuals for 3D model handling and basic reference libraries were developed. The designers began working together with the analysts and the manufacturing engineers. This stage also enabled the fast deployment of Teamcenter product data management (PDM) tools. At the end of 2008, the company's strength analysts received training using NX advanced simulation capabilities. In short order, the training sessions resulted in more than doubling productivity relative to strength analysis performance.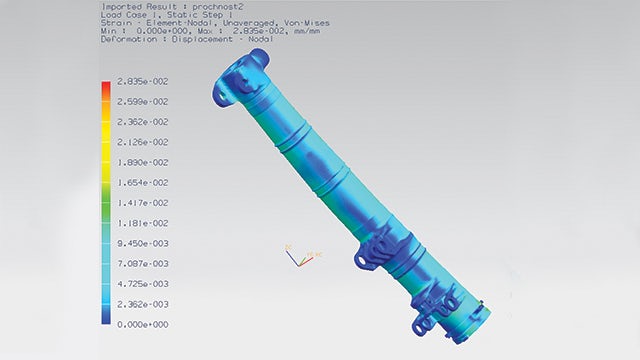 Engineering analysis
The Strength Analysis Department implemented NX Advanced Simulation and NX Nastran® software to perform engineering strength analysis within the integrated NX environment. Doing so resulted in a significant productivity gain (less time required) compared to the analytical evaluations of prior finite element modeling (FEM) systems (both initial and advanced) used.
As a landing gear design is proposed, the engineers begin making an FEM model of the basic load-bearing parts. A computational mode selection for each part and the whole assembly requires exact information on dimensions, restraints and loads, as well as material properties. NX advanced simulation capabilities enable performing both initial calculations (used by JSC Aviaagregat designers) and complex calculations/ studies to assess the product's behavior under various conditions (used by the company's analysts).
As the design is simplified, the analysis does not exactly reflect the real strength. That is why the accepted assumptions and deviations are taken into account. At this stage, NX advanced simulation tools automatically analyze the results' sensitivity to the object's parameter variations. Most computational models at the company are of landing gear components, which consist of highly complex geometry. It is important to JSC Aviaagregat that NX handles the most complicated geometry correctly, generating the highest quality hexahedral and tetrahedral meshes based on NX, Siemens PLM Software's Solid Edge® software or any other 3D CAD geometry.
"NX is powerful software and a leader among engineering automation systems," notes B. Galchenko, vice engineering director for Development, JSC Aviaagregat. "The company uses NX along with Solid Edge. Their seamless integration supports easy mutual file transfer." Galchenko adds, "NX is primarily used for designing complex objects: molds, landing gear shock absorbers, tooling and for NC programming. Solid Edge is used for hydraulics systems and standard parts design."
Results
Management notes that the Siemens PLM Software product line encompasses highquality, high-value advanced systems especially suited to meet the aerospace industry's most rigorous demands. Well trained and highly proficient in using a multi-disciplinary PLM development environment, including NX, Solid Edge and Teamcenter, JSC Aviaagregat has reduced development time by 50 percent.
Productivity gains were the direct result of using digital mockups, fast version management for design documentation and collaboration with international partners in a unified IT language. Improved product reliability was attributed to early engineering analysis. There were process improvements across operations, with better design documentation quality particularly noteworthy.
Perhaps most importantly, the company has gained a reputation globally of leveraging advanced technologies to its customers' advantage. This has resulted and continues to result in new business. "The choice of Siemens PLM Software solutions has won us a lot of victories in both the domestic and international markets," says Mikhail Kozlov, chief designer, JSC Aviaagregat. "Among examples using Siemens' technology, we were able to very quickly design and produce a batch of landing gears for the Austrian Diamond D-Jet. Siemens' PLM was also used for the complete design and delivery of manufacturing documentation for the Aircraft 476, Tupolev 204SM and Ilyushin 112. Our use of advanced systems, especially for high-quality engineering analysis and efficient product development, has also enabled us to become a major supplier to United Aircraft Corporation.">