Case Study
Siemens CAD solutions enable Joe Gibbs Racing to meet weekly deadline for producing race car components
Leveraging complementary Solid Edge and NX software enhances design flexibility and speeds modeling
Joe Gibbs Racing
Joe Gibbs Racing is a professional stock car racing organization owned and operated by Joe Gibbs, former coach of the Washington National Football League team. It is headquartered in Huntersville, North Carolina and started racing on the NASCAR circuit in 1991. The team has amassed five Cup Series championships since 2000.
https://joegibbsracing.com/
Headquarters:

Huntersville, North Carolina, United States

Products:

NX, Solid Edge, Teamcenter

Industry Sector:

Automotive & transportation
Racing to the starting line
Joe Gibbs Racing (JGR) is currently one of the strongest teams in NASCAR. As an organization, they have earned seven driver's championships and over 330 victories across all the major series since 1992. Notable drivers to pilot a Gibbs machine include Dale Jarrett, Bobby Labonte, Matt Kenseth, Carl Edwards, Tony Stewart, Denny Hamlin, Martin Truex Jr. and Kyle Busch.
JGR has 39 technology partners and Siemens Digital Industries Software's Teamcenter® software, NX™ software and Automotive and transportation Joe Gibbs Racing Leveraging complementary Solid Edge and NX software enhances design flexibility and speeds modeling Solid Edge® software are used to lead all design, finite element analysis (FEA), computational fluid dynamics (CFD) and simulation efforts. JGR has been using all three products, which are part of the Siemens Xcelerator business platform of software, hardware and services, since 2007.
You might say there are two kinds of races every week during the 38-week NASCAR season. There is the high-profile race to the finish line on Sunday, and there is the less public but just as important race to the starting line during the rest of the week.
In the past, the JGR team had to wait until they got back to the office on Monday to start working on adjustments to the car for the coming week. Since the car is shipped to the next race site on Wednesday night or Thursday morning that left precious little time to conceive, design, analyze and manufacture new parts.
However, by using the powerful, lightweight and easy-to-use Solid Edge on a portable laptop to develop ideas while at the racetrack and refining the design while traveling home and then feeding the file to NX once they returned to the office in Huntersville, North Carolina, JGR engineers were able to jumpstart the weekly process of fine-tuning and adjustments.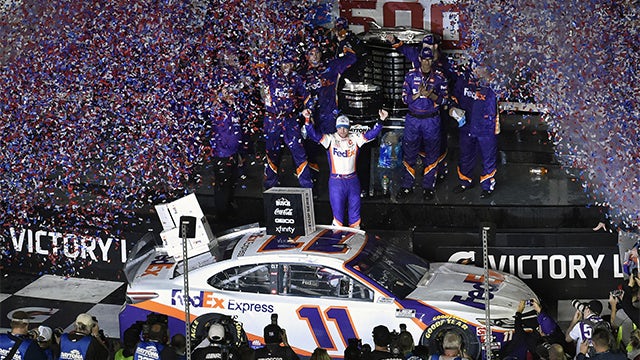 Getting a jump on design
"Circumstances dictate when we need Solid Edge," says Levi Porter, a JGR simulation engineer who is part of the crew that travels to races with the team. "But I would say it potentially saves us a couple hours, maybe even upwards of a day, depending on the travel schedule.
"Sometimes the window of opportunity to turn things around can be very small, so if you have a part that breaks or something that you need to fix, you get into situations where every hour, every minute counts. So, being able to look at something on the plane immediately after the race can make the difference in getting a project done." Solid Edge is a tool that allows the team to do things quickly and efficiently while enabling people who do not have much of a computer-aided design (CAD) background to learn it or pick it up pretty quickly. That provides an effective, efficient way for JGR to put this kind of tool in somebody's hands without investing a lot of time or taking them away from their primary purpose on the team. It is just a tool, but it's a tool they can pick up and use efficiently.
Rather than having a crew member write down their idea or sketch it on a piece of paper and then try to put that into the computer, they're able to design it right then in the computer. Rather than having to write down notes and try to figure out what those notes mean a day or so later, they can just input it and design it right there at the track.
Typically, JGR engineers use the Siemens CAD solution to design items such as fasteners and hardware. Also, they will use it to move something in the cockpit at the request of the driver.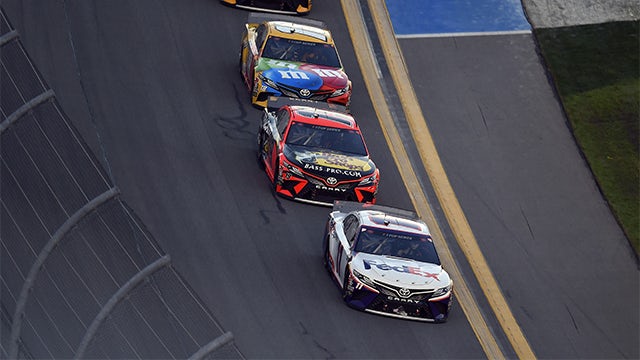 Getting "clearance"
For example, several years ago JGR cars were having clearance problems with an engine component when going into turns. The team was able to make modifications at the track using Solid Edge. "We sent that model back to the shop and then Monday morning they had already turned that into a print," says Mark Bringle, JGR's technical sponsorship and marketing director. "We had ordered the material out of the warehouse in Pittsburgh and it arrived on Tuesday. All the programs and fixtures were already built by Tuesday morning. We were able to manufacture the parts and overnight them to the Las Vegas track so that we could go in and assemble them on the car because the haulers had already left the building.
"That's a perfect example of how being able to get a jump on the design, send it to the shop and get everything in motion allowed us to turn that part around in a couple of days and get it out to the track before the haulers even arrived at the track."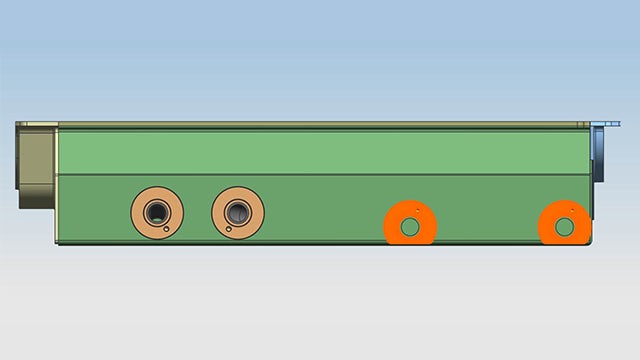 Leveraging synchronous technology
The ability to seamlessly move the file back and forth between Solid Edge and NX enables them to improve their racing capabilities from one race to the next.
"Solid Edge is very similar to NX, although there are some differences so it's easy enough to learn," says John Rittle, JGR design engineer. "With the built-in learning tools in Solid Edge, you can get up and running on it fairly quickly."
The presence of Solid Edge and NX in the Siemens CAD lineup means the company has the unique ability to enable its customers to leverage the best of two systems that are highly compatible, providing significantly enhanced flexibility and synchronicity. The ease of use of Solid Edge means team members that don't have a significant CAD background can still work with it. "The synchronous technology of NX and Solid Edge, with the ability to push and pull surfaces and avoid using traditional modeling efforts, definitely speeds up our modeling time," says Rittle.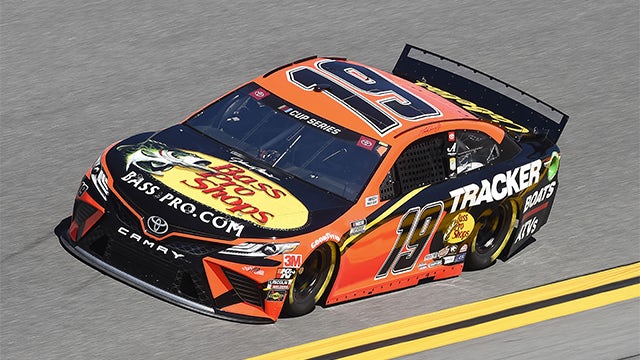 "Hit the ground running"
"Solid Edge lets you hit the ground running," says Porter. "You don't have to dig through a feature tree and find that one dimension that you're trying to change. You can just start changing things. We can tweak something in Solid Edge, send it to the shop and they can rapidly prototype it and send it back.
"Solid Edge is a great tool, it really gives you flexibility, especially if you don't have a great internet connection or some wave or a robust VPN back to the shop to our network. It gives you the ability to start working on an idea right away so when you got back to the shop you can plug back into NX and just keep on rolling. "