Case Study
Leveraging self-adaptive machining to improve first-time-right quality in manufacturing processes
Jiangyin Wilson Precision Equipment uses NX to reduce preparation and machining time by 20 percent
Jiangyin Wilson Precision Equipment
Jiangyin Wilson Precision Equipment is a Chinese company operating in the industrial machinery industry. It provides high-end machining solutions and is continuously looking for new ways to advance its products by leveraging technology improvements in the manufacturing process.
http://en.wilsonchina.com/
Headquarters:

Jiangsu Province, China

Products:

NX, NX CAM

Industry Sector:

Industrial machinery
Reducing processing time
Jiangyin Wilson Precision Equipment Co., Ltd. (Jiangyin Wilson) is a high tech enterprise based in Jiangsu Province, China. It develops precision manufacturing technologies and provides comprehensive services for customers, including casting, processing and assembling medium- and large-sized precision machinery parts. As part of its manufacturing strategy, the company continuously improves its intelligent processing and management capabilities, using 40 sets of computer numerical control (CNC) machines to facilitate the accuracy of complex structures. This large number of CNC machines required advanced computer-aided design (CAD) and computer-aided manufacturing (CAM) software to generate NC programs and reduce the processing time.
Improving manufacturing quality and processing time was one of Jiangyin Wilson's long-term goals, especially when product variety and equipment complexity increased. To do this, the company needed to reduce machining time by improving its utilization of machine tools and implementing more highly developed 5-axis CNC machining processes.
This led the company to look at implementing NX™ software, which is part of the Siemens Xcelerator business platform of software, hardware and services, in their production processes. Jiangyin Wilson's programming processes were immediately improved by using NX. However, because many of its components include casted and welded parts, which require regular adjustment to meet design requirements, Jiangyin Wilson was unable to guarantee the consistency of the workblank machining allowance. As a result, it often required secondary manual programming. The company needed an expert that could provide deeper insights into NX to fully leverage its power.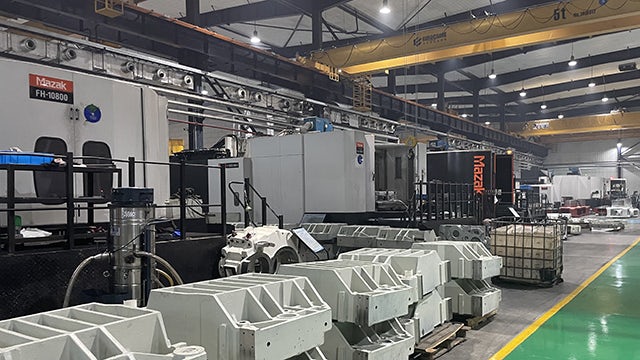 Demonstrating expertise
Jiangyin Wilson spent two years working with an external partner, but the machine utilization rates and programming efficiency did not improve. Siemens Digital Industries Software recommended that Jiangyin Wilson partner with Shanghai Grace Field Information Technology Co., Ltd. (Grace Field), which has Siemens Expert Partner status in NX solutions. Siemens recognizes partners that demonstrate expertise and competency in one of its solutions. These partners are validated by customers and Siemens for demonstrating their superior business and technical acumen.
Grace Field immediately addressed one of Jiangyin Wilson's main challenges around workblank inconsistency. This meant that auto-written programs could not be used to match each individual workblank. Grace Field identified the process would be much smoother if the machines were able to automatically detect the workblank properties. It recommended workblank detection by adding self-adaptive machining process routes to the machine tool probes. Grace Field showed Jiangyin Wilson how to write these spot measurement programs in NX, thus reducing the need for manual point selection and cutting preparation and machining time by 20 percent.
"The powerful secondary development of NX software and the strong post-sales service from the Shanghai Grace Field teams have solved our difficulties and resolved our doubts about the machining and production processes," says Chen Zijian, the machining technology department manager at Jiangyin Wilson. "NX software has powerful modular functions (CAD/CAM/CAE), which reduces our investment in other software."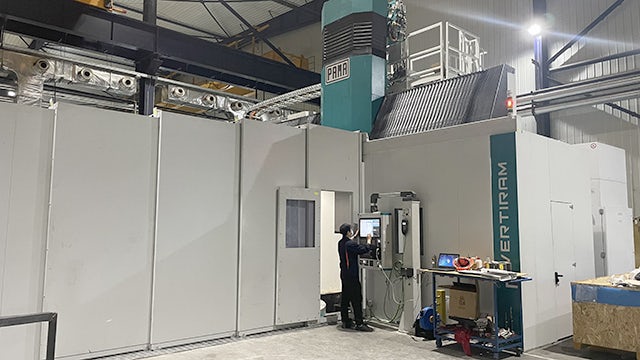 Reducing workload by 50 percent
With guidance from Grace Field and by using NX, Jiangyin Wilson realized several improvements throughout their manufacturing process. The software allows the quick entry of present coordinate systems, as well as the quick entry of tool parameters and error proofing. This, alongside deviation judgement of the present and workblank zero points, increased the number of products meeting quality requirements. With fewer rejections of end products, Jiangyin Wilson reduced its workload by 50 percent.
"Since the introduction of NX software, we have achieved great improvements in our management efficiency, production cost, machining quality and safety," adds Zijian. "Originally our programming software was based on the engineers' personal choice and now they are all using NX programming, thus both the machining programs and the tool parameters are standardized."
Improving collaboration
The data-sharing functions of NX, which support simple importing and exporting of files, has also improved collaboration between departments and individuals involved in the manufacturing process. "With unified programming software and postprocessing, work handovers are smoother and the efficiency of process programmers has improved," says Zijian.
Jiangyin Wilson continues to improve its efficiency and product quality to stay competitive in increasingly crowded industries. The company is impressed with how NX has been able to help it and is looking for other ways it can be used to boost its performance.