Case Study
D-Cubed AEM motion simulation software enables CAD/CAM developer to rapidly respond to customer needs
Integrating D-Cubed Assembly Engineering Manager (AEM) into ISD's HiCAD software builds on existing relationship with trusted supplier
ISD Software
ISD Software und Systeme GmbH is a leading developer of comprehensive CAD, PDM and product configuration software solutions for mechanical engineering, plant engineering, sheet metal processing, steel engineering and metal engineering. ISD has been using D-Cubed components from Siemens Digital Induistries Software since 1995.
http://www.isdgroup.com
Headquarters:

Dortmund, Germany

Products:

D-Cubed, PLM Components
D-Cubed AEM adds motion simulation capability to HiCAD
HiCAD solution from ISD Software und Systeme GmbH (ISD) features a new assembly motion simulation capability based on D-Cubed™ software, licensed from product lifecycle management (PLM) provider Siemens Digital Induistries Software. D-Cubed Assembly Engineering Manager (AEM) was rapidly integrated into the HiCAD solution module to help users explore design functions during the early virtual prototyping stage, so they can eliminate design errors when the cost of making changes is relatively low.
HiCAD is ISD's flagship product, a computer-aided design (CAD) system that offers full 2D and 3D associativity and industry-specific functions and product data management (PDM) tools in a single system. HiCAD provides fast, efficient product development for mechanical engineering, plant engineering, sheet metal processing, and turnkey solutions for steel, glass, metal and facade engineering. The D-Cubed AEM component enables HiCAD users to explore how their designs function by simulating the motion of parts in mechanisms and assemblies.
Having made the decision to upgrade HiCAD's "transport and assembling simulation" functionality in response to customer requests for improved motion simulation capabilities, ISD faced a classic make-orbuy decision. If the company decides to make the required technology, how long will it take and how much will it cost? If, on the other hand, the company decides to buy (or license) the technology, that is easy to justify if it means getting the needed functionality much sooner without a significant investment in time and resources. Such was the case with the licensing of D-Cubed AEM. "Using the D-Cubed AEM software component, we realized a faster market launch that satisfied our customers' requirements rapidly and improved our competitive position in exploiting new market opportunities," says Dr. Markus Grunwald, technical director, ISD.
D-Cubed AEM enables users to operate directly on the CAD model, resulting in motion studies that are geometrically accurate and suitable for demanding engineering applications, in contrast to approximate simulations that operate on faceted models. HiCAD users can perform motion studies interactively, with the option to drag parts during motion simulation. Users can add a range of forces and engineering devices, including linear/rotational motors, conveyors and gravity, to model a wide range of systems. AEM resolves the forces acting on parts, and uses mass properties to determine motion, while modeling all moving part interactions with a high degree of accuracy. The simple interactive mode of operations requires no special model preparation by the end user. The ability to simulate the physical function of digital assemblies without specialist expertise or training helps users eliminate errors early in the product development cycle. In addition, HiCAD users can now simulate the product assembly and disassembly process during virtual prototyping. This functionality is provided in the core product and is available to all users without the need for an additional module.
Licensing AEM enabled ISD to deploy this comprehensive simulation functionality in a single software release cycle. Furthermore, Siemens Digital Induistries Software worked closely with ISD following the initial release to develop enhanced conveyor capabilities based on specific end-user requirements. As a result of this collaboration, ISD was able to meet customer demand rapidly by deploying the new capabilities in the first service pack release. The additional functionality enables HiCAD users to simulate conveyors in machine design and process simulations. According to Dr. Grunwald, "AEM's lean and flexible component architecture meant we could easily integrate the technology with our proprietary geometric modeling kernel. Close cooperation with Siemens Digital Induistries Software's highly competent AEM support team also ensured we could customize the solution quickly to our specific application requirements."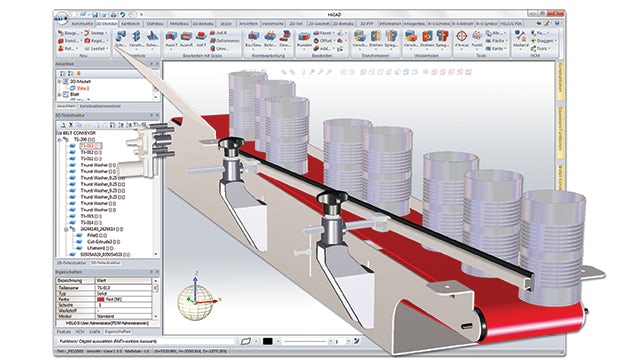 Decision based on long-standing relationship
The choice of D-Cubed AEM by ISD strengthened a relationship that dates back to 1995, when ISD licensed the D-Cubed 2D Dimensional Constraint Manager (2D DCM) to provide a 2D parametric design capability in its CAD application. ISD went on to license the D-Cubed 3D Dimensional Constraint Manager (3D DCM) in 1999 to solve part relationships in 3D assembly environments. These geometric constraint solvers are the most widely adopted solutions of their kind. Many major CAD, computer-aided manufacturing (CAM) and computer-aided engineering (CAE) vendors have licensed these components to enable 2D and 3D parametric sketching, 3D part positioning, and direct modeling. As with with other CAD systems, ISD's implementation of AEM builds on its existing 3D DCM integration. Motion simulation using AEM automatically takes account of HiCAD's assembly constraints, which are managed by 3D DCM to represent linkages between parts.
"Our successful working relationship with Siemens Digital Induistries Software made us confident that we would be providing our customers with the reliable solutions they require," says Dr. Markus Grunwald, technical director, ISD. "No competitor product can beat the range of functions offered by the D-Cubed AEM software component." ISD licensed D-Cubed AEM in September, 2013 and delivered it in HiCAD version 19 within six months.
Siemens Digital Induistries Software offers a comprehensive portfolio of PLM Components in the form of geometry toolkits for product design, simulation and manufacturing. These toolkits are licensed under the company's open business model to independent software vendors (ISVs) in 28 countries and integrated into more than 350 commercial software applications, which are used by more than six million software users. In addition to the D-Cubed components, Siemens Digital Induistries Software also licenses Parasolid® software (the world's leading production-proven component geometric modeling software) and Kineo™ software components (for collision-free path-planning). Siemens Digital Induistries Software has also organized the JT Open Program, a global community that has established the widely-used JT™ data format as an ISO standard for sharing product and manufacturing information in the PLM industry.