Case Study
Aiming for excellence in automotive testing and engineering
International Centre for Automotive Technology equips its new leading-edge NVH laboratory with Simcenter Testing solutions
International Centre for Automotive Technology
The International Centre for Automotive Technology was established in 2006 at Manesar, Haryana, India. ICAT has two centers located in Manesar, providing quality services in all domains of auto- motive and non-automotive development, including pow- ertrain, noise vibration and harshness, fatigue, photo- metry, tire and wheel, passive safety, EMC, CAD and CAE.
http://icat.in
Headquarters:

Manesar, India

Products:

Simcenter Products, SCADAS System, Simcenter Testlab

Industry Sector:

Automotive & transportation
Unique project, cutting-edge infrastructure
The transportation industry is undergoing tremendous changes. Electrification, advanced driver assistance systems and autonomous driving technologies are creating new travel experiences for drivers and passengers. The growth and urbanization of the global population create the need for smoother traffic flows. Digitalization is disrupting the way vehicles are conceived and making it possible to explore more unconventional designs. Is the industry ready for the change?
The National Automotive Testing and R&D Infrastructure Project (NATRiP) in India is one of the most significant initiatives to meet the challenges of the new industry. It is a unique collaboration of the government of India, a number of regional governments and the Indian automotive industry. Its purpose is to build state-of-the-art testing, validation and R&D infrastructure in the country.
The project aims to develop core global competencies in the automotive sector in India and to position the local industry prominently on the global map. It provides vehicle and component manufacturers in India with world-class, modern infrastructure for design, development and testing of components and full vehicles. The project will establish Indian service providers as leading partners on a global scale.
The International Centre for Automotive Technology (ICAT) was established in 2006 at Manesar, Haryana, India. ICAT has two centers in Manesar, providing quality services to support industry in the domains of computer-aided design (CAD), computer-aided simulation (CAE), powertrain design and testing, noise vibration and harshness (NVH) optimization, fatigue testing, tire and wheel testing, passive safety improvement, electromagnetic compatibility (EMC) and more.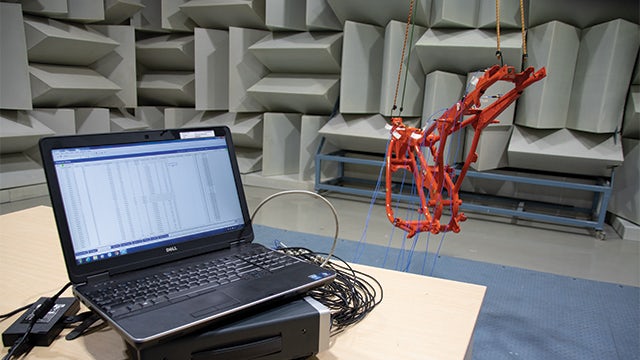 World-class equipment for NVH optimization
ICAT hosted the inauguration of new test facilities on 29th May 2018. The four new facilities in the test center include an advanced NVH laboratory, an EMC facility, a passive safety lab and a tire testing lab.
Approximately $22 million was invested in the NVH lab, resulting in a comprehensive facility for the testing and assessment needs of the industry. It includes several semi-anechoic chambers equipped with dynamometer capabilities that are suited for multiple vehicle types, from passenger to heavy-duty vehicles. The largest semi-anechoic chamber enables vehicle manufacturers to perform indoor pass-by noise tests in the room. These tests reproduce the noise level of a car passing by, to verify that the vehicle under test will meet noise level regulations.
The facility also features a room equipped for modal testing and analysis and a set of coupled acoustic rooms that are used jointly or independently for sound transmission loss and absorption coefficient testing. A listening room offers a quiet and comfortable space for assessing sound quality engineering (for example, jury testing). Advanced source localization tools, including an acoustic camera, significantly accelerate troubleshooting to save time and money.
The laboratory manager, charged with equipping all rooms with adequate testing hardware and software, turned to the only supplier of an integrated hardware and software solution. The decision to work with Siemens' Simcenter™ portfolio resulted in a complete testing infrastructure covering operational NVH assessment, modal analysis, material testing, sound source identification and finally transfer path analysis. The combination of Simcenter™ SCADAS data acquisition hardware (with approximately 500 channels) and Simcenter Testlab™ software is well suited for mobile and lab environment testing. With this setup the ICAT testing teams easily pursue basic and complex testing campaigns with a single software and hardware platform.
"We are very happy and impressed using Simcenter testing solutions in our NVH center, because they offer the most comprehensive toolset for all NVH testing needs on one integrated platform," explains Kiranpreet Singh, assistant general manager, NVH at ICAT. "As our teams expand, the ease-of-use, short learning curves and flexibility of the hardware and software solutions were also important factors in our purchase decision."
With the help of the Simcenter™ portfolio of testing solutions, ICAT offers services and expertise for vehicle engineering, validation and testing with comprehensive, up-to-date accredited testing facilities. The NVH lab is suited for homologation and certification of all types of vehicles, from two-wheelers to buses, trucks and tractors. The test tracks and the large semi-anechoic chambers welcome heavy equipment machines such as construction equipment vehicles.
Fine-tuning the acoustic performance of a vehicle has never been as important as with hybrid-electric and battery-operated electric vehicles. Buzz, squeak and rattle noises, annoying ticks and clicks and irritating whining noises are no longer masked by the constant droning of the engine. The NVH lab at ICAT is perfectly geared to help manufacturers assess and perfect the noise performance of innovative vehicles and address future mobility challenges.
"The ICAT is a unique laboratory and the only one of its kind in this country and probably in the whole of Asia," says Dinesh Tyagi, director of ICAT. "The semi-anechoic chamber for passenger cars is suitable for simulation of pass-by noise tests, a capability that will be required more and more to develop quieter vehicles."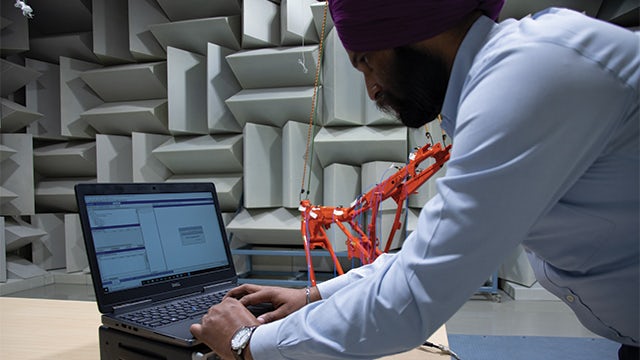 Serving industry needs with the most comprehensive test center in India
Beyond the NVH lab, ICAT relies on Simcenter testing solutions in the powertrain testing lab, part of the initial test center built in 2006. The powertrain lab uses Simcenter SCADAS data acquisition hardware and Simcenter Testlab software to evaluate and improve powertrain NVH. "Simcenter Testlab fulfills our measurements analysis needs from signature testing to operational NVH measurements to model test, acoustics and transfer path analysis," says Ikshit Shrivastava, deputy manager, NVH at ICAT. "All these can be done on a single hardware and software platform."
"The Indian automotive market has been growing at a very rapid rate in excess of 15 percent, sometimes up to 25 percent in various segments," says Tyagi. "It is expected that by the year 2030, the four-wheeler market will cross the 10 million units mark. Combined with the large two-wheeler market, we expect to see some 40 to 50 million vehicle units in circulation. Our center of excellence is geared towards the future, to help manufacturers develop vehicles that meet environmental constraints and regulations, and also to exceed consumers' expectations. We have been investing almost $8 million every year in our facilities to help manufacturers meet upcoming regulatory requirements."