case study
Using simulation to design a working, all-electric Le Mans race car to promote sustainability
Leveraging Siemens Xcelerator to create a solid engineering foundation to succeed in the e-racing ecosystem
InMotion
InMotion is a student team founded in 2012 with the start of the assembly of their
first race car, the Ignition. The team has since developed several award-winning race cars, including their first fast-charging race car, the Revolution, which can
charge in 12 minutes.
https://www.inmotion.tue.nl/
Headquarters:

Helmond, Netherlands

Products:

Siemens Web Framework, NX, NX CAD, Simcenter 3D Software, Simcenter Products, Simcenter STAR-CCM+, Teamcenter

Industry Sector:

Automotive & transportation
Charging ahead towards Le Mans e-racing
In a world where sustainability is front and center, more racing teams are considering e-alternatives. Now, the question is: What would happen to Le Mans if you could participate in endurance racing, electrically? What would happen if you could charge your race car in the same amount of time it would take you to refuel petrol or diesel? That is what the InMotion student team, associated with the Eindhoven University of Technology in the Netherlands, has done.
Based on the Automotive Campus in Helmond, InMotion is currently fine-tuning its latest car, the Revolution. The Revolution is an all-electric Le Mans car that showcases its innovative 12-minute fast-charging technology and demonstrates its next-generation battery packs.
"We really try to innovate on the mobility side," says Martijn Scholtus, account manager for InMotion. "We believe that fast charging is way too slow at this point and that might be a reason that people do not drive electrically. With the Revolution, we want to make the charging time as fast as possible. It is charging in 12 minutes. That's a big leap. And it's a Le Mans race car.
"The most prestigious race is the 24 Hours of Le Mans. Our entire team dreams of racing there with this technology. If it works at the 24 Hours of Le Mans, then it's going to work everywhere."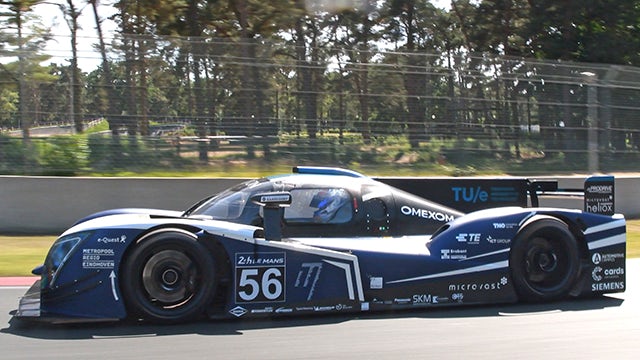 A decade of winning innovation
The InMotion team, which is run as a foundation that rotates students annually, practices continuous innovation. Experienced former members meet weekly with the current team to share information and help them solve technical challenges.
InMotion has built four successive innovative race cars including the heritage bio-ethanol Ignition (the fastest student e-Formula 3), the Fusion, the Vision (a more aerodynamic e-concept car) and the Revolution, (a true pioneer with its 12-minute e-charging time – that is faster than an e-Porsche or even a Tesla).
"Ten years of being a student team is quite amazing," says Ewout Timmermans, team manager, InMotion. "This is what makes InMotion special. The people that founded it ten years ago are still on the supervisory board. People that built the first electric race car, the Fusion, are still providing us with knowledge about the Revolution. That's unique. It's about moving forward, making progress and keeping continuity on the team."
Using Siemens solutions to gain professional experience
One main focus for InMotion in the past year was to professionalize the team. The students wanted to take it up a notch and start performing like a real racing team. InMotion turned to Siemens Digital Industries Software to help make this a reality.
"Siemens is a key partner in making this happen as they provide us with all of the software to design, build and engineer the car," Timmermans adds.
"It is necessary to work with really good software. Siemens provides this same software suite to Formula One as well. So at InMotion, we're working with the same software as the pro teams and that is really allowing us to push our design to the limit. As a result, we have an amazing race car in the garage that is an enormous piece of engineering. This is really unique."
With the goal being an operational electric Le Mans race car and a highly professional racing team, the students count on the same Siemens software tools as leading F1 teams.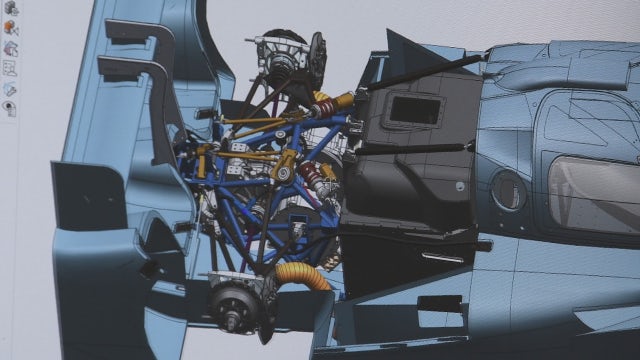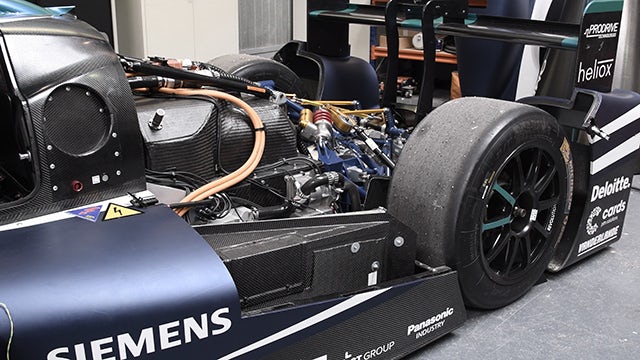 An innovative mindset
The team built a comprehensive digital twin of the Revolution and its systems using NX™ software for detailed computer-aided design (CAD) work and various Simcenter™ software tools, like Simcenter STAR-CCM+™ software and Simcenter 3D software for advanced engineering tasks. With the team's innovative mindset, it isn't surprising that InMotion was one of the first student teams to fully integrate Teamcenter® software into the process to leverage the right data from the digital thread of the Revolution. Teamcenter, NX and Simcenter are all part of the Siemens Xcelerator business platform of software, hardware and services. With terabytes of data flying around, using Teamcenter helps the different student engineers focus on the data that matters while working on complex aspects of the digital twin simultaneously. Teamcenter plays a key role in streamlining the process by seamlessly linking advanced simulation, data management and testing processes in the digital thread.
"People think that we just start designing something, which is not true. We designed the Revolution as a team and this process comes with a lot of requirements, preferences, ideas and constraints," says Thomas Kuijpers, technical manager, InMotion.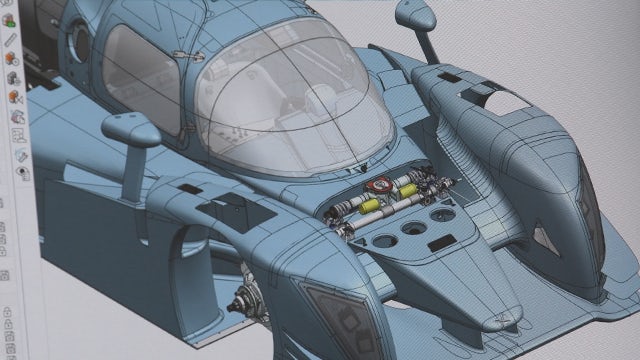 The power of the comprehensive digital twin
Working from design input and criteria, InMotion engineers used the classic V-cycle approach, traditionally used by most automotive original equipment manufacturers (OEMs) to iterate design development. After months in the design and analysis phases, the team developed the blueprint for the Revolution.
"When you want to design something like the Revolution, you have to have a solid base to work on," says Kuijpers. "That's what we do with Siemens tools, for example, 3D modeling with Siemens NX. We make a model and we test that model already in a digital environment so that we know that we won't run into any strange issues once we start constructing the final product in reality."
One of the key challenges the engineering team faced was the size of the Revolution assembly and the number of specialized engineers working on different areas of the model.
"Since we have quite a big engineering team, it's important that we can delegate tasks to different engineers," says Kuijpers. "Using Teamcenter enables us to work together on the same assembly, at the same time and contribute our own iterations to the design – all without the risk of overwriting each other's work or having to split the assembly up into pieces."
Leveraging the digital thread
Working in a digital thread with a digital twin was a new concept for some of the engineers on the team. Old-school tactics, like prototyping and on-the-fly troubleshooting are a thing of the past for the new generation of InMotion engineers.
"I think for most of the engineers, it was a true eye opener that you can work in this detail and represent advanced design and engineering performance this accurately in a virtual world," explains Kuijpers.
The team is quick to recognize that getting everyone up to speed on all the Siemens solutions was far from an out-of-the-box (OOTB) experience. They had help from cards PLM Solutions, a Siemens Platinum Smart Expert Partner, based in Best, the Netherlands.
"The consultants from cards PLM were always quick to respond and point us in the right direction when we got stuck," explains Kuijpers. "Another bonus about Siemens, especially for students, is the Siemens Xcelerator Academy. Most of us had already followed courses online with the university, but once we started working as a new team, we had more access to specific material and tutorials. This was very useful for us."
"I've used NX and Simcenter a lot for strength analysis," says Chiel Boons, battery pack engineer for InMotion. "Especially when designing tough stuff, like the tubular frame that houses all of the components, the entire electric powertrain, the rear suspension and the rear wings. It all has to fit and be strong to handle the wheel loads. To design this, you can go from the model in NX immediately to Simcenter to do a strength analysis test. You can apply the loads and constraints to see if the frame will hold, where you'll need design reinforcements or where you could lose some material."
"With these interconnected Siemens tools, you have a lot of confidence that your design will actually fit on the car and perform like it should." He adds, "It is just nice not to have to make any modifications and have stuff just work."
With some of the most advanced aspects of the Siemens Xcelerator business platform in place, current and future InMotion teams can count on a solid engineering foundation to succeed in the e-racing ecosystem and hopefully soon at Le Mans.