Case Study
Construction equipment manufacturer uses Simcenter durability solutions to improve equipment performance
Siemens Digital Industries Software solutions enable Hidromek to reduce measurement times by 50 percent
Hidromek
Hidromek is a global manufacturer of construction machinery, and was founded in Ankara, Turkey in 1978. The firm started by producing attachments for agricultural tractors, and later produced the first construction machine ever designed by Turkish engineers. Hidromek employs about 2,000 employees, and manufactures excavators, backhoe loaders, wheel loaders and motor graders.
http://www.hidromek.com.tr
Headquarters:

Ankara, Turkey

Products:

Simcenter Products, Simcenter Amesim, Tecware, SCADAS System, Testxpress

Industry Sector:

Heavy equipment
Rising global popularity
Backhoe loaders are the most popular construction equipment on the market, primarily because they are so versatile. They can be used to perform a wide variety of tasks, from earthmoving and landscaping to small demolition projects, equipment transportation and even paving roads. Owners of backhoe loaders don't really need to own another piece of construction equipment, and most don't. But what they do is put their equipment through its paces. Backhoes must be rough-and-tough enough to handle any type of job on any type of terrain, and they must be durable and versatile enough to perform job after job.
With the demand for rock-solid durability, backhoe engineers clearly need to lock into load capabilities early in the development cycle. And they need to look at a variety of usage scenarios: high loads for hauling heavy equipment and variable loads for different types of earthmoving tasks, such as soft ground compared to rocks and gravel. As a durability engineer, you need to understand complex load distribution as well as guaranteeing the machine can handle the heaviest lifting time after time without mechanical failure.
Designing it right has always been the motto of Hidromek, a leading Turkish construction equipment manufacturer. Founded in 1978, this family-run backhoe loader and hydraulic excavator manufacturer is headquartered in Ankara and employs about 2,000 people. Today the company makes machines ranging from 4 to 54 tons, including the design award-winning Alpha and Supra-series backhoe loaders, GEN-series excavators, wheel loaders and motor graders created by the company's in-house Hidromek DesignStudio.
The firm is seeing a rise in worldwide popularity as it is selling in over 80 countries and producing more than 5,000 backhoe loaders and excavators annually. The challenge for the owners, Hasan Basri Bozkurt and his two sons, Ahmet and Mustafa, is to maintain the momentum, making sure Hidromek products maintain a high standard for aesthetics, ergonomics, quality and performance. One way to do this is by focusing on durability engineering.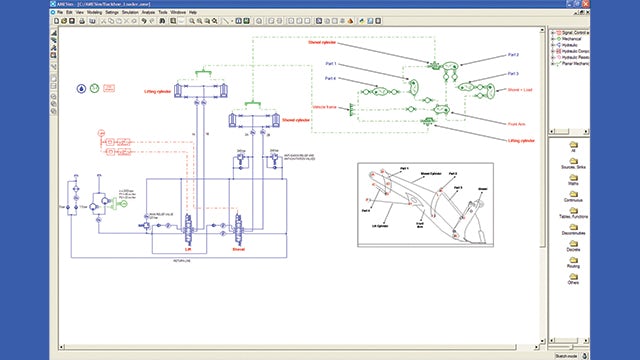 Engineering for durability
Durability plays a mission-critical role when designing any type of vehicle, especially off-road construction equipment, which puts the laws of physics to the ultimate test. From an engineering perspective, much can be done upfront in the development process to explore the workability of the final design, but the main difficulty in durability issues is gaining a realistic understanding of the loads the equipment and its components can handle. Normally, steps in the development process to check design durability include obtaining on-site measurements, quickly and accurately processing the data and feeding it back into the respective test rig or simulation model to confirm design feasibility.
Rather than offering just a basic data acquisition tool, the Simcenter™ portfolio provided Hidromek with a durability solution that covered the complete development process.
"The Simcenter portfolio is better for our design vision and helps us to understand the real loads capability," says Ferhan Ficici, Backhoe Loader and Wheel Loader Engineering Manager at Hidromek. "In the end, this translates into improved equipment performance, better ergonomics and longer lifecycles."
Simcenter tools support Hidromek's efforts to better understand realistic loads for improved equipment performance and a longer lifecycle. Hidromek uses the Simcenter portfolio to build multiple possibilities for dynamic fatigue assessment, block-cycle test definition, accelerated testing and fatigue life prediction.
Across-the-board improvements
By using the Simcenter system in-house, Hidromek's team has taken durability engineering to the next level with acrossthe-board improvements not only in the overall process, but also in the quality of the measurements, more thorough data analysis and faster processing times.
During a normal durability test cycle, the first task at hand for the engineering team is to acquire real-life operational data. For this, Hidromek engineers can access a total of 112 channels by combining the power and capacity of their two Simcenter SCADAS™ Recorder hardware data acquisition systems. One Simcenter SCADAS Recorder measures strains, stresses and other loads in the cabin, and the other Simcenter SCADAS Recorder, mounted under the machine's frame, acquires the real workaday load data.
The two systems remain synchronized thanks to Global Positioning System (GPS) time data, which eliminates the clutter of additional cables between units. With simultaneous personal computer (PC) free data acquisition, the Hidromek engineers can easily acquire all the durability data they need in a single test run.
"The Simcenter solutions are very userfriendly, especially the Simcenter Testxpress data acquisition software," says Ficici. "Tests are quickly set up so the overall test preparation time decreases. Just one click is enough to balance all channels. Before, test preparation and execution used to be a lengthy process. I felt the time we spent in measuring data was out of proportion to the results we got. Today with Simcenter solutions, overall measurement times are reduced by half."
Heavyweight champions
Durability testing is already a tough job. When you consider Hidromek manufactures machines that weigh anywhere from 4 tons to a 54 tons – that is almost the weight of six adult elephants – you can understand why the testing hardware needs to be tougher than tough.
The team at Hidromek didn't hesitate to mount its Simcenter SCADAS Durability Recorder right under the frame of its heaviest machines since the reinforced case on the Simcenter SCADAS Durability Recorder can withstand the toughest conditions and is Ingress Protection (IP) 54 certified, so dust, dirt, mud and water on the construction test site don't affect it.
Crunching the data
Once the team obtained the data and validated it, Simcenter Tecware software was used to analyze and compare the measurements with previous ones.
"Thanks to the data management and durability-specific characteristics of Simcenter Tecware, it is really easy to create an overview report that can be used by other departments for simulation or studies on hydraulic test rigs," says Ficici. "We also appreciated the fact that Simcenter Tecware accelerated the testing phase without having to omit nondamaging events from the measured loads, or oversimplifying a test to a uni-axial block cycle test.
"Today we base our design criteria for structural parts on some assumptions and then perform strength analyses and calculations. The new process, implementing the Simcenter SCADAS Recorder and Simcenter Tecware, allows us to verify if these assumptions are true or not. Hence, it is possible to validate the structural parts of our products. This results in truly more reliable products. Our Simcenter durability solution is very versatile. Even our noise and vibration engineering team uses it to perform human body vibration measurements and confirm ISO compliance for sound power. The Simcenter solution is easy to use in every way and has really helped us exceed our goals relating to durability, performance and ergonomics."
For development studies, octave-band analysis and fast Fourier transform (FFT) analysis are performed. Similar spectrum analyses in frequency domain are performed for vibration measurements. FFT and power spectral density (PSD) graphs are generated by using time-series data. Also, weighted root mean square (RMS) values are calculated for different maneuvers of earthmoving machines. Using the same hardware and software platform for different types of applications saves both costs and time, but not at the expense of job-specific tasks that are fully supported by the platform.