Case Study
NASCAR racing team uses NX, Simcenter and Teamcenter to power its digital race to the starting line
Siemens Digital Industries Software solutions enable Hendrick Motorsports to leverage the digital twin to enhance performance and reliability
Hendrick Motorsports
Hendrick Motorsports is a critically acclaimed and immensely successful NASCAR® racing outfit. Operating out of a 430,000 square-foot campus in Concord, North Carolina, the team represents an important part of NASCAR history, having won 12 championships in the premier Cup Series.
http://www.hendrickmotorsports.com/
Headquarters:

Concord, North Carolina, United States

Products:

NX, Simcenter Products, Teamcenter

Industry Sector:

Automotive & transportation
Turning designs into "real hard parts"
Hendrick Motorsports is a critically acclaimed and immensely successful NASCAR® racing outfit. Operating out of a 430,000 square-foot campus in Concord, North Carolina, the team represents an important part of NASCAR history, having won 12 championships in the premier Cup Series. Its roster of stock car drivers includes Chase Elliott, William Byron, seven-time series champion Jimmie Johnson and Alex Bowman.
Hendrick Motorsports' four Cup teams are supported by a staff of more than 600 and a wide array of technologically sophisticated tools, including product lifecycle management (PLM) software from Siemens Digital Industries Software. Hendrick Motorsports leverages Siemens software to gain a competitive edge every week before they even go to the track.
To that end, Hendrick Motorsports uses Siemens Digital Industries Software's NX™ software, Simcenter™ software and Teamcenter® software for its product development needs.
"The ability to turn designs into real hard parts is critical for us, and the Siemens Digital Industries Software suite helps support every facet of that," notes Jim Wall, director of engine programs.
Hendrick Motorsports started using software in the engine engineering shop in the early 1990s. The team employed computer-aided manufacturing (CAM) software to create the toolpaths they needed to drive the 3-, 4- and 5-axis operations on their Haas machine tools. This led to greater efficiency and also removed one of the early engineering problems: part variability.
As they increased their use of engineering software to the design and simulation disciplines, they began to see significant benefits as it enabled the engineering team to capture, document and collaborate on designs. The linkage between the computer-aided design (CAD), CAM and computer-aided engineering (CAE) tools also led to less data import and export, fewer errors in translation and a greater ability to keep the engineering groups aligned on the latest parts and design updates.
Developing the digital backbone
In 2004, the team realized it had data that came from all sorts of areas that could and should be linked to product development, production, track operations and post-race inspection. The team realized this information could be used to help develop next-generation product design efforts. In 2004, the Hendrick Motorsports team and Siemens Digital Industries Software consultants began to map out a digital twin strategy for the NASCAR powerhouse.
The first step was to sit down and under - stand how Hendrick Motorsports was doing business. This led to creating of the first data model, the foundation for the environment that continues to grow and evolve today. This ecosystem enables the team to take advantage of new tools and technologies, and to recognize better ways to access, share and protect their critical data.
From the beginning, the Teamcenter tool was chosen as the digital backbone. Hendrick Motorsports captures data from a wide range of areas, not just from the CAD, CAM and CAE tools. Track performance data, dyno data, build sheets, etc., are all brought together with the CAD models, CAM toolpaths and CAE setups and results, providing a digital twin that is organized and linked in a way that makes sense to everyone in the organization. Searching for data used to take hours, days and even weeks because people had to spend time looking through binders and file cabinets. Now it takes minutes.
"There's just enough red tape to provide operational structure but not enough to get in the way of people doing their jobs," says Wall.
And their use of the Teamcenter Business Modeler Integrated Development Environment (BMIDE) tool allows their administrator to configure and modify their environment to fit the team's needs. This provides them with confidence that customizations will transition through software updates, making everyone's lives that much less stressful.
Additionally, the Hendrick Motorsports team has been optimizing and rolling out the Active Workspace client to improve the accessibility and enhance the experience of their users, who now extend well beyond the engineers and include fabrication, machining, engine and chassis assembly, race operations, marketing and corporate executives.
Using Teamcenter helps the team get the right data to the right people at the right time in a secure environment. This, in turn, means that more time is spent evaluating and analyzing their options.
As crew chief Chad Knaus states, "The engineers come with solution options now, instead of just dropping stacks of data on my desk for me to sift through."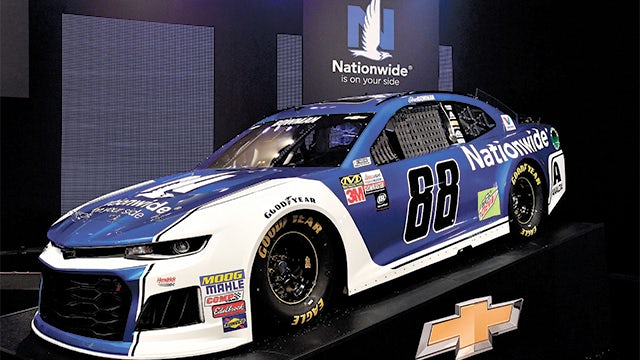 Leveraging the digital twin
One way to look at a NASCAR race team operation is to see it as a new product release 36 times a year. The races happen whether the team is ready for them or not.
So engineering has to continuously go through development, and produce a steady stream of enhancements (or problem mitigation solutions) during the season. This means they are constantly trying to balance between new ways to gain performance advantages while maintaining reliability.
One way that Hendrick Motorsports is working with Siemens Digital Industries Software to get more ideas onto their cars faster is through their involvement with the Siemens Digital Industries Software Early Adopter Program (EAP), which partners select customers with the firm's software product development teams. The EAP gives customers access to unreleased software if they agree to test it and provide feedback to development.
One longstanding challenge for Hendrick Motorsports in terms of complexity and time to completion has been port machining operations. Although Hendrick Motorsports receives premachined cylinder head castings from GM, they perform multiple 5-axis simultaneous machining operations to the ports using tube milling. These changes allow the team to create the 750-horsepower (HP) engines that you see weekly on the race tracks.
When Siemens started developing tube milling, they invited Hendrick Motorsports to participate in the EAP.
The engineers and machinists that worked on this project were able to see how the new tools would reduce the time required to generate toolpaths by a factor of 10x or more. They were also able to see that the quality of the 5-axis toolpaths are superior to anything that they had before, resulting in better finishes and less rework on complex surfaces.
Additionally, the Hendrick Motorsports crew was able to help the Siemens developers drive real world usability enhancements and input into the product before release, leading to a product that is far more mature for all the other users in the Siemens Digital Industries Software world.
Creating the best designs possible
Another interesting aspect of NASCAR is that every week the cars are parked in an open garage next to the other teams.
"The open garage policy means it becomes a self-policing garage so the shelf life of a good idea is only a week or two," says Tad Merriman, engineering manager of the engine shop.
So with all the changes and ideas floating around, it is important the team understands what they need to be working on. They need to test new ideas and move forward with promising ideas while killing ideas that are not panning out quickly. And they have to constantly be looking for the next new idea. They are not creating a 2018 model car and moving on; rather, they are creating the Daytona 500 car, refining it until they race it, while also looking forward to the races for the rest of the year.
Designing with confidence
As these engineering teams work on development projects, they have found Simcenter absolutely critical to their work. From the start of work on a new idea, the engineers leverage Simcenter 3D as a critical piece of the design process. Typically, there are two types of projects – new ideas for designs or modifications, and projects that come back from the track based on testing or race results.
For example, the team noticed that it was getting damage on the pushrod tip. The team applied the assembly finite element method (FEM), a key strength of Simcenter 3D, to understand what happened so they could make better designs. Using assembly FEM even for a few parts provides the opportunity to investigate and understand the interactions between components and see if and where that interaction is causing part damage and potential failure.
Getting the best cars to the track every week
Hendrick Motorsports has proven time and again that their partnership with Siemens Digital Industries software helps them win races and championships.
"The key benefit that the Siemens products give us at Hendrick Motorsports is the speed of response to make a competitive change to fix problems and create more performance at the race track in a tight window of time," says Wall.
"If we can take advantage of rule changes faster, we can develop and implement new ideas faster, and this can result in winning races. Siemens Digital Industries Software is a competitive advantage," says Merriman.
Need proof?
Since the Hendrick Motorsports partnership with Siemens Digital Industries Software started in 1997, Hendrick Motorsports has won over 300 NASCAR races and 14 championships in the three national levels of NASCAR, 10 at the top level with Jeff Gordon, Terry LaBonte and Jimmie Johnson. And no one is about to suggest they are even close to being done yet.