Case Study
Leveraging IoT data and Insights Hub to enhance quality and transparency
HBIS deploys Insights Hub to optimize asset utilization, reduce energy consumption and improve steel product quality
HBIS
HBIS Group Co., Ltd. manufactures and distributes iron and steel materials. The company produces cold rolled plates, high strength steel bars, steel pipes, and special steel products. HBIS Group markets its products worldwide.
http://www.hbisco.com
Headquarters:

Shi Jia Zhuang, Hebei Province, China

Products:

Insights Hub

Industry Sector:

Industrial machinery
As one of the world's largest steelmakers, HBIS Group Co., Ltd (HBIS) focuses on providing various industries with the most valuable steel material and service solutions, with a vision of becoming the most competitive steel enterprise. HBIS is China's largest supplier of home appliance steel, second largest for automotive steel and the leading steel supplier for marine engineering, bridges and construction.
HBIS prides itself on being the leader in advanced equipment, energy efficiency and industrial machinery. HBIS leverages Internet of Things (IoT) data and Insights Hub to enhance quality and transparency and environmental technology in the industry. The company has been awarded the highest rating in a report on the comprehensive competitiveness of Chinese iron and steel enterprises.
Digitalization addresses key challenges
Like other steel companies using traditional production methods, HBIS's factory asset and system process data was trapped in different silos. Real-time rolling mill operating status data was isolated in programmable logic controllers (PLCs). Plate thickness deviation data was held in the quality system. The data from meters measuring power consumption was not connected to other systems, and real-time production data was collected in the manufacturing execution system (MES).
The transparency of the entire steel production process was very low, and processes could not be accurately adjusted and optimized in real time. HBIS realized the potential of digitalization and Internet of Things (IoT) technologies to address key business challenges.
In the past, HBIS had used manual monitoring of processes to assess machine health. The resulting downtime and poor asset utilization were often costly and time-consuming to fix. In addition, HBIS had encountered a high frequency of rolled steel defects, and the unstable quality increased the company's operating costs.
Steel production is energy-intensive, and therefore energy constitutes a significant portion of the cost. Improvements in energy efficiency could help HBIS reduce production costs and improve its competitive advantage but without supporting energy usage data, HBIS found it difficult to effectively conserve energy.
Partnership with Siemens
To address these challenges, in 2019 HBIS and Siemens signed a strategic cooperation agreement to jointly build a digital factory model and establish a joint laboratory as an innovative demonstration base for intelligent manufacturing based on the industrial IoT. Under the agreement both parties would promote the Insights Hub, the industrial IoT solution from Siemens for improved operational decision making, to transform and upgrade the steel industry through digital technologies. HBIS became the first steel enterprise user of Insights Hub in China.
By leveraging the easy connectivity and advanced data analytics capabilities of industrial IoT, HBIS sought to overcome its business challenges and create an optimal model for accomplishing digital transformation for the entire industry.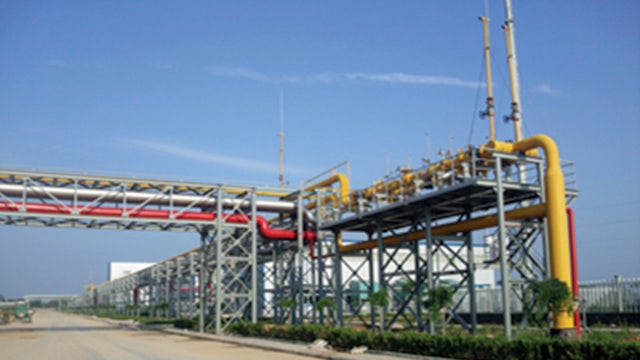 Using IoT solutions to connect and monitor key assets and processes
With the implementation and deployment of Insights Hub, HBIS broke down the barriers between previously isolated assets and systems. Using MindConnect hardware to connect to Insights Hub, the company enabled collection of key asset and systems data, including motors, PLCs, meters and the MES. All collected data is uploaded to Insights Hub, which provides a basis for further data analysis.
Monitoring key assets with industrial IoT
As core assets of the steel rolling business, rolling mills and their stable operation are keys to effective production. Continuously collecting temperature change data from coil motors and roller motors on the mills helps operators and managers to clearly understand the operation and health status of the mills in real time.
HBIS uses Insights Hub Monitor that gives users access to essential data monitoring features for industrial assets that are connected and configured in Insights Hub. Insights Hub Monitor helps locate and manage the assets, check their configuration details, monitor key assets over time and define rules to detect and correct overruns.
For example, when motor temperature exceeds a specified threshold, Insights Hub Monitor triggers an event and pushes a notification to the maintenance manager. At the same time, equipment manufacturers can analyze the cause of the failure through remote access and perform remote maintenance to improve asset health. The monitoring and analysis provides timely and effective maintenance, thereby minimizing unplanned downtime of assets and improving production efficiency.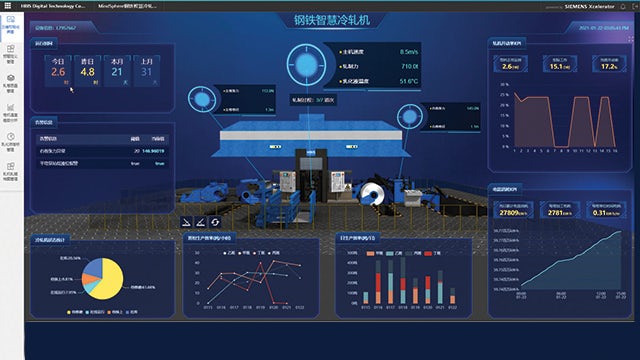 Improving product quality
The insights brought by advanced data analytics provide data-driven guidance for stabilizing product quality and reducing energy consumption.
Insights Hub combines the process parameters and indicators in production and provides HBIS with the capability to monitor the quality data of the final product in real time. For example, the status of rolls used in the cold-rolling production process has an important impact on the quality of cold-rolled sheets. By leveraging the advanced data analysis from Insights Hub, HBIS is able to easily detect roll abnormalities and reduce quality defects and accidents.
Improving steel quality
By capturing product quality data, HBIS can also take actions to continuously improve quality. Using Insights Hub, HBIS can record when the steel coil exceeds benchmark thresholds (±5 micrometer) during processing, correlating the real-time quality data with the time and location of the coil. With this data the company is able to compare and analyze the frequency of failures, the working conditions when failures occur, and historical data to provide data-driven insights for quality improvement.
Energy optimization
Through the application of Insights Hub, HBIS can capture real-time energy usage data during the production process. Tracking and analyzing energy usage enables operators to pinpoint the cause of possible energy leakage and waste.
"With Insights Hub, we can easily monitor key assets and systems and reduce unplanned downtime," says Miao Zhiwei, maintenance manager at HBIS. "Remote access and diagnosis can also quickly solve the problem of key asset failures, allowing us to transfer from traditional passive maintenance to efficient intelligent maintenance."
Applications built on Insights Hub
The Insights Hub pilot project helped HBIS achieve real-time monitoring of key assets and provided data-driven insights for improving product quality and optimizing energy consumption. HBIS has also developed several Insights Hub applications.
One application displays the 3D visualization model of the rolling mill with key performance status data. Another monitors motor temperatures and displays them for key motors of the rolling mill. A quality data monitoring application collects quality deviation data for each pass in the process, helping customers improve the quality level in the targeted benchmark. A roll file management application analyzes the use and grinding of each roll. Another monitors emulsion indicators and analyzes their relationship with rolling forces to improve productivity. Empowered by Insights Hub, HBIS has great confidence in full digitalization for the company and the steel industry.
"We are full of confidence in further cooperation with Siemens in the field of industrial digitalization and intelligent manufacturing," says Li Yiren, strategy director at HBIS. "Insights Hub has brought about a transformation of operations, improved the stability of product quality and reduced costs. We will work with Siemens to jointly promote the transformation, upgrading and long-term development of the steel industry."