case study
Leveraging simulation to help improve scissor-lift performance while transitioning from an ICE to an electric motor
Haulotte uses Simcenter to increase Pulseo lift maximum working drive height by 25 percent and loading capacity by 50 percent
Haulotte
Haulotte Group is a major French aerial work platform manufacturer, the third-largest company in the world in this area of products.
https://www.pulseo-generation.com/us/
Headquarters:

Lorette, France

Products:

NX, NX Open, Simcenter 3D Software, Simcenter Products, Simcenter Amesim

Industry Sector:

Heavy equipment
Safety is paramount
Take a look at any construction site and you'll see lots of scissor lifts being used for a variety of tasks. From indoor paint jobs to outdoor renovations, this type of construction lift with its elevating platform needs to perform well in a variety of challenging conditions.
Outdoor projects can be especially hard on this type of equipment. The ground can be muddy, uneven and tough to navigate. Muddy steep slopes require good traction performance to get the job done.
Another key driver is noise and emission regulations. Lifts may not emit exhaust and can't exceed certain decibel levels for operator and overall crew safety, especially indoors. This means engineers need to reduce the overall noise generated by the engine and the actuation systems as well as meet the ever-stricter standards applied to internal combustion engines (ICEs). As more urban areas adopt low-emission zones, manufacturers are being forced to accelerate innovation and produce alternative-energy equipment. In many cases, electric is the most viable way to go.
Finally, safety is paramount when it comes to construction equipment and lifts in general. These machines are all about working high above the ground. This means stability is the highest priority for both manufacturers and end users.
Know anyone with a scissor lift in the garage?
Like other aspects of the construction industry, 80 percent of final lift customers are not end users, but equipment rental companies. Rental companies need to offer high-performance, versatile machines to their customers. Customers don't want to rent different machines for the same site. Offering a versatile top performer is a major asset when it comes to managing a rental fleet.
Enter the Pulseo range
To fill this gap in the market, Haulotte, one of the world's leading manufacturers and suppliers of lifting equipment based in Lorette, France, has developed Pulseo, a range of next-generation, all-terrain electric scissor lifts. Suitable for both indoor and outdoor work, the all-electric Pulseo platforms offer superior performance compared to previous combustion engine models.
To develop these new models, Arnaud Chaigne, head of the simulation and digital validation division at Haulotte, and his team of engineers used simulation to study design possibilities and predict machine performance.
"Simulation allowed us to assess the feasibility of different innovation scenarios, taking into account the impact on various systems, like hydraulics, electrics and controls, as well as machine stability and operator safety," says Chaigne.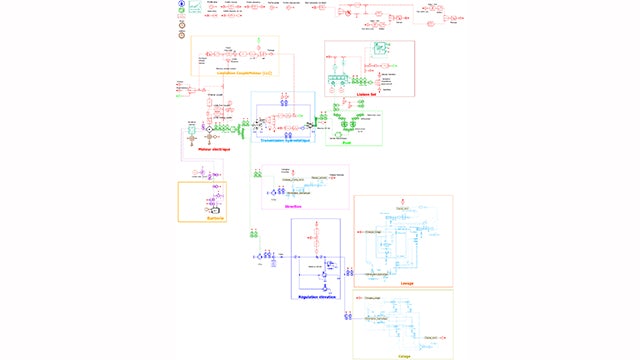 Design architecture evaluation using Simcenter Amesim.
Simulation tools of choice
Haulotte uses Simcenter™ software tools for system and mechanical simulation. Simcenter is part of the Siemens Xcelerator business platform of software, hardware and services. Using these simulation tools, the engineers at Haulotte developed a line of market-ready, 12-kilowatt (kW) electric motor scissor lifts. The new lifts delivered better performance compared to the previous model, which featured a 23kW internal combustion engine (ICE). Not only are the new electric scissor lifts pollution-free and quiet, but they also deliver better overall performance, including a maximum working drive height of 15 meters (m) instead of 12m and a load capacity of 750 kilograms (kg) instead of 500kg.
To determine the optimal architecture for future all-terrain Pulseo scissor lifts, Chaigne used Simcenter Amesim™ software for system simulation. One of the toughest parts of the task was optimizing the electric motor performance. Unlike conventional ICEs, to obtain the required power from the electric motor the team had to deal with many more design issues and constraints.
To start, Chaigne identified the energy losses on all levels: from the engine throughout the entire structure, including hydraulic distribution.
"We started by modeling the existing thermal system in order to identify the most energy-consuming parts (energy-loss mapping)," says Chaigne. "By doing this, we were able to define a new architecture more suited to an all-electric machine where all energy consumption counts."
Defining an optimal system architecture
As the part of the project to define the optimal architecture, the team worked on sizing the battery of the electrical system.
As Chaigne explains, "To size the battery properly, we had to study two major areas: on one hand, the total quantity of required energy for day-to-day operational needs, and on the other hand, the high power demands during transient phases. The risk is oversizing the design to adapt to these power peaks. Therefore, we worked on control law modeling to limit these peaks."
During the analysis phases, Chaigne and his team observed the peaks took place at the very beginning of elevation when the actuators initiated the movement.
"In order to optimize the battery size, we had to develop control laws to smooth out the power peaks while offering a similar lifting time," says Chaigne. "This resulted in a constant power level during the entire elevation movement."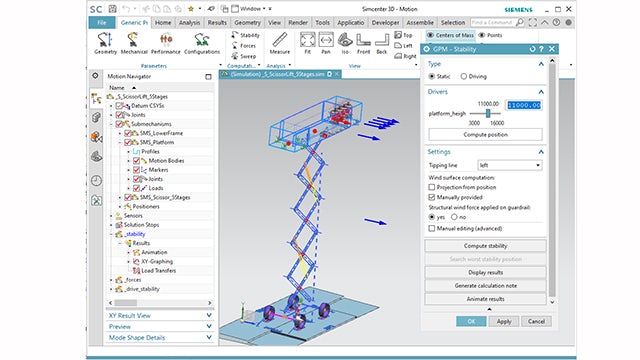 Customized process-oriented workflow tool using NX™ Open software, in Simcenter 3D.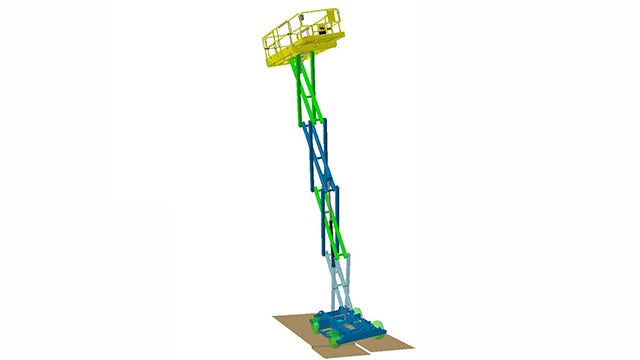 Simulation of in-operation machine stability, using Simcenter 3D Motion.
Using Simcenter 3D Motion to achieve stability
Regulations in various countries stipulate elevating lifts must remain stable, whether they are moving into position on a job site or standing still; for example, with the operator or workers on the platform.
"In order to improve productivity with our new scissor lift, it was necessary to study its stability in transit," says Chaigne. "When the machine is moving and deploying, you need to study the oscillating axle behavior to ensure the overall vehicle stability."
To be able to anticipate all possible scenarios, Chaigne and his team used Simcenter 3D Motion software to study the dynamic behavior of the scissor lift.
"We used Simcenter dynamic multibody simulation to size the scissor lifts to ensure stability," says Chaigne. "This made it possible to find the best compromise between performance and machine weight and save time during development."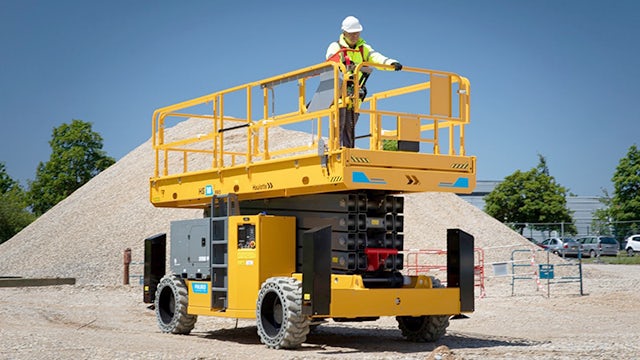 Outdoor work in progress with the Pulseo.
Democratizing simulation
"As a simulation expert, I am responsible for making sure our simulation tools are accessible," states Chaigne. "The customization possibilities in Simcenter 3D via NX Open have made it possible to integrate our business rules and regulatory norms to speed up the calculation process and reduce the risk of error."
When the Haulotte design office performs the various stability analyses, standard norms drive the process. One of the issues is standards vary from region to region and the requirements can cover quite a few variable factors: from environmental ones, such as wind force, to human-initiated ones, like operator impact or equipment handling, such as load position and working angles.
"In parallel with managing the standards parameters, we try to make our models created in the design office as predictive as possible," explains Chaigne. "This means taking into account parameters influencing stability, like tire behavior, the actual stiffness and its weight distribution. After the model has been defined, we need to check the stability according to the different standards configurations; this step can be relatively long and tedious."
Saving time and eliminating tedious work
To save time and improve the analysis process for the stability calculations, the team has developed a customized process-oriented workflow tool using NX™ Open software, an application programming interface (API) automation module for Simcenter 3D.
"In concrete terms, NX Open allows us to automate data entry, taking into account the various norms," says Chaigne. "During post-processing, it provides clear-cut stability information. This enables nonspecialists to use more complex Simcenter 3D Motion models."
Co-simulation improves performance
When working on the electric Pulseo series, the engineering team co-simulates Simcenter 3D models used for structure and stability analysis with Simcenter Amesim system simulation models used for energy analysis and battery sizing.
Chaigne explains, "For electric-powered machines, energy consumption is extremely important. Using Simcenter 3D Motion allows us to model the forces in the hydraulic actuators taking into account kinematics, mass distribution, friction and dynamic effects. We have real insight into the pressure level details, and therefore the energy required for these actuators."
The team works with two types of co-simulation processes.
"In the first case, the two software programs operate simultaneously and exchange information to converge toward a common solution," says Chaigne. "In the second case, we use Simcenter 3D Motion to generate force tables according to the cylinder position and then we use this information in Simcenter Amesim."
Since scissor lifts mostly operate hydraulically using several actuators, the stress distribution across the structure varies according to the pressure balance in the hydraulic actuators. Chaigne says, "Co-simulation allows us to analyze the stresses under normal conditions and during failures; for example, a hose rupture. We can see how the load transfers take place and the impact on hydraulic cylinder pressure."
Using simulation to reduce physical test campaigns
"Calculations and simulations are part of our theoretical validation process to ensure our design has reached a certain maturity level before manufacturing the first prototype," says Chaigne. "However, the test phase remains essential. Simulation helps us identify the most critical cases in terms of stability, evaluating parameters like machine position, loads and forces."
The identified critical cases are then verified during test trials.
"We check whether the test results correspond to the simulation," confirms Chaigne. "This test-simulation analysis loop is necessary to improve our models. Using simulation models limits prototypes and therefore reduces the time we spend on the testing campaigns."
Using simulation to understand performance behavior
"Simulation helps us define the overall system architecture, but we use it during different development phases like trouble-shooting issues that occurred during testing. Certainly, simulation provides a deeper insight into unwanted performance behavior and the causes as well," explains Chaigne. "To reproduce the performance accurately, you have to model different physical phenomena. This includes identifying influential parameters and evaluating alternatives immediately. Working like this, we are able to reach the prototyping phase with a more mature, even definitive architecture."
According to Chaigne, within a design office, it is essential not to isolate the simulation analysis team from the prototype testing team. Simulation and testing loops must be integrated into a collaborative process to allow the issues detected during testing to be resolved as quickly as possible using simulation.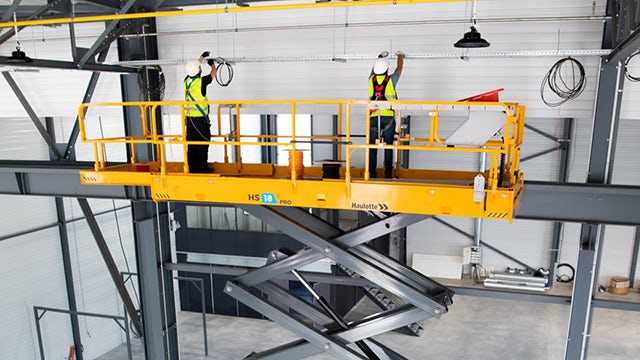 Indoor work in progress with the Pulseo.
Superior performance and optimal safety
Using Simcenter simulation tools was a key success factor in the design and development of Haulotte's new electric all-terrain Pulseo scissor lifts. The team was able to comply with all the operational stability safety standards as well as various requirements relating to noise emissions and air pollution. Thanks to Simcenter simulation capabilities, the team created an optimal design that featured a superior performance compared to the previous model with an ICE.
"With Simcenter, we went from a 23kW thermal engine to a 12kW electric motor while improving the overall performance of the scissor lift. The maximum working drive height increased 25 percent from 12m to 15m and the loading capacity increased 50 percent from 500kg to 750kg," concludes Chaigne.