case study
Using cloud collaboration tool to reduce truck hoist design and development time by 80 percent
Harsh International leverages Teamcenter Share to enhance collaboration earlier in the product development process
Harsh International
Harsh International, Inc. manufactures farm machinery and other industrial equipment, including hydraulic truck hoists, feed and dairy mixers, grinders, flakers and antennas.
http://www.harshenviro.com/
Headquarters:

Eaton, Colorado, United States

Products:

Solid Edge, Teamcenter Share

Industry Sector:

Heavy equipment
Colorado-based Harsh International, Inc. manufactures farm machinery and other industrial equipment, including hydraulic truck hoists, feed and dairy mixers, grinders, flakers, antennas and more. As the name implies, these products – like the company's history – are tough. Bud Harsh founded the business in the late 1940s. After saving the lives of sailors trapped in a sinking ship during World War II, he went on to build what is now a multimillion-dollar business. Over the years, the company has built on his legacy, growing with the times and expanding its operations to include in-house machining, water jets, laser cutting and robotics.
Harsh continues to innovate. Recently, the company decided to add another truck hoist to its product line. Tested over 20,000 cycles, Harsh hoists offer ground, chassis and body tilts of 12, 18.5 and 19 degrees, respectively, while its cylinders provide high working pressures up to 3,800 pounds per square inch (PSI). Harsh offers stellar stability, safety and high-quality components, with the largest frames reaching a capacity of more than 50 tons – making it a trusted supplier for the likes of NASA and the United States military as well as industrial and agricultural customers worldwide.
Dave Schledewitz, lead design engineer, together with Cole Mickey, mechanical engineer, and Bob Brown, president, collaborated on the design process for the new truck hoist. The hoist was based on an existing model that is more compact than traditional hoists and incorporates roughly 25 percent more capacity. "The new assembly had to be stronger and heavier," Schledewitz says. "It would need to be able to lift more for larger trucks and handle heavier duty applications."
Schledewitz, who was no stranger to using Solid Edge® 3D CAD software, figured this would be a perfect opportunity to try the Teamcenter Share cloud-based project collaboration app. Thanks to this decision, the Harsh team moved from sketch to production in only a few short months.
Solid Edge and Teamcenter Share are part of the Siemens Xcelerator business platform of software, hardware and services.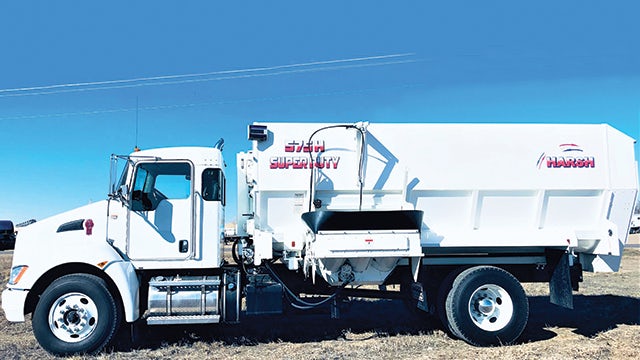 Solid Edge paves the way
The Harsh-Siemens partnership began over six years ago. To keep pace with new demands for larger mixers, spreaders and other agricultural equipment, Harsh implemented Solid Edge CAD software. With its synchronous technology, Solid Edge enabled the Harsh engineers to quickly modify designs based on customer needs. As a result of using these capabilities, the company reduced design and development time by 80 percent: three days versus three weeks.
"We use Solid Edge a lot, especially for our sheet metal and assembly designs," Schledewitz says. In fact, using the software streamlines the sheet metal product development process and includes sheet metal-specific features like emboss, dimple, multi-edge and contour flange, straight brake, etch and more. Harsh engineers also routinely use Solid Edge Wiring Design and Solid Edge XpresRoute for its hydraulic product lines. These tools include many automated functions for selecting proper wire gauges and fuses. It even checks and validates circuit behavior, increasing the efficiency of the wire harness design process.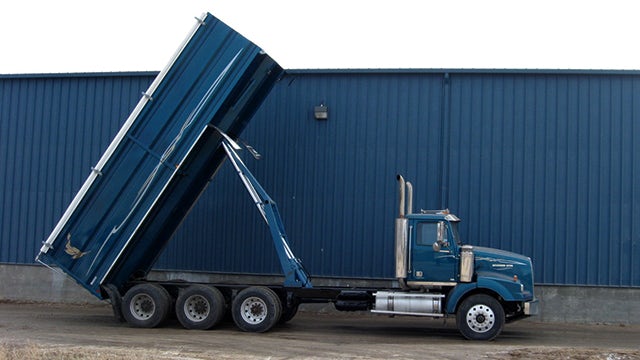 Improving team collaboration from anywhere
A cloud-based project collaboration solution, Teamcenter Share enables the user to synchronize data from Solid Edge and other common CAD platforms with the cloud, allowing teams across an organization to easily participate in the product design and development process. Its suite of features, which includes 3D model markup and augmented reality (AR) simulations for real-time virtual prototyping, streamlines collaboration among design teams and other internal departments – such as sales or marketing – and external stakeholders.
Using Teamcenter Share enables product development teams to synchronize their files as they work while letting users view, measure and mark up models within the 3D space using a browser-based interface. In addition to CAD, the platform accommodates file types like images and PDFs, allowing teams to bring all supporting documents into the design workflow. After dragging and dropping files into the app, users can access, view and comment on files. They can also view specific sections or cutaways of a model, take measurements or change units – all in real time. Using free-form shapes and text-based annotations, they can easily flag issues or provide feedback on areas that require modification.
These capabilities streamlined the communication between Schledewitz, Mickey and Brown. Brown, who acknowledges he is not a CAD user, explains, "From day one of using Teamcenter Share, I could easily log in and access the progress of our hoist design no matter where I was working – whether from home on my phone, on the road with my laptop or in the office on my desktop computer. On many occasions throughout the design process, I was also able to address issues and make suggestions. It didn't matter if I was 20 feet or 500 miles away."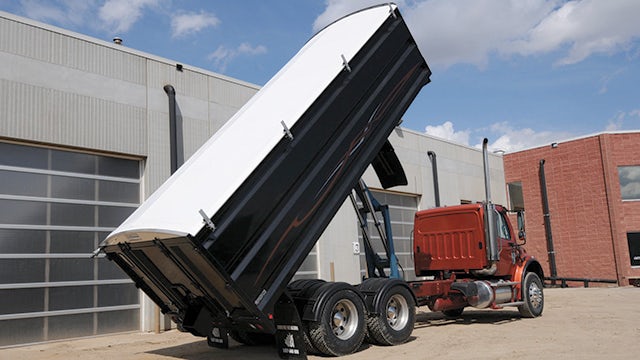 The ease with which Teamcenter Share made the hoist design files instantaneously accessible and actionable freed up Brown for his other duties as president. The app also simplified the entire engineering team's design workflow. Previously, this workflow was lengthier and much more convoluted: Schledewitz and Mickey would email Brown PDFs of various drawings to approve. "But these PDFs quickly stacked up," Schledewitz explains. "It also took time to convert our drawings into PDFs – ensuring we had the latest version, of course – and then send the files to Bob via email. Sometimes Bob would request views from other angles, so we'd have to convert and create additional PDFs, which of course took more time."
With Teamcenter Share, the engineers can view CAD models in real time and make their president's changes in minutes. They can also rotate or view parts from various angles directly in the application to show Brown what it looks like without creating or exporting additional files.
In addition to these benefits, using Teamcenter Share made it easier for Brown to loop in other departments earlier in the hoist design and development process. "I could include our ad division manager for marketing purposes, or our service department to make sure the parts we were designing were retrofittable," Brown says. "In the past, involving these individuals and departments for new products required long meetings with several people sitting around a computer. Now everyone can be involved at their leisure."
Thanks to Teamcenter Share, Brown and his engineering team saved a significant amount of design time, enabling the company to develop its new hoist ahead of schedule. "When Bob first brought up the new hoist to the engineering department, he said he wanted it by the end of the year," Schledewitz says. "We had one on the production floor within three months."
"I definitely see our company's use of Teamcenter Share growing," Brown adds. "We've already started rolling it out to other projects and departments. Looking back, I don't know how we got along without it."