case study
Collaborating in the cloud to reduce product revision time by 20 to 25 percent
Hall Designs uses Teamcenter Share to improve collaborative design process with vehicle chassis manufacturer
Hall Designs
Hall Designs offers design, fixturing and reverse engineering services for the motorsports industry, turning ideas and samples into manufacturing-ready CAD formats.
https://halldesigns.com/
Headquarters:

Ramona, California, United States

Products:

Solid Edge, Teamcenter Share

Industry Sector:

Automotive & transportation
A proven winner
As other industries slowed down during the COVID-19 pandemic, the motorsports industry was ramping up. Whether due to the fact races are run outdoors or vehicle manufacturers could finally focus on designing products without the usual distractions, Craig Hall, founder of Hall Designs, LLC (Hall Designs), was busy.
Hall Designs specializes in mechanical design, reverse engineering and production assistance for motorsports, transforming ideas and drawings into manufacturing-ready computer-aided design (CAD) formats. In addition to having extensive manufacturing expertise, particularly in the area of sheet metal fabrication, Hall has experience as a driver and navigator for various race teams. In 2012, one year before founding the company, he drove to victory in a vehicle he designed in the Baja 1000, one of the world's most prestigious off-road races.
Since founding Hall Designs, he has been involved in designing components and vehicles that have won nearly every offroad race in the world – and those efforts have not slowed down in recent years.
With all the new projects pouring in, Hall has prioritized the use of software tools that can save him time and improve the efficiency of his design work. One of these tools is Teamcenter Share, a Siemens Digital Industries Software cloud-based project collaboration app that has allowed him to streamline the product design and development process with his customers.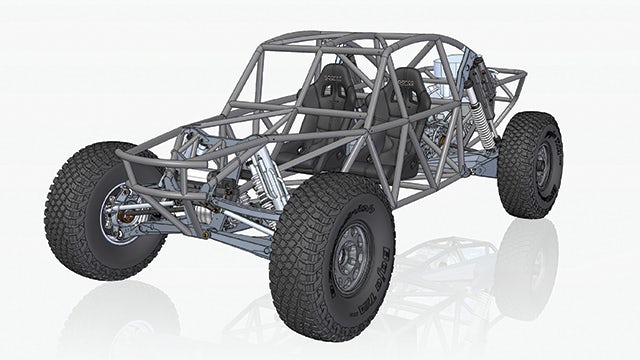 In with the new
Thanks to Teamcenter Share, Hall has improved the way he works with several clients. One such case involves Alumicraft, a prominent name in the off-road industry. Based in California, this company offers a wide range of services, including suspension tuning, custom aluminum fabrication, chassis upgrades and more. Because Alumicraft doesn't have its own in-house CAD design team, over the years it has outsourced all of its CAD-related design work to Hall Designs.
"Alumicraft is local to me so John Cooley, the owner, would always come to my office and sit down with me as I drew up vehicle designs," Hall recalls. "Together we would draw roughly 50 percent of the chassis. The company even made a lot of the components by hand. It might be an old-school process, but it's what Cooley and his team were used to."
Although this process may have gotten the job done over the years, things changed when Alumicraft wanted to develop a more complex racing vehicle, an all-wheel drive (AWD) Class-1 car, encouraging Hall to streamline the design process to save time, improve efficiency and expand the number of technical experts that could provide input on the project.
No stranger to Siemens' Solid Edge® software for CAD, Hall uses it as part of his reverse engineering work. For example, he routinely uses Solid Edge to work with mesh data, importing stereolithography (STL) files into the CAD environment and editing the data using its integrated mesh cleanup tools. Hall also uses the software's generative design and stress analysis tools as part of his mechanical design work. Given his familiarity with and extensive use of Solid Edge, transitioning to Teamcenter Share was a natural choice.
Teamcenter Share and Solid Edge are part of the Siemens Xcelerator business platform of software, hardware and services.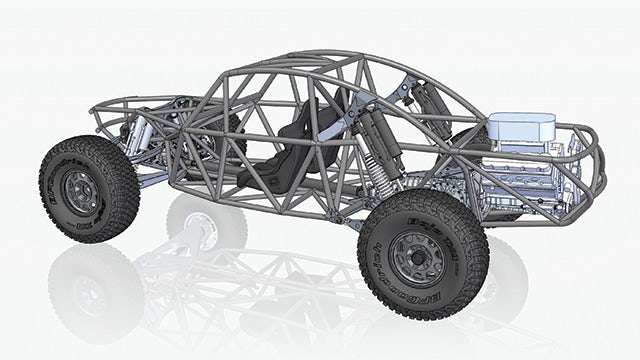 Expanding the number of project collaborators
Compared to the two-wheel drive buggies Hall and Cooley used to work on, the new project involved designing a chassis for a vehicle that had all the added complexities of a four-wheel drive race car. "We had to consider how all the components related to the steering, suspension and driveline fit together – not an easy process to accomplish by hand during an in-person meeting," says Hall.
To streamline the design and development process for this new race car, Craig introduced Cooley to Teamcenter Share, a project collaboration app that synchronizes data from Solid Edge and other common CAD platforms to the cloud. Its rich suite of features enables design and engineering professionals across an organization to easily participate in a product's design and development process. It also streamlines the collaboration process with external stakeholders.
Using Teamcenter Share, Hall began to share part designs and mockups with Cooley, who in turn brought other designers, engineers and fabricators into the process. "In the past, John and I worked together one-on-one," Craig says. "But this workflow prevented other technical experts from taking a look at our designs and providing valuable feedback.
"Using Teamcentertor Share enables users to synchronize their files as they work. It also lets them view, measure and mark up CAD models within the 3D development space using a browser-based interface accessible from any device. In addition, collaborators can view and comment on files, view model sections and cutaways, take measurements, change units and add text-based annotations – all in real time for other team members to see.
"Since this was a new vehicle we were designing, bringing other people into the design process was especially important to Alumicraft," Hall says. "He wanted input from other members of his team, and Teamcenter Share made it easy for him to do that."
Using Teamcenter Share enabled Hall Designs to reduce the time it took to share designs by 75 to 80 percent.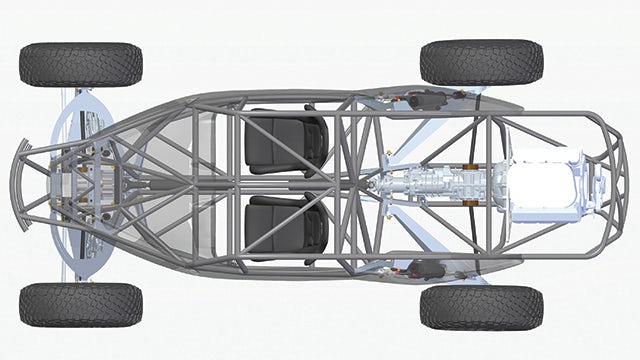 Collaborating beyond the office
In addition to expanding the amount of eyes on the new race car design, using Teamcenter Share improved the revision process between Hall and Cooley, making their back-and-forth communications less dependent on in-person meetings. "Whenever John visited me in the past, we'd bounce ideas off of each other," Hall recalls. "But after he'd leave my office, I'd be on my own. I'd have to make guesses about some of the things he wanted to see in a design."
This workflow was also limited by the availability of the two principals for in-person visits – not an easy task given the increasingly busy motorsports industry. "After shifting to Teamcenter Share, the Alumicraft team could log into the Share portal and look at the designs whenever they had a few minutes," Hall says. "It didn't matter what time of day it was or where they were located."
According to Hall, Cooley particularly liked the Teamcenter Share task management features, which he encouraged his team to use during the design process. These tools allow teams to manage who's doing what, by when and in what order. They also allow collaborators to set due dates, prioritize tasks, communicate to the rest of the team and review statuses using dashboards.
No more PDFs
To take full advantage of Teamcenter Share, it doesn't matter whether someone uses or even has CAD software like Solid Edge. Users don't have to be experts in CAD modeling – and they don't even have to be particularly computer-savvy. The app integrates with Solid Edge, which Hall already uses for his reverse engineering and mechanical design work. All he had to do was save his design data to the Teamcenter Share secure cloud, making sure Cooley and the other project collaborators always had access to the latest changes.
Prior to using Teamcenter Share with clients, Craig would have to create 20 to 40 pictures of a single CAD model to capture the component from various angles. "If a client wanted something else, I would have to generate a new image from the model, translate the file into a PDF – because not everyone can open CAD files – and then email everything over," Hall says. Using Teamcenter Share to eliminate this tedious, time-consuming process allows other collaborators to simply log into the Share portal from their browser. From there, they can spin CAD models in the three-dimensional space to see the part from whatever angle they want – no additional software, technologies or systems required.
Hall used to spend a lot of time sharing information about part fixturing with his clients, including how parts must be welded and in what sequence. "To show how a part sat in its fixture, I'd have to save individual pictures of the model, either showing or hiding various pieces," he says. "After that, I'd have to again generate and email PDFs so my clients could open the files."
Using Teamcenter Share not only enables users to avoid these challenges, making it easy for collaborators to see in-progress designs, but it also integrates directly with Solid Edge. Instead of generating multiple PDFs of parts and fixtures, Hall can simply continue working within Solid Edge and the software will automatically sync his files to the cloud for other collaborators to see.
"I never had to leave Solid Edge to upload additional files to Teamcenter Share," he says. "The software took care of all that automatically."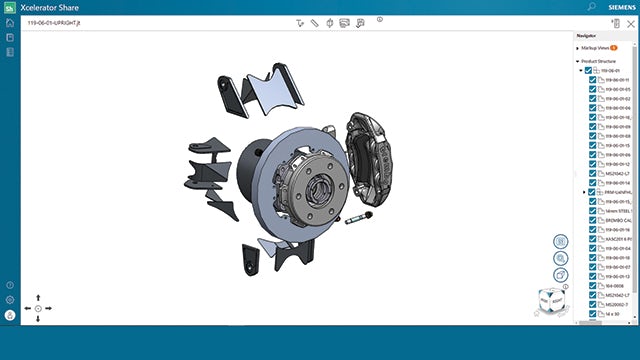 To the finish line
Over the course of the vehicle design and development process, Hall and Cooley went through a comparable amount of revisions. However, they were much more efficient in terms of how they arrived at the final product – especially considering all the additional collaborators that were involved in the project. Using Teamcenter Share enabled Hall Designs to accelerate the product revision process by 20 to 25 percent.
"I'm always going back-and-forth with my clients to get a vehicle just right," Hall says. "Teamcenter Share made it a quicker, more efficient back-and-forth process."
Beyond the success of the design process, the vehicle that Hall and Cooley designed performed well during initial tests and then ultimately, during the off-road races, where rocky, shock-inducing terrain is no walk in the park for race cars. "The vehicle went on to participate in a Baja race in Mexico, and it was a flawless first race," Hall says.