Case Study
Knowledge re-use and simulation-driven design help engine manufacturer react quickly to market demands
NX, Teamcenter and Tecnomatix form the foundation of an advanced R&D process that also improves product quality and reduces costs
Guangxi Yuchai Group
Guangxi Yuchai Group manufactures thousands of engine models used in a wide range of applications.
http://www.yuchai.com
Headquarters:

Yulin, Guangxi Province, China

Products:

NX, Simcenter Nastran, Simcenter Products, Teamcenter, Tecnomatix

Industry Sector:

Automotive & transportation
Engines for many applications
Guangxi Yuchai Group (Yuchai) possesses more than 30 wholly-owned, share-holding and joint stock subsidiaries and has a workforce of more than 23,000 people. With a reputation as "a capital of green power in China," Yuchai produces a wide range of internal combustion engines and construction machines. The company ranks 215th among China's Top 500 Enterprises, 108th among China's Top 500 Manufacturers, 105th among China's Top 500 Valuable Brands and 17th among China's Top 500 Machinery Manufacturers. Over the past ten years, Yuchai has attained an annual average growth rate of more than 30 percent. In all, the company has sold 716,900 engines and 8,527 construction machines.
Yuchai's engine product line covers a wide range of applications, including 27 series in 7 categories such as vehicles, vessels, construction machinery, agricultural machinery, generating equipment and diesel engines. The product line includes more than 2,000 kinds of slight/light/ medium/heavy-duty/large-sized multi- cylinder engines, with a power range from 6 kilowatts (kW) to 25,000 kW. This is the most comprehensive and complete engine family in China. These engines are characterized by high power, high torque, high reliability, low fuel consumption, low emissions, low noise and high availability. These qualities, in addition to the com- pany's comprehensive services, make Yuchai engines the first choice for powering vehicles, construction machinery and agricultural machinery in China.
Establishing a unified platform
Yuchai developed much of its product line using a 2D design methodology. However, as product data increased in an explosive way, that methodology created many information islands. When process design- ers made changes, they could not use their past experience efficiently or accurately, but had to enter data repeatedly. This not only significantly reduced productivity, but also led to errors. In an industry were fast time-to-market is vital, low productivity was a serious concern, prompting the company to search for a solution that would reduce the delivery cycle.
After an initial attempt to solve these problems failed (due to non-integrated systems with a great deal of redundancy), Yuchai created a unified research and development (R&D) platform based on NX™ software, Tecnomatix® software and Teamcenter® software – all from Siemens Digital Industries Software. On this foundation, Yuchai established knowledge databases consisting of design data, computer-aided engineering (CAE) analysis data, test data, material data and a refined technical standards library. The company created a complete R&D process featuring standardized tasks and work templates. It consolidated knowledge into the R&D process, and established an integrated system between R&D and other systems and databases.
The new process' strict product hierarchy definition supports the modular design of Yuchai products. The standardization of key parts shortens the product development cycle and ensures product performance and quality. It also improves flexibility, speeding the company's response by allowing it to meet varying customer requirements with changes to a few peripheral parts.
"Yuchai has realized modular management of important systems, such as the fuel supply system, enabling different products to share a common system to enhance service convenience," says Deng Bin, director of the Technology Management department at Yuchai Machinery Co., Ltd. "Using this process, Yuchai has formed a complete set of mature modular management systems."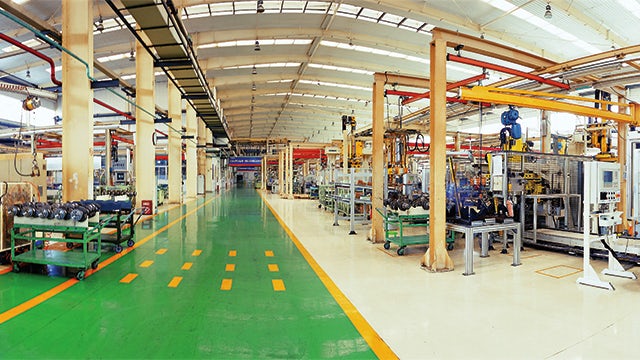 Concrete benefits to the R&D process
Siemens Digital Industries Software provides a complete design, data management and manufacturing engineering solution for Yuchai. Using the Siemens solutions, the company has established a relatively comprehensive product lifecycle management (PLM) platform.
Use of NX, for example, has enabled the standardization of product data and improved R&D management. With NX, Yuchai has established a model library for many of its general parts. All parts in the model library have been parameterized, and a 3D model can be created directly through parameter modifications, thus developing a quick modular design method. In addition, for complex castings (such as cylinder blocks and covers), Yuchai designed a special process that not only meets requirements for product design, mold design, mold manufacturing and product processing, but also enables simultaneous collaboration and parallel operation by multiple persons. What's more, the architecture of this design method can be applied to the design of similar parts using the NX clone function to duplicate a new part structure. In this way, design re-use improves the company's design and innovation capabilities.
Teamcenter has been used to realize efficient data management for all Yuchai product models, allowing the group's internal employees to collaborate through integration with upstream and downstream systems. It also enables smooth, accurate data communication inside the group, thus shortening the product development cycle.
The introduction of Tecnomatix and other systems is essential to Yuchai's success in information-based and digital manufacturing. Using Tecnomatix, Yuchai streamlines activities such as primary process planning, logistics planning and process layout, saving both time and money.
Great enterprise benefits
With PLM software from Siemens Digital Industries Software as a foundation, Yuchai has successfully made the transition from a traditional to a digital R&D process. The company has established an analysis-driven process through such efforts as: continuous updates, improvement and expansion of the computer-aided design (CAD) platform; introduction of a complete set of analysis software (including Simcenter™ Nastran® software and NX Advanced FEM) for structural, fluid, thermal and motion analysis; growing mastery of multi-disciplinary analysis; and learning and applying international advanced R&D processes.
Bin notes, "We now have a systematic approach to the entire R&D process. We have optimized the design process through the integration of cutting-edge modeling and analysis technologies. Our PLM solution, consisting of NX, Teamcenter and Tecnomatix, significantly accelerates our ability to react to the market efficiently."
Wei Geshao, director of the IT (information technology) Center at Guangxi Yuchai Group and manager of the IT department at Yuchai Machinery Co., Ltd., adds, "We now have better collaboration and control across functions, including R&D, process, production, purchasing, sales, finance and so on. At the same time, unlike the past, complaints are rare, and we have attained substantial improvements in efficiency overall. The use of a full range of digital solutions from Siemens Digital Industries Software has brought great benefits to Yuchai."
As to future plans, Bin says, "First, Yuchai's R&D process needs further improvement to incorporate modern R&D concepts into the project plan template; in particular the R&D concepts of simulation-driven design and top-down design. Second, we need to further improve various knowledge databases and focus on the improvement of such refined, consolidated libraries as the design specifications library, design template library, standards library and so on. Third, we need to establish a standard project task template to define contents, input conditions, output results and necessary knowledge of project tasks to the fullest extent, which is key to knowledge collection and feeding. Finally, our goal is to establish a unified knowledge management platform to collect, sum up and categorize knowledge dispersed in various systems and databases downwards, and to feed knowledge to the R&D process and tasks upwards."