Case Study
Grupo Tigre uses Opcenter APS to reduce inventory by nearly 50 percent
Brazilian manufacturer dramatically improves scheduling processes with Siemens solution
Grupo Tigre
Grupo Tigre is Brazil's leader in
plastic materials manufacturing for construction sites.
https://www.tigre.com.br/en/home
Headquarters:

Joinville , Brazil

Products:

Opcenter, Opcenter APS

Industry Sector:

Consumer products & retail
Grupo Tigre is Brazil's leader in plastic materials manufacturing for construction sites and one of the largest in the world. Grupo Tigre operates in 40 countries through nine national factories and 12 factories abroad in Argentina, Bolivia, Chile, Colombia, Ecuador, United States, Paraguay, Peru and Uruguay.
In the tubes and connections segment, Grupo Tigre produces approximately 4,500 products, mostly injected or extruded. With such a high number of stock keeping units (SKUs), sequencing production is a time-consuming task.
The injection/extrusion business contains many variables that are complex to manage without the appropriate software, including alternative molds, labor constraints, limitations with exchange teams (setups), raw material requirements and components. With so many variables in such a dynamic environment for the production planning and scheduling department, Grupo Tigre and partner NEO formed an alliance to implement Opcenter™ Advanced Planning and Scheduling (APS) software from Siemens Digital Industries Software. Opcenter APS improves Grupo Tigre's process to generate and regenerate production schedules, reduce work in process, optimize setups and provide dynamic materials analysis.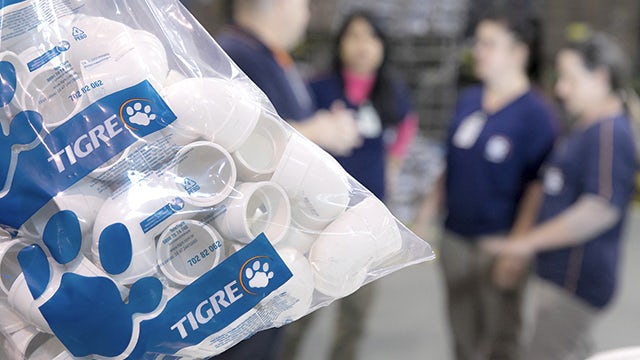 The solution
Opcenter APS, a part of Siemens Xcelerator business platform of software, hardware and services, is a necessity for the units that manufacture pipes and fittings. Grupo Tigre's scheduling process is performed weekly. As soon as the data is loaded into Opcenter APS, the planned production orders are generated, exploring all bill-of-materials (BOM) levels while also considering semifinished product stocks. Based on these orders, raw material requirements are analyzed, highlighting which materials are partially and/or totally missing.
Opcenter APS offers high-level digitalization that immediately brings production processes up-to-speed and helps manufacturers respond immediately to unexpected changes. Opcenter APS is specifically designed to meet this need, using advanced algorithms that balance demand and capacity to generate achievable production schedules.
Order sequencing considers plant restrictions such as the availability for labor and molds while also considering the resulting number of changeovers. Due to the complexity of the combinations of machines and molds, NEO developed a personalized scheduling rule to automate and generate more accurate plans for Grupo Tigre. This algorithm was made possible by the power and flexibility of the Opcenter APS application programming interface (API) to minimize mold changes and balance resources to create a uniform loading of the machines.
The results
Before introducing Opcenter APS to their process, production orders were created manually. Today, they are automatically created in the SAP® enterprise resource planning (ERP) software, significantly increasing scheduling efficiency. Supply management also benefits, now receiving a weekly status report of material shortages and their priorities to support follow-up consultations with suppliers.
Through the specific scheduling algorithm, Opcenter APS groups orders that possess the same characteristics, minimizing changeovers and increasing machine productivity. The sequencing considers all manufacturing constraints, resulting in a feasible schedule. This resulted in a significant increase in schedule adherence (planned versus realized) from 47 percent to 95 percent.
Furthermore, the reports configured for the project support analyses and assists in the decision-making process. It is now possible to observe the load on each machine per shift, as well as the amount of manpower and set up times. This generates greater manufacturing insight.
Having a better overview of the machines, and a streamlined order generation process as well as other internal actions, Opcenter APS enables Grupo Tigre to reduce inventory levels by nearly 50 percent.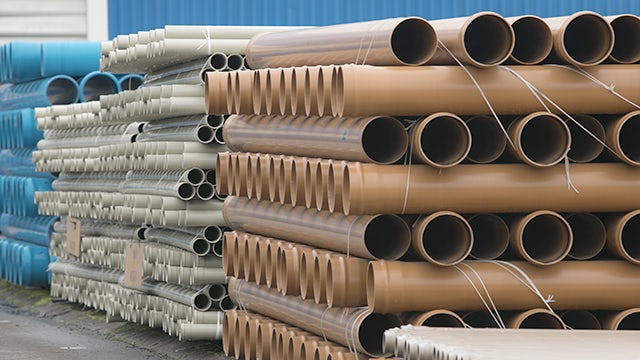 Future prospects
Grupo Tigre continues to seek improvement in its work processes and methodologies, relying heavily on NEO and Opcenter APS. Today, Grupo Tigre's international plants throughout South America are implementing Opcenter APS. As a result, scheduling will be integrated and the results multiplied through global expansion.