Case Study
Groupe Brandt enables multisite development collaboration with NX and Teamcenter
Leading international appliance manufacturer standardizes development platform with Siemens Digital Industries Software solutions...
Groupe Brandt
Groupe Brandt designs and manufactures household appliances sold under four iconic brand names that are now a part of daily life in millions of households: Brandt, De Dietrich, Sauter and Vedette.
http://www.groupebrandt.com
Headquarters:

Rueil-Malmaison, France

Products:

NX, Teamcenter

Industry Sector:

Electronics, Semiconductor devices
Appliance brands for millions of households
Groupe Brandt designs and manufactures household appliances sold under four iconic brand names that are now a part of daily life in millions of households: Brandt, De Dietrich, Sauter and Vedette. Many of its products were the pioneers of their day, leaving their mark on entire generations. From washing machines' automatic variable load capacity, refrigerator compartments between 0 and -3°C, auto-dosing laundry detergent systems, induction cooktops, self-cleaning pyrolytic ovens, or professional low-temperature baking, many of the company's inventions have since become ubiquitous.
In recent years, the company's development has passed two milestones: in 2005, with the acquisition by the Spanish workers' cooperative group Fagor, resulting in the creation of the French FagorBrandt subsidiary; then in 2014, with the takeover of FagorBrandt's French activities by the Algerian Group Cevital and the creation of a vast industrial complex in Sétif, Algeria. With six sites in France and Algeria and five subsidiaries in Europe, Asia and North Africa, Groupe Brandt now benefits from a truly international dimension.
As Groupe Brandt grew, the company decided to standardize on a single computer-aided design (CAD) and product lifecycle management (PLM) system for all brands and development sites: NX™ software and Teamcenter® software from product lifecycle management (PLM) specialist Siemens Digital Industries Software. "In the days of FagorBrandt, the decision was made to standardize tools across all the development sites – France, Spain and Poland: NX CAD for 3D design and Teamcenter as the product data management system," recalls Daniel Mancini, IT manager of Industries and R&D, Groupe Brandt.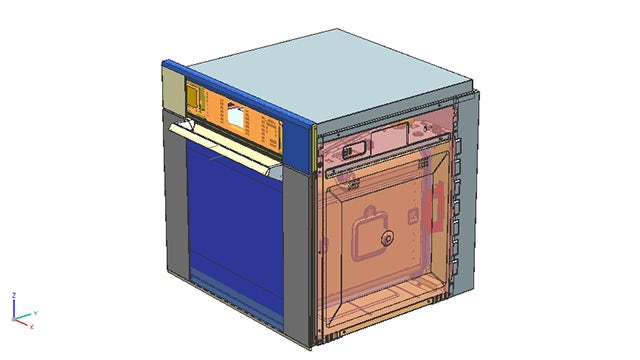 NX CAD: a fast, flexible and efficient design solution
In 2011, the company decided to migrate all of its sites to a single CAD tool. (Historically, Brandt had used Solid Edge® software in France, while Fagor used I-deas™ software in Spain.) The company chose NX as its integrated design and engineering solution.
"Our platforms – washing machines, hotplates, ovens, and others – are entirely modeled in 3D," says Daniel Mancini. "During the design phase, users benefit from the integrated assembly and digital modeling functionalities of NX. The 3D models are then used for various purposes: extraction of 2D drawings for mold and tool makers; design of sheet metal parts, integrating information on materials and fabrication; assembly instructions for operators; direct display of 3D parts by the after-sales service operations; and use of computer-generated images for marketing videos. In all, this represents no less than 60,000 3D and 2D CAD files."
Teamcenter: the standard for product data management
In 2009, the Group decided on a company-wide deployment of Teamcenter. "Before, we managed CAD files in Windows folders, with all the drawbacks that can easily be imagined," recalls Daniel Mancini. "It was no longer feasible to continue working without a unique, shared PLM repository. From now on, all access to product data – CAD models, 2D drawings, materials lists, and others – requires going through Teamcenter, and there are no exceptions to the rule."
The Group uses Teamcenter to create and manage part references, cycle statuses, reviews, and upgrades of its products. The tangible benefits resulting from its deployment quickly became apparent.
More thorough part standardization
"When we implemented Teamcenter, it allowed us to standardize the references of parts that had previously been identified with different codes, depending on the site," explains Daniel Mancini. "For the 'standard' parts, this inferred a reduction in active references of 25 percent on average, reaching 50 percent for certain categories. For the 'material' parts, the references were reduced by approximately 10 percent. This standardization brought about a considerable improvement to our synergies with the purchasing department."
When the company was acquired by Cevital Group in April 2014, a new challenge arose: migrating all Teamcenter data from the server in Spain to a server in France. To successfully complete this migration, Brandt called on Fealinx, a Siemens Digital Industries Software solution partner. "We faced a major challenge since the deadline could not be missed: the switch-over had to take place over a weekend, and everything had to be up and running by Monday morning," explains Patrice Mack, sales manager with Fealinx.
"Via its Abisse subsidiary, Fealinx has been providing us with support for more than 15 years," says Daniel Mancini. "In particular, we appreciate the team's proficiency and availability, along with their flexible support method."
Collaboration
Teamcenter facilitates collaboration within different Groupe Brandt entities that share the same data, including the research, process planning, purchasing, acceptance-testing (compliance/quality control) and after-sales departments. "When the R&D (research and development) units were scattered over a number of different sites in Spain, Poland and France, co-designing shared platforms without this tool would have been very difficult, if not impossible," recalls Daniel Mancini.
To maintain a competitive edge, acquire market share and sustain profitability, Groupe Brandt has placed innovation at the core of its priorities. With more than 100 employees working in R&D, the company intends, now more than ever, to retain and increase its technological edge, and thus win over new customers throughout the world.
Today, with NX and Teamcenter, the Group's R&D teams benefit from a powerful tool for designing large assemblies, and a secure, organized solution for technical knowledge management and sharing of product data.
Looking ahead to the future, Groupe Brandt is considering a number of initiatives, including linking PLM and enterprise resource planning (ERP) systems to manage product nomenclatures and adopting NX Progressive Die Wizard to automate tooling design for sheet metal parts. Using new tools and improved processes, the company also aims to avoid redesign, eliminate errors early in the development cycle, Groupe Brandt streamline collaboration between the research and engineering departments, and ultimately to reduce time-to-market.