Case Study
Technology helps revive a classic name in timekeeping
Grossmann uses Solid Edge and Insight to design innovative new luxury watches
Grossmann Uhren
Grossmann designs and manufactures high-quality, innovative and exclusive luxury watches.
http://www.grossmann-uhren.com/
Headquarters:

Glashuette, Saxony, Germany

Products:

Solid Edge

Industry Sector:

Consumer products & retail
Solid Edge helps revive a classic name in watchmaking
After a watchmaking apprenticeship in Munich, Christine Hutter held various jobs with renowned watchmakers and jewelers in Switzerland as well as in Munich and Glashuette, Germany. Hutter wanted to establish her own watchmaking company in the city of Glashuette, the birthplace of German watchmaking.
"My first thought had always been to manufacture exclusive, high-quality wrist watches, following in the tradition of the nearly forgotten watchmaker Moritz Grossmann, but with our own look and feel," says Hutter, CEO of Grossmann Uhren GmbH (Grossmann). "As a place to realize my idea, it had to be Glashuette."
Moritz Grossmann was a pioneer watchmaker who, along with Ferdinand Adolph Lange and others, helped established the pocket watchmaking industry in Glashuette. He ran his own company there from 1854 until his death in 1885. He also founded the German School of Watchmaking in 1878.
In 2008, Hutter moved into a rented office in Glashuette as CEO of Grossmann. Shortly after that, she convinced Jens Schneider to join the company as chief designer to develop and manufacture wristwatches under the brand Moritz Grossmann.
The emerging company invested in information technology (IT) systems and high-precision computer numerical control (CNC) lathes, milling machines, wire electrical discharge machining (EDM) and gear-cutting machines. Hutter and her small team of employees introduced the company's first watch model in 2010, called the Benu, in a limited edition of 100 pieces with rose gold watch cases and newly-developed movements. The entire production run sold out in six months.
Schneider starts a new design with freehand sketches and some calculations. Then he switches to using Solid Edge and creates several 2D drawings which contain – on different levels – the gears and other components such as the balance wheel, lever and escapement. Then, the 2D sketches are converted into 3D models.
"Using Solid Edge, I can handle the many changes and variants that occur in the design process much faster than in the past," notes Schneider. "The possibility to model parts within an assembly, as well as the integrated data management functions, offer a big advantage. We have created a numbering and classification system, which reflects our specific requirements and all changes are always transparent and understandable. In addition, using Solid Edge helps us to hide or display particular components or subassemblies during the 3D display on the screen. We could not have done what we have achieved so far without our CAD solution and our flexible and advanced CNC machine tools."
"Although the design and manufacturing of a complex watch can be completed much faster than ever before using Solid Edge and advanced machine tools, there is still much time and effort required to fulfill our aesthetical ideas," says Rainer Kern, head of communications at Grossmann. "In addition to the virtual 3D model of a watch, some prototypes still have to be produced to check the functions, the look and feel or to make required changes. Before batch production begins, special tools and jigs have to be designed and produced, also supported by using Solid Edge. This is necessary because the very small watch components cannot be fixed using standard tools, in most cases, both for machining and manual finishing."
Additional options for white gold and platinum have been added to the Benu product line, and three other watches with new movements and other variations have been brought to market. All models have the Glashuette-specific 2/3 plate, which enables the accurate bearing of the gear shafts. Characteristic features of the latest watches include a newly developed balance wheel and a special winder with pusher, which enables the watch owner to accurately set the time.
"I am proud of what we have achieved in such a short time with our fantastic team, but there is still a lot to be done," says Hutter. "We want to bring out new watches and variants on a regular basis, and to make sure our customers don't have to wait too long for the delivery, we have to increase our production capacity. We plan to expand our sales channel with new concessionaires in Asia and in the USA, which are very important markets for luxury watches. Within a few years, we will produce about 1,000 watches annually."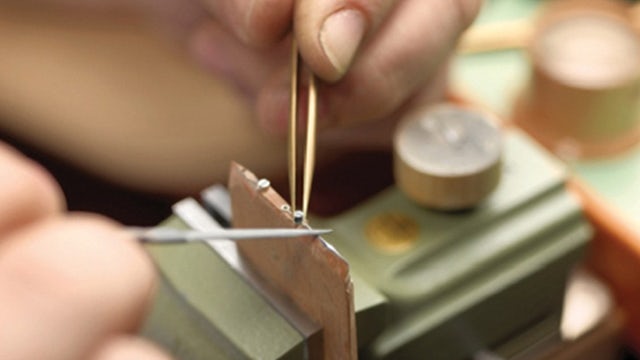 Manual finishing of the watch hands of the Benu watch.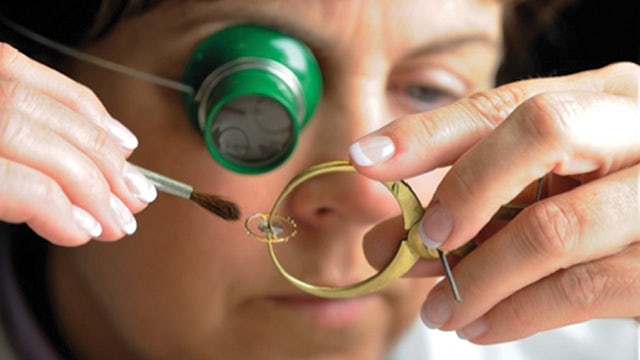 Assembly of the balance wheel of the Benu watch.
Highly skilled employees, high-tech tools and a lot of precision
To qualify for the distinction of being "made in Glashuette," at least 51 percent of the added value of a watch must be created in that city. At Grossmann, the percentage of local added value is well above that percentage, including work and time spent on manually refining and adjusting all the watch parts and movement.
While watchmaking requires meticulous handwork, not everything is done manually. Modern quality and timekeeping requirements can only be achieved with the help of modern tools for design and production. That is why Grossmann decided from the very beginning to use a modern computer-aided design (CAD) system. The company selected Solid Edge® software from product lifecycle management (PLM) specialist Siemens Digital Industries Software, because this solution is already well established in the watchmaking industry in Glashuette. Schneider also had prior experience using Solid Edge.
Grossmann also utilized the Insight™ design data management solution from Siemens Digital Industries Software. Insight leverages Microsoft's SharePoint® software. Implementation services and support were supplied by ISAP AG, a long-time Siemens Digital Industries Software sales and service partner.
"If you are going to design a new watch movement, you have to bear in mind two things," says Schneider. "Which functions should the watch include and how should the watch look? Simply put, a watch movement is a gear drive with gears on different levels. A spring serves as impellent and the escapement reduces the high-rotation speed to an accurate lower speed for the different watch hands. A watch can get more complex when more functions – called complications – are requested, such as a power-reserve display or a tourbillon cage for the escapement."
3D model of the Benu watch tourbillon movement generated with Solid Edge.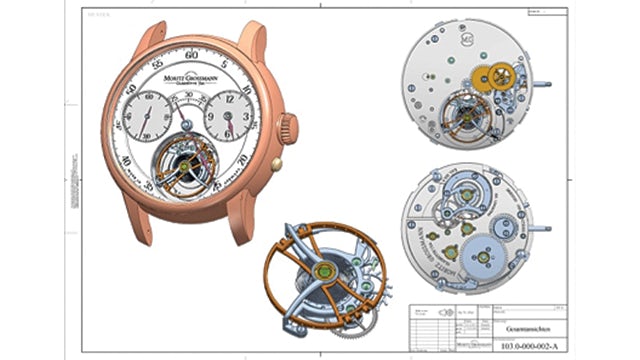 New Mortiz Grossmann watch components made using Solid Edge.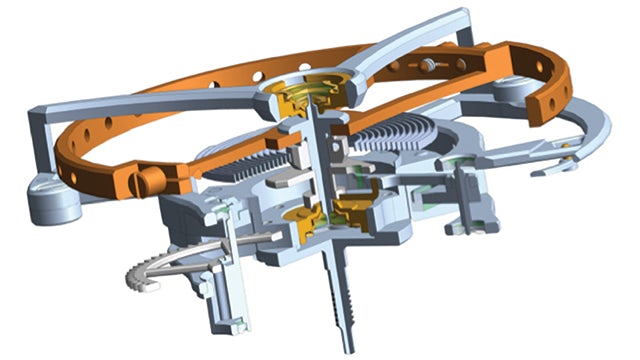 A cutaway view of the watch tourbillon cage and balance created using Solid Edge.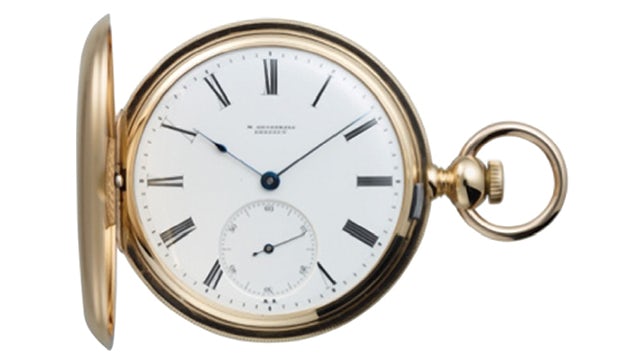 Original Moritz Grossmann movement and fob watch made during the 1800s.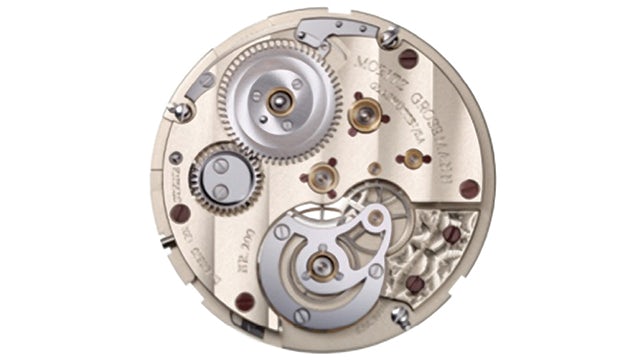 A photograph of the Benu watch tourbillon movement