Case Study
Grind Master engineers complex machinery with Solid Edge
Leading Indian machinery manufacturer improves engineering capability while reducing lead time and costs
Grind Master
Grind Master Machines Pvt. Ltd. develops and manufactures machinery and robotic automation solutions for metal finishing and deburring.
http://www.grindmaster.co.in
Headquarters:

Aurangabad , India

Products:

Solid Edge

Industry Sector:

Industrial machinery
A leader in metal finishing
A pioneer and leader in India, Grind Master Machines Pvt. Ltd. develops and manufactures machinery and robotic automation solutions for metal finishing, nanofinishing and deburring. Founded in a rented garage more than 30 years ago by the entrepreneurial couple of Milind and Mohini Kelkar, the company has grown from making two to three machines per year to manufacturing 450 machines annually in three state-of-the-art factories and additional manufacturing support units.
Through innovation and engineering efficiency, Grind Master has grown dramatically over the past three decades to offer one of the widest ranges of special-purpose machines for deburring, grinding, polishing and microfinishing processes to suit every industry need. The company's product lines include metal finishing machines for tubes, bars and cookware; deburring machines for gears and castings; superfinishing and microfinishing machines for transmission and engine components; and robotic solutions for a variety of metal finishing and automation processes. The company also provides consumables for the machines it manufactures, including coated abrasives and superfinishing films.
More than 4,500 Grind Master machines are in operation in India and the rest of the world. Grind Master has reached out to the world market and established alliances in Germany, the United States, the United Kingdom, China and South East Asia to become an elite world-class machine builder. Grind Master has annual revenues of about $18 million, and employs a staff of more than 250.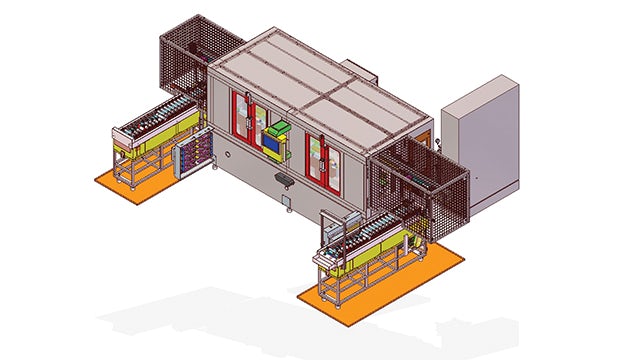 More advanced engineering tools for more complex products
In the early days, Grind Master engineered its machines using paper drawings produced on drawing boards. The company began digitizing engineering with the advent of 2D computer-aided design (CAD) tools in the 1990s, and used 2D technology to develop belt grinding and deburring machines.
In the early 2000s Grind Master ventured into superfinishing and microfinishing machines that were much more sophisticated and complex than earlier products. In addition, clients began to request custom-engineered machines that used combinations of standard modules to meet specific requirements. Engineering these products using 2D CAD technology was cumbersome and inaccurate, and became a major bottleneck.
For example, a typical crankshaft microfinishing machine has more than 5,000 components, and using 2D design technologies, Grind Master had difficulty meeting delivery schedules. It was difficult to visualize and conceptualize products, and there were many errors in detailing. Furthermore, the explosion of engineering data associated with the more complex machines created problems in managing data and producing large numbers of drawings.
The company turned to 3D solid modeling to address these challenges, selecting Solid Edge® software from product lifecycle management (PLM) specialist Siemens Digital Industries Software as the appropriate solution. After evaluating other 3D CAD alternatives, the company chose Solid Edge based on the brand and the maturity of the software, its continuous capability enhancements and better integration with other tools such as robotic simulation, additive manufacturing and advanced computer-aided engineering (CAE) software. Solid Edge was initially deployed at Grind Master for development of a range of machines in early 2000.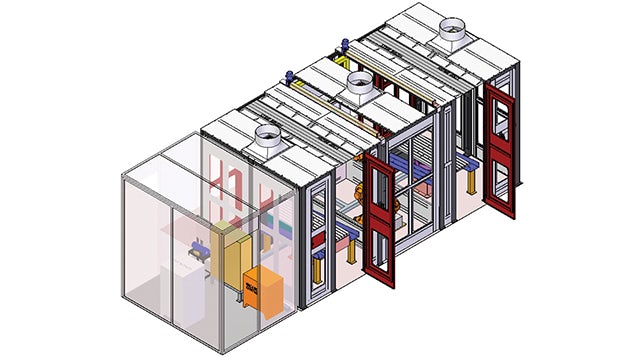 Early 3D challenges
Moving to 3D engineering presented special challenges. The Grind Master engineering team was organized and trained for working on 2D software, and retraining the team and changing the mindset to working in 3D was a major hurdle.
Another major challenge for Grind Master was establishing a data management system, with rules for managing models and drawings and maintaining discipline in data management and storage. The company also deployed company-wide data security measures, including encryption and data loss prevention, and needed to synchronize these with the engineering data.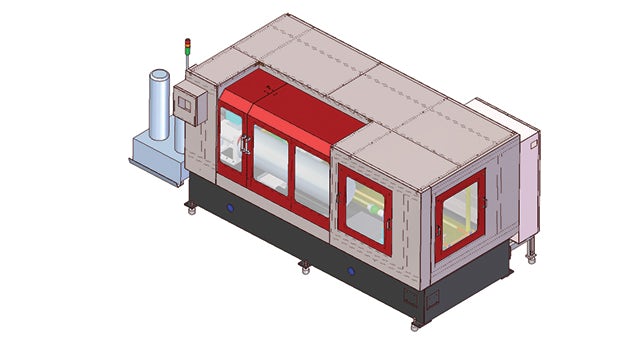 Phased deployment and expansion of 3D design
Grind Master deployed Solid Edge in a phased approach. In the first phase, Solid Edge was used to engineer the new superfinishing machines, and existing machines were converted to Solid Edge development. In the second phase, Solid Edge was used to engineer new microfinishing, robotic automation, and dynamic balancing product lines. In the most recent phase, Grind Master has expanded the installation to include advanced capabilities such as piping and simulation.
Grind Master machines use state-of-the art technologies in mechanics, electrical and control systems, and peripheral systems, including coolant filtration, pneumatics and hydraulics. Although the engineers initially used Solid Edge for basic modeling of parts, the growing sophistication of machines has led to the use of Solid Edge capabilities for piping and tubing design, which has resulted in better aesthetics and energy efficiency. Using Solid Edge tools for engineering analysis has helped Grind Master to optimize mechanical structures and components and evaluate alternative materials. The use of simulation has also helped the design review process by providing insights into the performance of various components.
In Grind Master's business of customized special-purpose machines, the advanced 3D visualization capabilities of Solid Edge are key to securing new projects and for design review and approval. The company uses various 3D representations to present products to customers during the presales/concept phase, and during the engineering phase for approvals.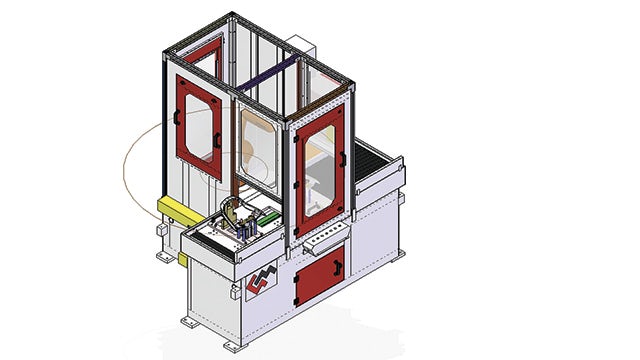 Broader business benefits
Grind Master's expertise in Solid Edge and engineering complex products has enabled the company to enter into collaborations with technology leaders in the United States and Italy. Grind Master personnel design and draft all the machine content using Solid Edge, and collaborator experts provide design reviews and validation. The collaborative efforts have resulted in new business lines for Grind Master that include dynamic balancing for crankshafts and advanced gear chamfering and deburring solutions.
Grind Master's recent entry into robotic automation products for metal finishing and machines for robotic deflashing and fettling are revolutionizing the Indian foundry industry. Engineering these products involves complex workspace evaluation and motion engineering, which must be conducted simultaneously with robotic simulation software. Engineering these systems with Solid Edge has made this possible.
"Grind Master has a long-term relationship with Siemens Digital Industries Software and Vedang Infotech that extends beyond the Solid Edge deployment," says Prashant Jadhav, manager of design at Grind Master. "The wide range of solutions of Siemens Digital Industries Software is complemented by the application knowledge and support of the channel partner, Vedang Infotech. This has enabled Grind Master to leverage the maximum benefit from the software and deploy it horizontally across its complete range of machinery."