case study
Leveraging multidimensional simulation to reduce time-to-market and prototype loops for electric vehicles
GKN Automotive uses Simcenter Amesim to optimize its next-generation eDrive technologies
GKN Automotive
GKN Automotive is a global leader in eDrive technologies and is at the forefront of the mass production of advanced, efficient systems for electrified vehicles. GKN Automotive's extensive portfolio combines value with technical expertise. With 20 years of experience, the ePowertrain division offers solutions for all electrified vehicles and is a go-to technology partner.
https://www.gknautomotive.com/
Headquarters:

Aurburn Hills, Michigan, United States

Products:

Simcenter Products, Amesim

Industry Sector:

Automotive & transportation
Changing process and approach
GKN Automotive is a global leader in eDrive technologies. Their expertise, commitment to innovation and global footprint enables them to deliver cutting-edge, sustainable technology solutions competitively and at scale.
GKN Automotive is at the forefront of the mass production of advanced, efficient systems for electrified vehicles. Almost 50 percent of new cars worldwide feature GKN Automotive systems and solutions, which means hundreds of millions of cars with GKN Automotive technology are driven everyday.
Electrification in the automotive industry has had an enormous impact on the vehicle development process and approach. Development teams face new challenges in every aspect of electric vehicle (EV) performance and scale as well as increasingly intense competition.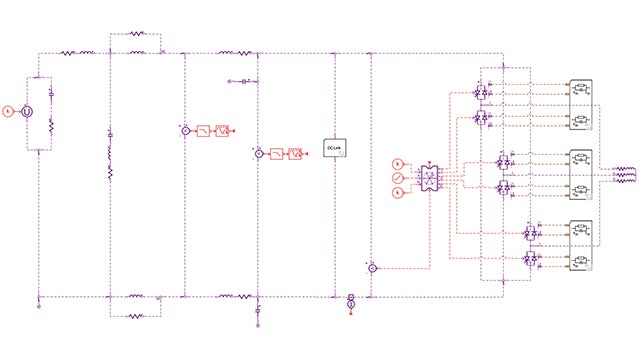 EMC behavior analysis with different cable lengths.
At the forefront of EV driveline technology
GKN relies on Simcenter™ Amesim™ software, which is part of the Siemens Xcelerator business platform of software, hardware and services, for developing and optimizing its traction inverters for electric vehicle 3-in-1 systems. A 3-in-1 system consists of a gearbox, an electric machine and a traction inverter. In the case of GKN, the gearbox hosts additional features, such as park lock or disconnect systems and the basic gear set. The inverter provides the electric machine control functionality.
In most cases, vehicle manufacturers regard the 3-in-1 system as a black box, delivered as a single, complete solution.
Suppliers such as GKN must therefore have the ability to deliver components that meet the design and performance specifications set by customers.
The ability to optimize the 3-in-1 therefore goes far beyond simply ensuring the system can fit into the given housing. In this context, the component requiring special focus is the inverter.
The task of the inverter is to convert between direct current (DC) and alternating current (AC) power while simultaneously providing communication and control, guaranteeing the highest levels of cyber-security and safety.
"We faced engineering challenges to change from mechanical to mechatronic design," says Björn Nemitz, system engineer of power electronics at GKN ePowertrain.
These requirements make it the most complex and cost-intensive component in the 3-in-1 system.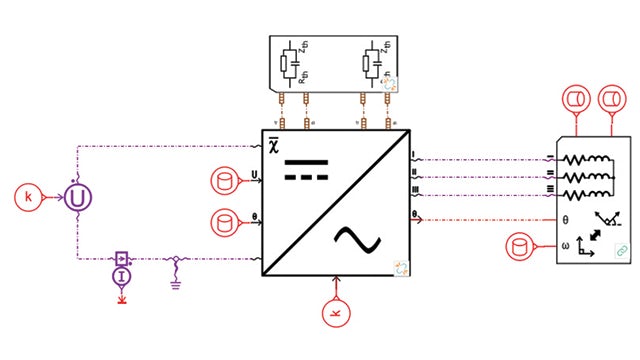 Dynamic simulation model with a mapped inverter model.
Challenges in product development
Since the inverter is such a complex component, nonideal boundary conditions or poor design decisions can have a massive negative impact on cost and performance. But the opposite is also true: Well- considered and carefully implemented decisions on interfaces and internal design can lead to significant performance improvements and cost efficiencies.
The main focus of inverter development is to satisfy the critical business requirements set by the customer.
Providing the required power
First of all, the inverter must provide the drive power required by the customer. These standards are generally set as operational capabilities that can be delivered for all conditions; such as a fully loaded vehicle with a trailer operating in -40 Celsius (°C) ambient temperature on a steep hill with a nearly depleted battery.
To meet the performance requirements, the designers must adjust the parameters to find the optimum distribution of load between the respective components. This requires detailed understanding of the factors that can limit performance and how they may be surmounted.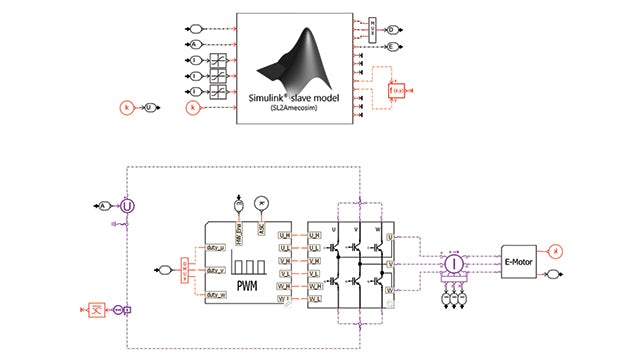 Controlled system simulation model.
Gaining efficiency
Next comes the overall efficiency of the inverter. Efficiency improvements deliver an increased range at a given battery capacity, or the opportunity to reduce battery size at a given range. Both of these can provide highly attractive selling points to the customer, which explains why car manufacturers are interested in this topic.
Cognizant of costs
Then there is cost, which can never be ignored. Cost and cost-effectiveness are crucial factors in securing market acceptance and gaining market share.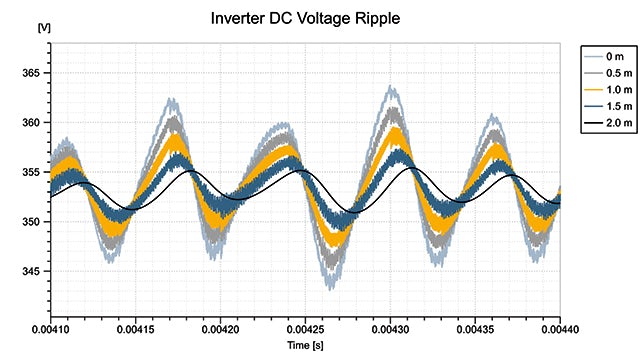 Analyzed EMC behavior.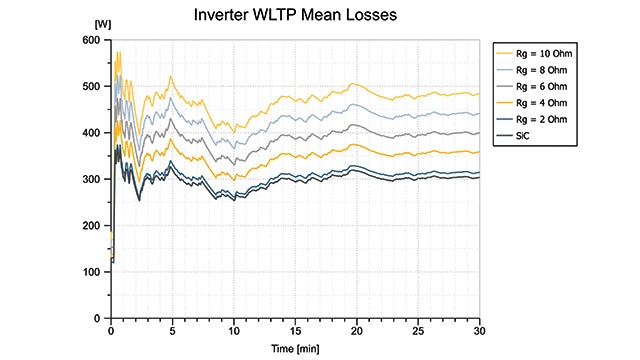 Analyzed Worldwide Harmonized Light Vehicles Test Procdure (WLTP) losses of power module with different Gate resistances.
Achieving optimum performance
In addition, there are the more technical considerations such as electromagnetic compatibility. Optimizing the radiated and conducted emissions or immunity at component level is a significant challenge, but also a key focus for future systems development at GKN.
There are also targets for thermal safety, service life and durability, package design, weight, noise, vibration and harshness (NVH), serviceability and more, all of which can have a bearing on the overall design and performance.
The goal is to achieve the optimal balance between these sometimes conflicting but always interconnected targets to achieve the best overall performance for a specific vehicle brand or application.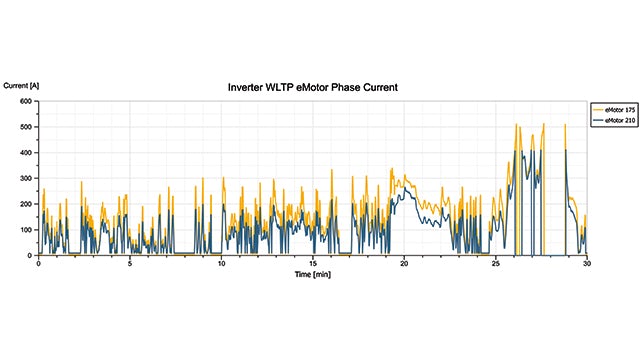 Analyzed system setup for lifetime calculation.
Evaluating multiple product dimensions on one simulation platform
By using Simcenter Amesim, the team at GKN is able to carry out multidimensional simulation, simultaneously analyzing the behavior of multiple components on the thermal, electrical and mechanical level.
The team uses Simcenter Amesim to design and size the individual electrical components, analyze how each of the components affects the others and provide the optimum product solution to meet the clients' requirements.
The team simulates and analyzes different aspects, from semiconductors to the complete 3-in-1 system. Examples include static or dynamic load cycles, specific electromagnetic compatibility (EMC) scenarios, safety, relevant load scenarios, controllability, failure analysis as well as complex lifetime cycles.
Producing accurate representations of the real system while creating models that are capable of simulating long drive cycles is a significant challenge. However, these complex requirements can be met with Simcenter Amesim speed of modeling and capacity for experimental design and model reduction. The models take electrical and thermal conditions into account, but also deliver fast simulation times.
Using these simulation capabilities, the GKN team has been able to minimize reliance on tests, dramatically reducing the number of hardware-in-loop (HiL) tests and prototype loops needed in the development program.
"Simcenter Amesim has helped me to expand my technical expertise regarding the individual components and the system as a whole," says Nemitz. "I now have a much better understanding of the physical behavior of the components and how they affect each other."
Simcenter Amesim provides the complexity of analysis and depth of detail the team can rely on, minimizing the risk of overdesign and significantly reducing development time and costs.
"GKN has developed standardized models and processes to use in the product development cycle," comments Nemitz. "That way we can use the simulations for each project right from the start and have a validated base for our design and development."
GKN Automotive Traction Inverter.
The winning formula: start product development with the right tools
Simcenter Amesim offers an intuitive multilevel design for all applications, with many integrated, prebuilt solutions.
Using Simcenter Amesim right from the start of the development process, the GKN team is able to virtually assess and optimize each of the elements within the system and the system as a whole. This means fewer costly prototype loops are required, and they achieve faster time-to-market.
Looking to the future
The shift from the combustion engine to electric vehicles represents a new era of opportunity for automotive manufacturers, as well as an urgent need to find innovative solutions to the engineering challenges of switching from mechanical to mechatronic design.
Leveraging simulation to develop a comprehensive digital twin will play a major role in GKN's ability to analyze and predict performance of products in the real world, thereby enabling the firm to rapidly develop products with better performance at lower cost.
From sound and vibration to inverter technology and beyond, the possibilities of simulation and the comprehensive digital twin are beginning to inform every area in development of the new generation of electric vehicles.
Reduced inverter simulation model with battery, DC-link capacitor and power modules.