Case Study
Swiss furniture maker produces innovative seating and tables following Industry 4.0 concepts
Girsberger
Established in 1889, Girsberger AG designs and manufactures innovative seating and tables with outstanding ergonomics, resilience and durability for offices as well as dining rooms. The furniture manufacturer also trades timber and overhauls old furniture in a remanufacturing shop. The owner-managed family business employs 250 and is headquartered in Switzerland, with subsidiaries in the European Union and Turkey.
http://www.girsberger.com
Headquarters:

Bützberg , Switzerland

Products:

NX, Teamcenter

Industry Sector:

Consumer products & retail
Better ways of sitting
Since Girsberger AG's development of an infinite height adjustment mechanism for stools patented in 1910, the company has been turning out novel and often groundbreaking seating solutions. Since it was established as a wood turning shop in Zurich, Switzerland, in 1889, the furniture manufacturer has been producing innovative seating and tables with outstanding ergonomics, resilience and durability for offices as well as dining rooms. To remain internationally competitive with this portfolio in a country such as Switzerland with its high infrastructure and labor costs as well as an adverse exchange rate is in itself quite a challenge.
"Combining sophisticated, original design and functionality with maximum practical benefits, we create tomorrow's classics," says Michael Girsberger. He is heading the Switzerland-based group with subsidiaries in the European Union and Turkey in the family's fourth generation. "This requires an uncompromisingly honest use of materials as well as precision in manufacturing with high craftsmanship."
A good example of this is the G 125. Released to the market for the company's 125th anniversary, that model is meant to be a reinterpretation of the traditional wooden swivel chair and was awarded several design prizes. As a counterweight to modern swivel chairs whose functions and options are continuously extended but which appeal less and less to our senses, the chair offers only a few functions and options for adjustment. Four wooden legs or a steel star base with castors bear a rotating U-shaped seat and backrest. Without a sophisticated tilting mechanism, as a flexible torsion rod, this allows the seat and back to rock comfortably. The seat is made of either an upholstered seat board or a molded wooden ring with transparent mesh covering, while the backrest is made of steam-molded solid wood.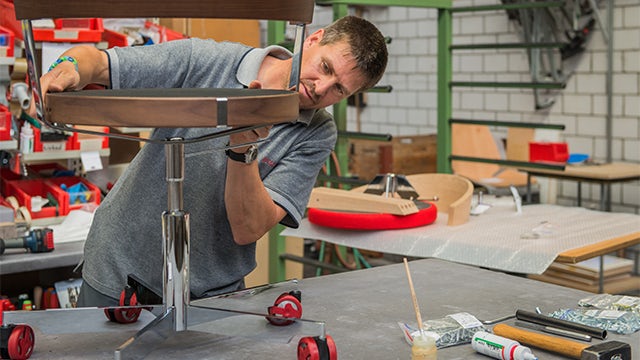 NX for product and project development
Girsberger engineers developed G 125 based on shapes created by industrial designer, Mathias Seiler. The company has been working with NX™ software from product lifecycle management (PLM) specialist Siemens Digital Industries Software for computer-aided design (CAD) for many years. Girsberger uses this software to design new products as well as jigs and fixtures and in the planning of custom furnishing projects. This comes with an enormous time pressure. Contrasted to original design work, this kind of planning work is frequently expected to be finished within a few days.
"We typically perform this planning work in close cooperation with architects, creating their designs using other software tools," says Alfred Schaad, head of project management and production engineering at Girsberger. "This is where synchronous technology comes in handy as NX allows us to import geometry data regardless of their provenience and data quality."
"Synchronous technology is also quite valuable when it comes to re-using our own designs," adds Simon von Gunten, deputy head of wood fabrication at Girsberger. "This functionality within the CAD software substantially shortens the time needed for production-oriented modifications."
Girsberger product development engineers use NX not only to create their designs. Using NX™ Nastran® software, employing the finite elements method (FEM), they also verify the physical properties of components. Wooden parts are not as yet verified using this software because their non-linear material properties limit their calculability.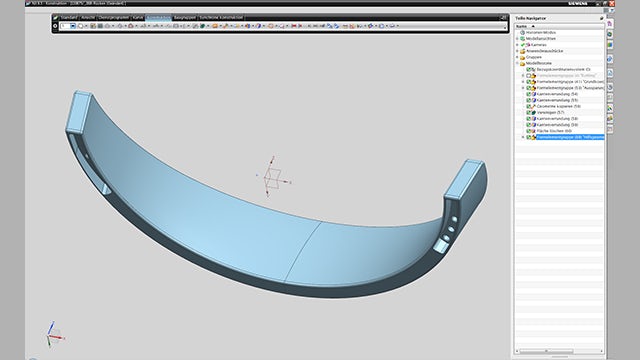 CNC wood cutting
A highly specialized partner company manufactures the blanks for the backrest using the bentwood process to manually bend the wood using steam and custom-made molds. Other than this, Girsberger manufactures the chair almost entirely in the factory at its main location. To this date, a number of the operations are still performed purely by hand.
Since 2007, though, Girsberger has been using a computer numerical control (CNC) machining center from a leading German manufacturer. The size of the gantry machine is sufficient for work pieces – multitude of curves and freeform geometries. This suggests generation of the machine programs based on the parts' geometry information from NX." Controlling the machine, however, is a proprietary CNC system designed by the machine manufacturer. It is not compatible with popular control systems used in milling centers used for cutting metals or plastics. Consequently, no suitable postprocessor programs or machine room simulation are available for this specific CNC machine. For computer-aided manufacturing (CAM), the preconditions had yet to be created.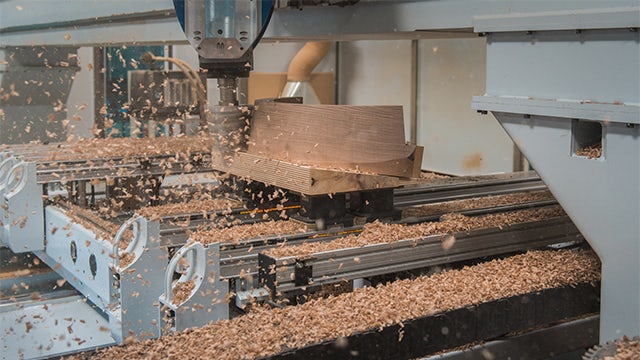 Postprocessor for exotic control system
Janus Engineering is a partner of Siemens Digital Industries Software for the optimization and automation of the CAD/CAM/PLM process chain using NX CAM and Teamcenter® software, also from Siemens Digital Industries Software. The specialists from this company supported Girsberger in this automation challenge by programming a postprocessor. It allows automatically generating very efficient code for the CNC machining center based on the geometry data from NX. This required taking into account unique properties of the machine tool. It supplies some rotating parts with electricity using cables rather than slip rings, for instance. This caused a restriction in the freedom of movement that needed to be communicated to the CAM software. Nevertheless, the Janus Engineering specialists managed to fulfill their task without modifying the software itself so that their programs are update-proof.
For the wood machining center, a complete 3D model was not available, either. "We built a complete representation using NX," says von Gunten. "This way, we can simulate and optimize the wood cutting operations offline using the machine's digital twin, saving machine occupation time, unsuccessful attempts and avoiding collisions."
Although both the mechanics and the control system of the machine are up to the task, simultaneous multi-axis machining was not possible due to programming limitations. "The CAM implementation using NX enabled us to program the most complex machining patterns requiring simultaneous axis movements required in the production of the backrest for our G 125," von Gunten confirms. "Being able to utilize all capabilities of the machining center greatly reduces production-related restrictions for our furniture designers." This also substantially contributes to the competitiveness of Girsberger whose Girsbergerproducts' user-oriented, ergonomic design is a significant distinguishing feature, particularly when competing with volume producers.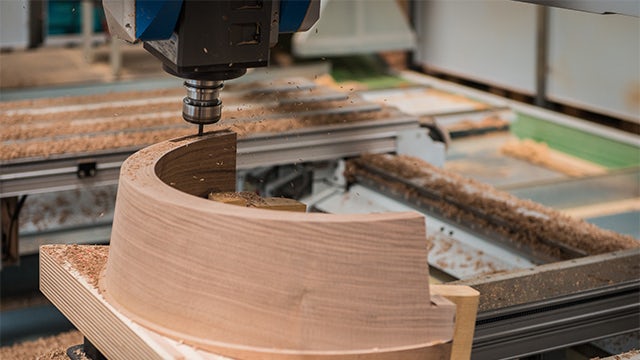 PLM promotes efficiency
Another significant contributor to improved efficiency in development and production of furniture and individual furnishing solutions at Girsberger is management of the product lifecycle. For some years, the Swiss furniture manufacturer has been using Teamcenter® for managing all design and program data from NX as well as product- or project-relevant documents from other sources.
"Managing all design- and production-relevant information using Teamcenter saves us alignment, duplication of efforts and errors," says Schaad. "It also makes re-using existing designs much easier, promoting the efficient development and production of highly individualized products and projects."