Case Study
Accelerating aircraft design using tool integration and automation
GA-ASI reduces detailed structural design time by 25 percent by using Siemens' CAD tool suite
General Atomics Aeronautical Systems, Inc.
GA-ASI supports the warfighter and civil operations. The ever-changing environment on the battlefield and homeland security motivates their objective in revolutionizing defense technology by assessing the needs and requirements of the future force. They aim to deliver intelligent, persistent situational awareness with 24/7 overwatch ability that can transfer accurate, real-time intelligence to decision-makers for faster response.
https://www.ga-asi.com/about-ga-asi
Headquarters:

San Diego, California, United States

Products:

NX, Simcenter Products, Teamcenter

Industry Sector:

Aerospace & defense
Pioneering the path for remotely piloted aircraft
Pioneers of remotely piloted aircraft, General Atomics Aeronautical Systems, Inc. (GA-ASI) was established 30 years ago and is headquartered in San Diego, California. The company is known for its Predator series of aircraft and specializes in research and technology development for unmanned systems. GA-ASI unmanned aircraft and sensor systems are designed and engineered for long-endurance.
Dee Wilson, vice president of engineering at GA-ASI describes the company as "a vertically integrated aerospace company." GA-ASI designs and manufactures 90 percent of the components that go into an aircraft, from structures, avionics, power plants, to all mechanical systems. Their engineering team is responsible for running the gamut of disciplines to develop the aircraft and related systems such as ground control stations, payloads and support equipment. Along with building unmanned aircraft, the company also manufactures and tests them at their factory and flight test facilities.
GA-ASI needed to increase collaboration among their engineering teams, move faster, perform more detailed analyses earlier in the design phase and reduce the late discovery of design issues. They began the search for computer-aided design (CAD) and computer-aided engineering (CAE) tools they could integrate in a more seamless way, working from a single source of engineering truth data. This led them to select the CAD package from Siemens Digital Industries Software. The solution enabled them to create an aircraft design framework where CAD and CAE tools were automated and connected by a digital thread.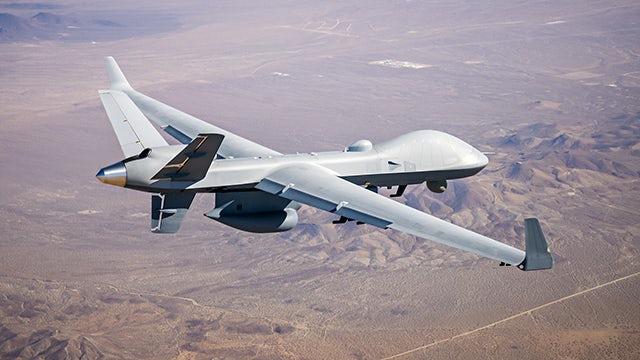 Making the jump to Siemens' tool suite
GA-ASI's engineering team was looking to accelerate their design process using advanced model-based design capabilities that could digitally and directly flow into the manufacturing process. This would eliminate time consuming manual steps, especially related to composite airframe structures.
The engineering team was relying on manual model creation and disjointed CAD and analysis models, while executing repetitive tasks. GA-ASI's processes were also based on individual discipline evaluations and they were not taking advantage of a digitally integrated, multidisciplinary environment. If their engineers could spend less time building and managing the mechanics of the models (for example pre- and post-processing, meshing and other discipline-unique preparation activities), they would be able to focus on interpreting data, iterating creative solutions, solving design problems and performing design analysis.
After looking at several tools, GA-ASI selected Siemens' CAD tool suite, which includes NX™ software and Simcenter™ 3D software and the Fibersim™ portfolio. By using these solutions, they were able to reduce the number of hours it took them to perform detailed structural design and create the technical data package required for manufacturing by 25 percent. From that point, they decided that all new start programs would start with NX as the baseline CAD program.
Freeing up engineers' time
Upon implementing these solutions, Siemens provided the company with training tutorials, Q&A sessions, onsite technical experts and a dedicated support engineer to answer any questions. "Overall, transitioning to Siemens' software was a nice user experience," states Phu Nguyen, engineer in the airframe design group at GA-ASI. NX and Simcenter are part of the Siemens Xcelerator business platform of software, hardware and services.
Initially GA-ASI had several talks with their subject matter experts (SMEs) to pinpoint where they could reduce design time and bottlenecks. It was important to understand how the SMEs were consuming the CAD data to identify which processes could be automated.
GA-ASI ran some pilot programs where they used the advanced tools and computing power to enable their engineers to spend most of their day making analysis decisions as opposed to setting up models and analysis tools. For example, they ran an effort using NX CAD Software, NX Open, Simcenter, as well as Teamcenter® software to perform a tail configuration trade study and preliminary design. The team could feed all the other models with a maximum amount of reuse and total linkage between them. "Siemens' tools did all the work for us in creating the models and only required minor tweaking from the SME in those design disciplines," states Nguyen. "This proved the engineers could start doing design and analysis in a matter of minutes."
The engineering team found that the high surface quality was one of the most important features in Siemens' tool suite because it affects all other disciplines downstream. This includes computational fluid dynamics (CFD) and meshing, which require clean surfaces. The high surface quality prevents the end users from having to spend time fixing the geometry. With these solutions, GA-ASI could perform higher fidelity physics-based analysis earlier in the design cycle, minimizing the labor involved in model building, model updating and post-processing.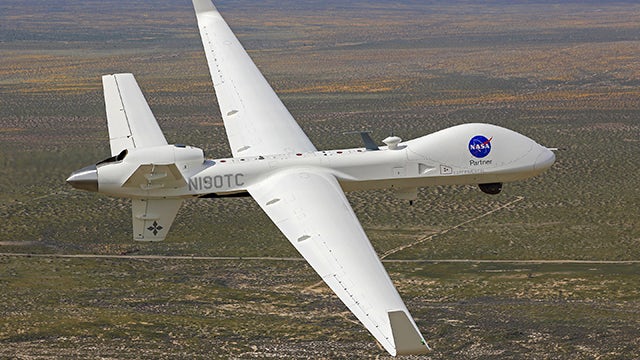 Performing deeper exploration of designs
By using Siemens' CAD software to perform the tail configuration trade study, GA-ASI reduced labor hours by 90 percent. "We did several iterations of that to get a preliminary tail design," claims Wilson. "We were on the order of 1000 plus hours and brought that down to about 100 hours by using this new construct."
GA-ASI found that the entire process of going from CAD to a stress analysis model was easy. "We no longer have to export the STEP file and export the mass and stiffness matrices. It is all in this integrated environment," claims Nguyen.
"With Simcenter 3D, we could write several NX Open codes to enable us to rapidly build the model, especially with hundreds or thousands of fasteners that we have to idealize," continues Nguyen. "Making this an automatic process in Simcenter 3D really helped us." The central design data and geometry source enabled the team to achieve efficient data sharing, better collaboration and model-based definition.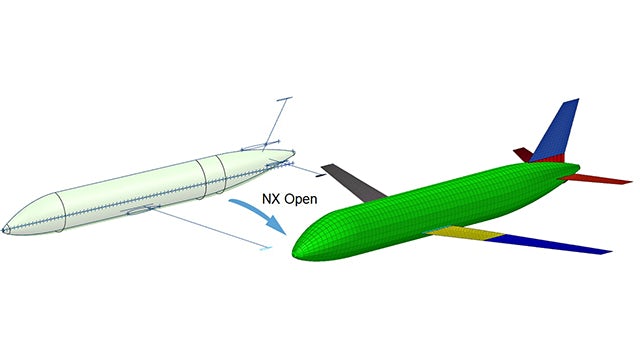 The open environment enables the team to perform deeper exploration of their designs, produce new capabilities and reduce late discoveries of defects due to unmodeled physics. "The open, flexible environment was the reason the engineering team was successful; this is what our solution made possible," states Nguyen. "When we ran trials and training, I received feedback that the software was very intuitive and easy to learn," continues Wilson.
Additionally, the team appreciated the support they received from Siemens experts. "The customer support and responsiveness we get from Siemens is like no other vendor I have worked with before." Wilson continues, "we really appreciate everything Siemens has done to help us get to this point and evaluate their tools. The system is also extremely responsive when we find issues that we need customized or fixed to work for our setup. The engagements Siemens has with the aerospace and defense industry are top notch," states Wilson. "They really work with the industry as a partner on developing these tools. It enabled us to make this leap."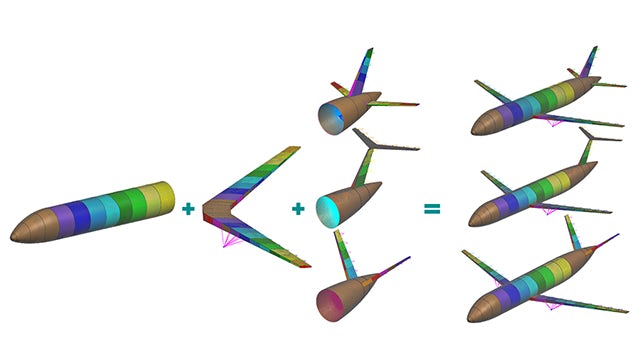 Achieving higher levels of design maturity earlier on
The next effort GA-ASI is embarking on is converting their previous processes to an integrated design environment. Teamcenter will be a significant a part of this solution. "We are at the beginning of this and right now we have various independently manually created models starting with CAD, then all the other disciplines work from that but manually create their own model," states Wilson. "We find engineers spend the majority of their day doing manual conversion pre- and post-processing of those models' setup and we want to use the advanced tools in the Siemens' suite."
GA-ASI's goal is to use this integrated design environment with these key pieces and continue to add to it, to achieve a higher level of design maturity earlier in the program phase and then enable the engineers to iterate more, perform design analysis and solve design problems. They intend to use Teamcenter to help them manage that data.