Case Study
GEA Mechanical Equipment Italia increases business efficiency and slashes design approval cycle time with Teamcenter
Siemens Digital Industries Software solutions help digitize operations and share engineering information with the entire organization
GEA Mechanical Equipment Italia
GEA Mechanical Equipment
Italia designs, manufactures
and sells high-pressure
homogenizers across a variety
of industries, including milk
and dairy, food and beverage,
pharmaceuticals, chemicals
and cosmetics, offering a wide
range of models from laboratory
to industrial machinery.
http://www.gea.com
Headquarters:

Parma, Italy

Products:

Teamcenter

Industry Sector:

Industrial machinery
Technologically driven homogenizers
The process called "homogenization" and the word itself date back more than a century. They were both introduced at the Paris World Expo in 1900 by the ingenious French inventor Auguste Gaulin. One hundred years later, the key concept is still the same, but tools and equipment have improved with the technological progress driven by companies like GEA Mechanical Equipment Italia, a leader in the production of machinery, components and solutions for the food industry as well as many other markets.
Following the recent reorganization, the company's activity has been divided into two business areas: Equipment, a cluster of machinery manufacturers, and Solutions, which develops integrated solutions for the production of food and other consumer products. The equipment area offers seven product lines, including high-pressure homogenizers for industry and laboratory applications, manufactured at the Parma, Italy site.
The origins of GEA Mechanical Equipment Italia homogenizers trace back to 1947, when the Soavi family founded a small Italian enterprise which grew progressively until acquisition by GEA Group in 1993. "When we became part of the German corporation, we opened up to the global market," says Stefano Antonini, operations manager at GEA Mechanical Equipment Italia. "Sales expansion generated a fivefold increase of turnover and production, turning our small to medium business into an international company."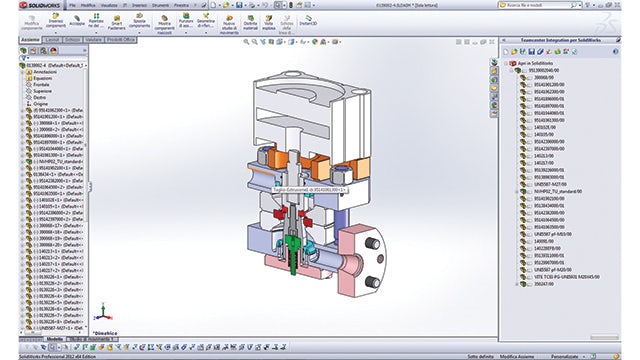 From laboratory to industry
Today, GEA Mechanical Equipment Italia is producing about 800 homogenizers per year, offering an extensive range, from tabletop models for small production volumes in research centers and universities, up to industrial-scale models, with a total fleet of 12,000 machines installed around the world. The entry level is the One Series – simple, reliable, easy-to-use, and ideal for milk, dairy products and fruit juices. Ariete Series is the largest family, with 17 models that can be fully customized with more than 200 options to create unique homogenizers for any requirements. Another category is made by Skids for the pharmaceutical industry, including plug & play solutions composed by the homogenizer, an electric cabinet and a feeding pump.
Machinery for production of vaccines, injectable solutions and other chemical products currently accounts for 30 percent of revenue, while the core business is still food, with 70 percent. "High-pressure homogenizers are used in different applications with specific benefits," Antonini says, "but it is deeply rooted in the dairy industry for the production of milk, yogurt and derivatives. Applications have diversified over the years – from fruit juices to soft drinks, from dressings to liquid food with up to 50 percent solid content – and we have expanded into leading-edge industries, such as biotechnology, with innovative products like nanocellulose."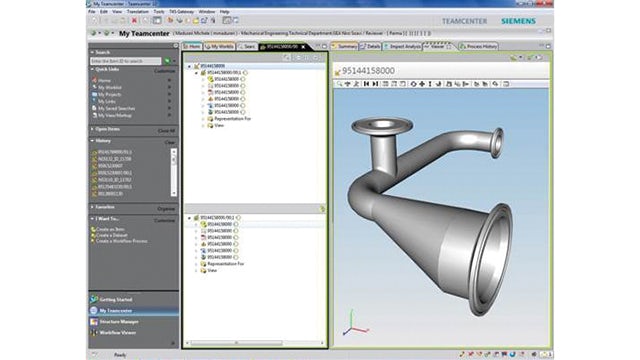 Handling product proliferation
The expansion of the product range and configuration options has significantly increased the complexity of engineering processes, jeopardizing their reliability. For a company like GEA Mechanical Equipment Italia comprised of about 30 engineers, the management of bills of materials (BOMs), combined with electrical design, configuration management, research and development (R&D) activities and documentation, had become too cumbersome. "The process was handled manually with Excel spreadsheets or AS/400e records," Antonini explains, "with no integrated data management linked to the computer-aided design models. The drawings were stored in network folders with progressive item numbers and no indexing. In this situation, all staff, especially in manufacturing and purchasing, had to refer to the engineering department to get information. So, it was really necessary to implement a data management system: our engineers were dedicating as little as 30 percent of their time to design."
After a review of different product data management (PDM) systems, the GEA Mechanical Equipment Italia managers realized that by taking a small step further, a product lifecycle management (PLM) solution would bring much bigger benefits, extending information access to the entire product lifecycle and the whole organization. "From the very start, our needs expanded beyond engineering, involving purchasing and manufacturing, as well as sales, so we immediately focused on PLM solutions," Antonini says.
Looking ahead
After a discussion with the German headquarters, in 2012 the company launched a software selection process that resulted in the adoption of Teamcenter® software from Siemens Digital Industries Software.
Antonini mentions several reasons for this decision. "In the first place, Siemens' presales team showed solid expertise in the initial phase of support; through ad hoc simulations, they also demonstrated that Teamcenter could fully respond to our requirements, from document management to drawing storage, from data retrieval to searching time, up to the configuration of the engineering BOM."
The adoption of Teamcenter was not challenged by the fact that the company in Parma used SolidWorks® software: the Teamcenter PLM platform enables fully functional integration with a range of CAD software packages as well as with SAP® software, the enterprise resource planning (ERP) system for which the parent company required reliable and certified integration. "To open access to SAP, the headquarters recommended a solution with certified data exchange interfaces," Antonini says. "In our process, part numbers are generated by the engineering department and then transferred to ERP, which acts as material master and manages the code from the moment it receives it. The master-slave interface between Teamcenter and SAP was a crucial factor."
The key requirement for integration with SolidWorks was the stability of design data, with official revisions and reliable functions for component search. A functional, reliable and structured interface between Teamcenter and SolidWorks was on top of the agenda, requiring great commitment by the GEA Mechanical Equipment Italia team to transfer all requirements to Siemens engineers. "Now we have a very smooth interface to transfer CAD data seamlessly over a fully working two-way interface," Antonini says.
Though initially confined to the engineering department, the PLM project was designed for future expansion to the entire organization, with a sales configurator and business intelligence tools. In this respect, Teamcenter provided solid opportunities for future portfolio expansion. "Siemens Digital Industries Software offered a standard product that could meet our short-term and future requirements without any customization," Antonini adds, "a significant benefit for maintenance and the implementation of subsequent releases."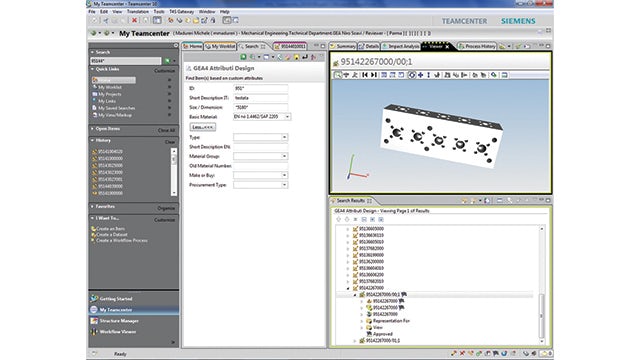 A new start
Launched in 2013, the Teamcenter project at GEA Mechanical Equipment Italia in Parma went live in January 2014, when the database was removed from the file system and loaded into Teamcenter: 50,000 drawings, all 3D design assets created with SolidWorks and 2D drawings still managed as historical data. "3D CAD data has been completely integrated, while AutoCAD drawings are simply encapsulated into PLM," Antonini explains. "Then we made Teamcenter accessible and usable for purchasing and manufacturing, configuring specific search functions and training users."
After defining drawing approval procedures, GEA Mechanical Equipment Italia replaced paper-based processes with the digital workflows of Teamcenter, which offer the maximum reliability of design versions and revisions. Now, when engineers check a drawing or a bill of materials, they can be sure that it is the official and updated version. "Product lifecycle information can be shared with the entire company, with clear benefits in terms of efficiency and cycle time reduction for the purchasing and engineering departments," Antonini says. "We have already measured a 30 percent reduction of lead time for approval workflows and we will be able to slash the time required to associate drawings to manufacturing BOMs by 50 percent – all of this thanks to the integration between SAP, Teamcenter and SolidWorks."
Another benefit is the dramatic reduction of errors, still hard to measure: now each change is notified to all stakeholders by e-mail, maximizing process reliability.
Next steps
The story so far is just the first episode of the Teamcenter implementation at GEA Mechanical Equipment Italia. In May 2015, the second stage was launched to manage documents, which are just as critical as drawings. Antonini notes that this will involve all technical documentation, information bulletins for the sales network, post-sales communications, enhancements and all kinds of documents, in order to make such information available to anyone who needs it, both within and outside the organization.
Future developments include the implementation of Teamcenter Classification to bring component classification to an optimal level of detail.
Looking at the next steps, the company is considering sales configuration: the sales staff will have access to Teamcenter to partially configure the product by selecting a few options, so as to deliver a pre-config - ured BOM to manufacturing to shorten lead time. A further step may include the management of a manufacturing bill (MBOM) independent of the engineering BOM. "Currently, we have one single bill managed by the engineering department, but we need two different levels of configuration: one for the engineering department and one for manufacturing, to execute the equipment assembly process," Antonini says.
The depth and breadth of the Siemens Digital Industries Software portfolio suggests new ideas to the GEA Mechanical Equipment Italia team every day, even in areas not strictly related to processes. From sales operations to planning, from business development to manuals and multilingual translations, up to schedule management and assigning resources to different tasks, the company plans to further exploit notable opportunities with Siemens Digital Industries Software technology.