Case Study
Gdańsk University of Technology uses Siemens Digital Industries Software solution to teach cutting-edge skills in boat design
University uses NX to shine in solar boat competition and make students more attractive to potential employers
Gdańsk University of Technology
Gdańsk University of Technology is one of the oldest universities in Poland. It has nine faculties with 41 fields of study as well as more than 26,000 undergraduates and about 400 doctoral students. It employs 1,200 teachers.
http://www.pg.gda.pl/en
Headquarters:

Gdańsk-Wrzeszcz, Poland

Products:

NX

Industry Sector:

Marine
Making history
In the autumn of 2005, the faculty members of Ocean Engineering and Ship Technology at Gdańsk University of Technology set out to break the mold in boat building by taking part in the Frisian Solar Challenge, the first edition of exclusively solar-powered boat races, which were to take place in 2006 in the Netherlands.
Back then solar boats were not very popular in Poland, or elsewhere for that matter. At the time, applying photovoltaics to mobile objects did not go beyond experimentation. The first solar boat race took place in Germany in the 1980s. The initiative was then taken over by the Dutch, who managed to build up the prestige of this event.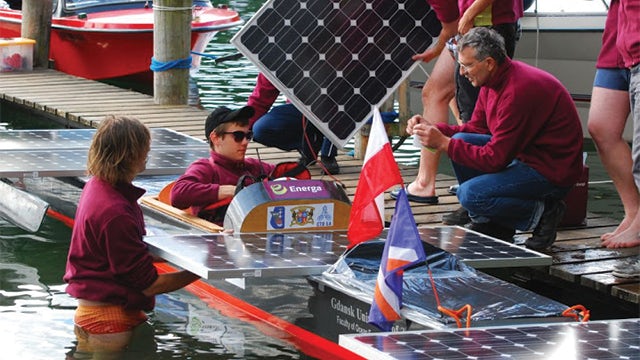 A successful debut
The KORAB Students Scientific Association received a grant of 10,000 PLN (Polish zloty) from Professor Janusz Rachoń, then rector of the university, to build the boat.
"This was not an overwhelming amount so in order to make this project happen and Marine • Education Gdańsk University of Technology Gdańsk University of Technology uses Siemens Digital Industries Software solution to teach cutting-edge skills in boat design then transport it to the Netherlands with the entire crew, we needed additional funding," says Dr. Wojciech Litwin, the tutor of the scientific association, and associate dean for science of the faculty of ocean engineering and ship technology. "What we managed to collect was not enough. The price of photovoltaic panels was so steep that the prototype of the boat, which we built in a few months, sailed with mock panels made of plywood."
The panels were lent to the Poles by the organizers of the Frisian Solar Challenge only after they reached the event site. During its first race the boat built by the Polish students and scientists came in fifth, which was a major success. The students' technical specification document consisted of a few dozen pages. It specified the size of the boat, its draught, height, safety issues, stability and protective measures.
"There is a certain space available on which you can mount a permitted number of photovoltaic panels," says Litwin. "In the standard class races that we compete in, these are normal panels that you can find on land structures covered with glass in an aluminium frame. Each weighs about 15 kilograms (kg) and you need to install four to five panels, each with 200 watts (W) of power, depending if it is a one- or twoperson boat."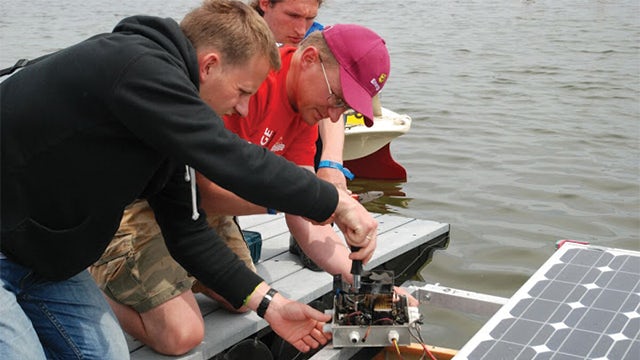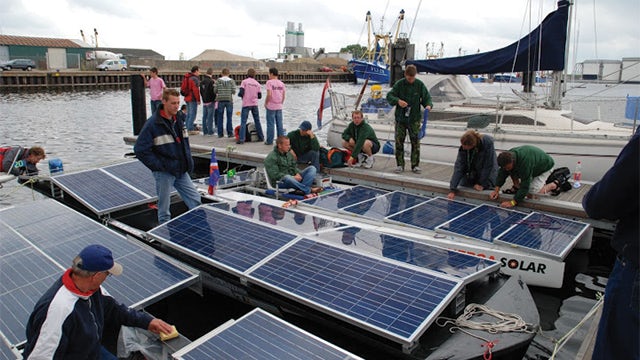 Winning software
The Polish racing team, the Gdańsk University of Technology (GUT) – SOLAR, currently uses third-generation boats. It would be impossible to build them without an adequate preparatory process. The first boat that was launched in 2006 was mostly homemade; the designers used a standard drawing board, pencil, calculator and only rarely employed a computer. In 2010, KORAB prepared the first two-person boat that was launched in the Netherlands, and it proved to be highly competitive. The winning boat was designed using Solid Edge® software from Siemens Digital Industries Software. Initially, Solid Edge was used to design parametric 3D models of individual elements and assemblies as well as prepare a comprehensive technical drawings package. It would be impossible now to imagine a designer (of almost any product, including boats) working without a computeraided design (CAD) system.
No wonder Litwin is so fascinated with this software: "When I was a student 20 years ago, universities did not sign contracts with software developers," he explains, looking back on his projects as well as the designing process used with the first boat. "Today students can learn how to operate cutting-edge software as members of various scientific associations or even individually at home. Because of that the software can be used both during classes and in projects implemented by scientific circles."
What's more, Siemens Digital Industries Software permits students and faculty to install software on their private computers, which means they can use it any time they want, not only several hours a week during class.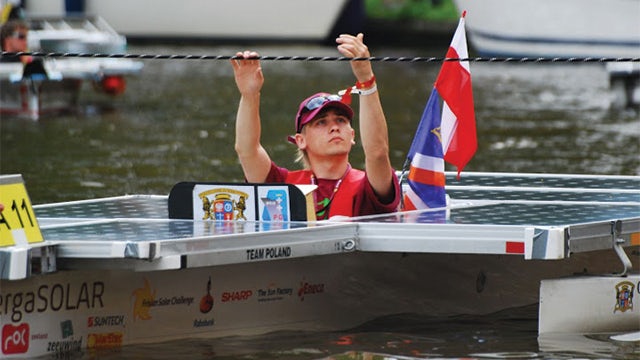 Providing a unified platform
Today the designers use NX™ software by Siemens Digital Industries Software. It provides a unified platform that offers many popular solutions in addition to advanced CAD functions. Most importantly, however, it delivers a large number of top-notch tools that allow the user to design models in even the most intricate shapes.
"Using NX makes it possible for us to build a model of our boat within a virtual space," says Litwin, adding that this is a crucial consideration when it comes to designing something as complex as a boat. "When you use this software, it is just so incredibly easy to plan the location of all the elements inside the boat or to check weight distribution. Even the tiniest details matter; for instance, if the skipper is to sit 20 centimeters closer to the bow or the stern, or if the boat has the optimum trim, which is inclination to the water surface."
The most recent version of the NX software includes computational fluid dynamics (CFD) software as well as a solution for analyzing strength of materials based on the finite elements method (FEM). Figures demonstrate how important these parameters are. The hull of the eight-meter boat from 2010 – the Energa SOLAR 2 – weighed as little as 15 kg, while the boat with a crew of two weighed 350 kg. Because of that, one must take into account all the stress that occurs during a race, including all possible weather conditions. Composite materials present design challenges. That is why many complex simulations are needed, and NX contains easy-to-use simulation solutions based on geometric models, which provide designers with access to the results of advanced simulations.
Among the comprehensive capabilities of NX are powerful solutions for creating conceptual designs, 3D modeling and documentation development. Moreover, the software enables its users to create interdisciplinary simulations for analyses of the structure, motion, thermal properties, flow and multiphysics. NX contains a solution for controlling production for instruments, machining and quality assurance. The ease of use combined with a vast array of functions make NX the preferred software for carrying out all sorts of complex and time-consuming work involved in designing.
"For our students, this is a fantastic opportunity to learn something new and thus become more attractive to employers," comments Litwin. "For us, their tutors, the educational aspect is of key importance. While we teach our students how to build ships, our aim is not ship-building but producing competent engineers."
The ability to quickly and effectively train them is of primary importance, especially now when due to the academic system reform most students usually finish their education and obtain their engineer's title in seven semesters.
"With NX at our disposal, we can complete a number of tasks – from teaching them how to make technical drawings to showing them how to perform complex CFD analyses – all with a single coherent IT (information technology) product," says Litwin. "This saves a lot of time as students do not have to learn to use new applications to handle new tasks."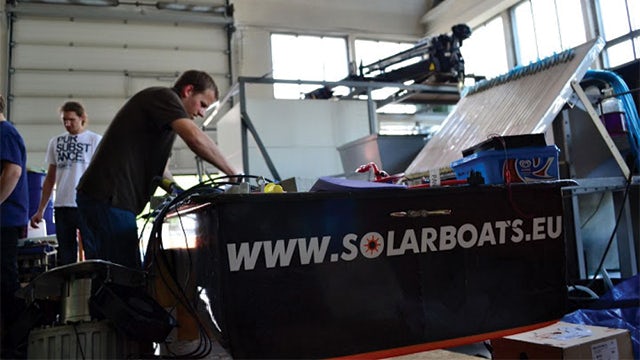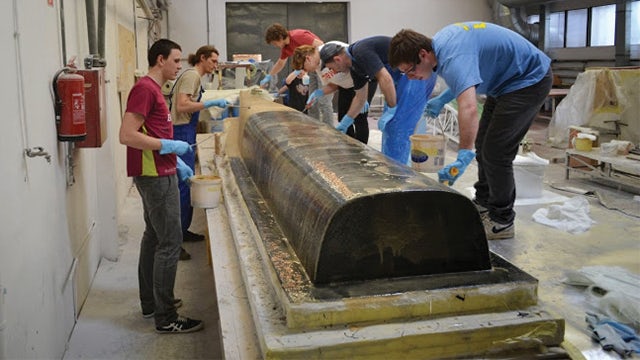 Attaining design objectives
It would seem that solar boats – just as sun-powered cars – are toys for enthusiastic designers and wealthy sailors. And yet, the race attracts teams from Belgium, China, Finland, Germany, Poland, the United States, Turkey and the Netherlands. Most of them are representatives of technical universities or private companies, entities that are not known for wasting money. What brings them to the race is the environmental factor.
Due to environmental degradation and gradual depletion of traditional sources of energy, photovoltaics are the technology of the future. In 2017, a law will come into force in the Netherlands that forces any ship passing through any town to use an alternative to fuel-based propulsion. That caused quite a stir in the market and attracted a lot of attention to electric propulsion.
"We need a source of power that is not a fossil fuel, which means batteries," says Litwin. "But if you are going to use batteries, where do you find energy for them? You can, of course, plug them into a socket once in a while, but that is not too practical. And it is possible to pull the energy right from the sun, even in only moderately sunny weather thanks to photovoltaic panels. That is why solar boats have such a promising future. In addition to that, the panels are getting lighter and more effective every year while batteries are constantly being improved."
He notes, "Poland participates in the Natura 2000 program, and we should obey its provisions, even on Solin Lake, a potable water reservoir."
The professional solutions from Siemens Digital Industries Software make it easier for boat designers to meet their objectives…and make history of their own.