Case Study
Faurecia builds clean, long-lasting exhaust systems using Simcenter SCADAS Recorder hardware and Simcenter Testlab software
Major automotive exhaust supplier conducts road load data acquisition with the Simcenter SCADAS Recorder data acquisition system
Faurecia Emissions Control Technologies
Founded in 1997, Faurecia has grown to become a major player in the global automotive industry. A leader in its three areas of business, the group is backed by an R&D and production network with sites in 34 countries. It is the preferred partner of the world's largest automakers, which value its operational excellence and technological expertise.
http://www.faurecia.com
Headquarters:

Columbus, United States

Products:

Simcenter Products, SCADAS System, Simcenter Testlab, Testlab Control App

Industry Sector:

Automotive & transportation
Testing for durability
Until a few years ago, car parts including exhaust systems were readily discarded as soon as they corroded, resulting in high replacement costs and poor sustainability. But with rising concentrated effort to keep automotive pollutants under control, automotive suppliers increased their focus on structural durability test campaigns and component diagnosis.
In the strict context dictated by current automotive industry needs, companies like Faurecia Emissions Control Technologies, a Faurecia Research and Development Center, are compelled to make durability testing a high priority. Durability testing is required to supply the market with excellent vehicle exhaust systems that are fully compliant with tight regulations on environmental protection on the one hand, and that last longer and therefore reduce costs and save time on the other. To bring the quality of its systems to a higher level, Faurecia relies on physical test data collected with Simcenter™ solutions for durability testing from Siemens Digital Industries Software.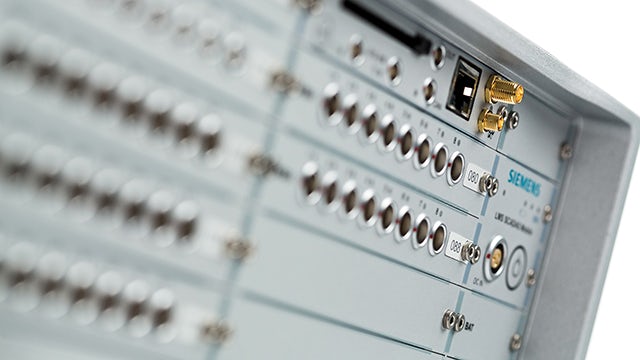 Road load data acquisition – challenges and solutions
The durability lifetime of a product is one of the highest priorities in the automotive industry. Road load data acquisition (RLDA) is an essential step in determining the exhaust system's durability performance. The detection of potential structural frailties related to durability relies on the results acquired during proving ground tests. These tests provide automotive manufacturers with valuable information that, when fed into virtual fatigue calculations, contributes to improving the durability of the exhaust system, avoiding expensive, repetitive testing of multiple prototypes.
Test campaigns are often time-consuming in terms of setup and need large amounts of data, requiring many hardware systems that connect to a wide range of sensor types, all usually within short deadlines ‒ adding more pressure on measurement teams than ever. Using the portable Simcenter SCADAS™ Recorder hardware system to acquire reliable data directly from the field proves an invaluable asset for Faurecia, which makes significant efforts to invest in the development of air quality solutions. With a strong portfolio of comprehensive emissions controls including acoustic treatment, weight reduction and exhaust heat recovery, Faurecia depends on the quality and efficiency of its RLDA measurement tools.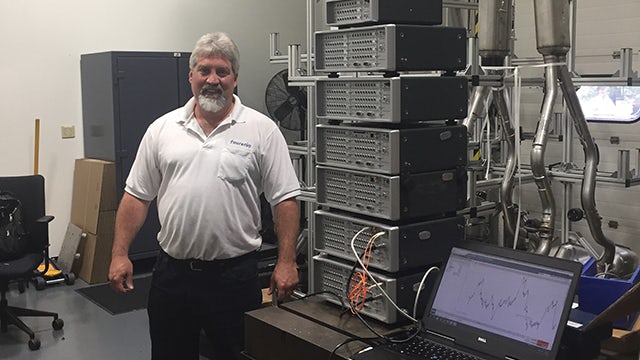 Simcenter SCADAS Recorder – fit for tough RLDA tasks
In the Simcenter SCADAS family, Simcenter SCADAS Recorder hardware stands out as rugged and robust yet lightweight and handy. It has been built to withstand high shock as well as high vibration and temperature ranges, and has proven to be an ideal system for measurements on the move, on proving grounds and in any rough measurement conditions typical for durability testing. Easy to accommodate in a vehicle and requiring little space and minimal cabling, this solution is exactly what Faurecia wanted to optimize its physical testing.
"Imagine a typical RLDA day for exhaust systems," says Warren Selig, test technician at Faurecia. "These systems are expected to last more than 10 years while obviously meeting the regulations. On top of that, most of them are exposed to extreme conditions. As an exhaust manufacturer, we have an obligation to run tests and do measurements on proving grounds as well as on public roads, depending on customer requirements and various usage. We must use numerous sensors to understand how acceleration, temperature, speed, strain, displacement, location or vehicle status may all be used to determine exhaust system loading. For all this, we are thankful to have the powerful measuring capabilities of Simcenter SCADAS Recorder and its universal durability modules."
Testing the durability of components such as exhaust systems starts with good instrumentation, which is key to getting the right RLDA results, especially considering the roughness of the test track surface. The instrumentation engineer must capture the mechanical and thermal input at all interface points between the exhaust system and its real environment, check the dynamic response and investigate the effects of the external loads on the durability assessment. The exhaust system has to be instrumented with different sensors and load cells to acquire load data from the road. Then the data is applied to the exhaust system subcomponents. It is a long and strenuous process.
"To build an excellent exhaust system, a huge amount of information must be gathered and examined at various measurement points in the system," says Selig. "You may want, for instance, to test the behavior of a muffler pipe, the intermediate pipe system or the resonator. To get the data that helps determine the damage and lifetime, a large number of channels is needed. Simcenter SCADAS Recorder is very compact, fit for high channel count, supports a broad range of various types of sensors, and can withstand any type of weather conditions. The connectors enable vibration-resistant cable connections."
Getting the right data is no doubt a powerful advantage, especially when the acquisition system has universal signal conditioning that allows users to fulfil a variety of testing needs, all with a single box. But there is more to an RLDA test campaign to make it successful. Combining multi-channel acquisition with semi-automatic data consolidation, analysis and reporting right after the measurements is what truly makes the difference for the RLDA teams, which are under continuous time pressure to deliver more and more data. Thanks to the Simcenter Testlab™ software, tightly integrated with the Simcenter SCADAS data acquisition hardware, the user can execute all these different steps with more confidence, in less time and with fewer errors.
Used with the Simcenter Teslab Control app connected to Simcenter SCADAS wirelessly, Simcenter Testlab enables on-the spot control of the measurement and data validation, avoiding costly reruns. The software helps to efficiently validate and consolidate gigabytes of raw data and then transforms it into actionable, quick and easy-to-share reports. These capabilities help accelerate the final validation steps before sharing the results with the simulation or other teams ‒ a strong asset in manufacturing or optimizing the desired car components.
Faurecia is currently using three Simcenter SCADAS Recorder data acquisition systems with the integrated Simcenter Testlab software. It intends to expand its assessments and performance and measure an even higher number of channels by linking the devices together.
"We aim to create products that are as good as possible and that last a certain number of miles ‒ simple as that," says Selig. "We are happy to say that we can effortlessly achieve this with the combination of Simcenter SCADAS Recorder and Simcenter Testlab."