Case Study
Swiss university uses NX, Teamcenter and Simcenter to guide students from basic sketching to patented designs
Siemens Digital Industries Software products help ETH Zurich to prepare students for top-level product development challenges
ETH Zurich
Established in 1855, the Swiss Federal Institute of Technology (Eidgenössische Technische Hochschule: ETH Zurich) is a national center for education with international appeal. Five-hundred-thirty professors teach 20,600 students, including 4,100 doctoral students from over 120 countries. With 21 Nobel Prize winners among its alumni, ETH Zurich ranks among the world's leading science and technology universities.
http://www.ethz.ch/en.html
Headquarters:

Zurich, Switzerland

Products:

NX, Teamcenter
Teaching system-oriented ways of thinking
"A good university doesn't just impart knowledge, it also teaches people to think," says Lino Guzzella, president of the Swiss Federal Institute of Technology (Eidgenössische Technische Hochschule: ETH) in Zurich, Switzerland. "This is why we teach fundamental knowledge and skills at the highest international level: To ensure students are equipped to deal with current and future challenges." 
The university's 16 departments cover a wide scientific spectrum, while numerous strategic initiatives, competence centers and networks encourage cross-disciplinary cooperation. In addition to imparting methodological skills and disciplinary knowledge, ETH Zurich encourages interdisciplinary and system-oriented thinking. The students learn to think critically and act responsibly, work in international teams and express themselves in several languages. This makes ETH Zurich a place where inventive minds produce visionary ideas and develop innovative products. Their broad knowledge base and solution-oriented thinking makes ETH Zurich graduates popular with employers.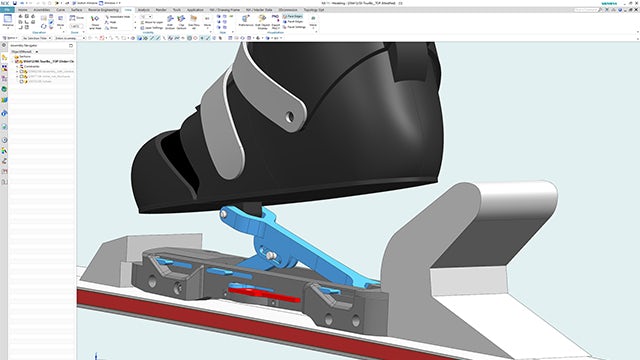 In a bachelor's degree focus project, a team of five mechanical engineering students and one industrial design student used NX to develop a revolutionary mechanism to link boots and alpine ski bindings to facilitate nearnatural walking for ski touring.
Starting from scratch
We educate students for excellence and leadership in science and industry," says Dr. Kristina Shea, professor of engineering design and computing at ETH Zürich. "Our challenge is the wide variety of backgrounds the 500 first-year students of mechanical and process engineering come with." They start their education by studying the basics of design work. 
During their first semester, students learn manual sketching before starting on computer-aided design (CAD). Participants learn about CAD fundamentals and methods that are necessary to model complex technical products using feature-based and parametric modeling. "For these courses, we use NX software from Siemens Digital Industries Software," says Martin Schütz, who oversees PLM software operations at ETH Zurich. He administers the university's 1,500 NX™ software licenses, some of which are also used for simulation and computer-aided manufacturing (CAM). 
In the first semester CAD course, students designed, built and raced balloon-powered model cars. Within given dimensions for certain elements as well as the overall car, they designed all parts of their car except for the balloons, which are standard, off-the-shelf products. The students then transferred the designs they made using NX to 3D printers for part production. 
"We try to educate students to employ systematic thinking, so they create good designs," says Shea. "Teaching them to combine computational design and digital fabrication, we attempt to prepare them as best we can for the challenges they will be facing in their future careers." 
After assembling the cars, the students launch them in a race to see which design is best. The race not only delivers a final proof of design, it also provides motivation and a sense of achievement as well as team spirit. More than anything, it is just good fun. This enables students to practice design and enhance their knowledge.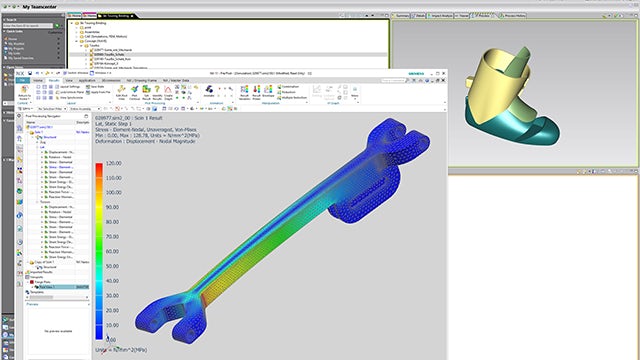 Using NX to perform structural analysis and kinematic simulations enabled ETH students to rapidly test and optimize the design of the TourBo articulated touring boot.
Industry-oriented bachelor's degree focus projects
During the third and final year of their bachelor's degree courses, they get the opportunity to work on focus projects. Students develop ideas and design products to the point when they can be passed on to industrial manufacturers, which can manufacture, complete and market them. 
A team of five mechanical engineering students and one industrial design student developed a revolutionary mechanism to link boots and alpine ski bindings. It is meant to facilitate near-natural walking, enhancing the experience of ski touring, a sport involving uphill hiking and downhill skiing. 
Using the principle of alpine bindings, existing touring bindings allow lifting the heel for uphill walking, noted one of the students involved in the project. This motion is less than ergonomic and decreasing weight for better comfort often reduces the binding's stability and safety in downhill skiing mode. 
The students followed an entirely different approach, integrating the touring function with the boot (hence the name TourBo, derived from touring boot). They designed a doubly articulated kinematic mechanism between the inner and outer soles of a ski boot. When unlocked, this assembly, for which they also filed a patent, allows lifting both the heel and the toes for a comfortable, natural walk, directing most of the force to the rear. For uphill hiking, the boot can be set to provide a forward pitch. For downhill skiing, the mechanism is locked. This provides all the safety and stability of the standard, off-the-shelf downhill binding holding the boot. "Skiers may have to pay more for the all-purpose TourBo ski boot," Shea says. "On the other hand, they no longer need to have separate sets of skis and bindings or live with compromises for either mode of skiing." 
In the bachelor's degree focus project, the students used NX to follow all design steps, from defining requirements to detail design. They imported 3D models of commercially available ski boots and bindings to create a digital twin of the entire mechanism. For product data management and to ease workflow-driven collaboration, they also used Teamcenter® software, a comprehensive portfolio of software solutions for product lifecycle management (PLM) from Siemens Digital Industries Software. 
Only after they had tested and optimized their design for functionality using NX to perform structural analysis and kinematic simulations, they produced all documentation required by a sponsoring ski boot manufacturer to build a prototype. 
"Our students use the 2D sketching functionality within NX for kinematic simulations," says Schütz. "By doing this and performing simulation and modeling with full associativity using NX allows them to optimize their designs at a very fast rate." The first TourBo was then thoroughly tested, both in one of the ETH's biomechanical laboratories and in successful field tests at a Swiss ski resort.
Gaining experience in a master's project
A sound technological basis and a wide horizon provide the basis for the work of mechanical engineers at the junction of electronics, computer science, mechanics, thermodynamics and chemistry, and where products, systems and processes are developed, calculated and planned. ETH's master's degree program in mechanical engineering involves a 12-week industrial placement, a semester project in which students can put their acquired theoretical knowledge into practice with highly complex engineering in an open, collegial environment, and write their master's thesis. One of the most popular projects with master's-level students at ETH is designing, building and presenting fully electric race cars in Formula Student engineering competitions. The students drive automotive innovations with technology, including developing their own brakes and motors. By moving geared motors inside the wheel well, they gained 24,000 revolutions per minute (RPM). 
At an ETH subsidiary called the Academic Motorsports Club Zurich (AMZ), students use NX for all design work. They create a digital twin of the entire race car and optimize designs using the Simcenter™ portfolio from Siemens Digital Industries Software for finite element (FE) structural analysis, multibody and flow simulation. They regularly win Formula Student competitions all over Europe and one of their race cars set a world acceleration record. 
Product design and engineering is not limited to modeling on any level. "Siemens Digital Industries Software solutions for all tasks, from sketching to sophisticated simulations, are deeply integrated with NX," says Shea. "We started using Siemens Digital Industries Software solutions following an elaborate evaluation in the mid-90s and never regretted it," says Schütz. "We never had a collaboration as close as this with an industrial partner. Our interactions with Siemens Digital Industries Software have ranged from perfect technical support to guest lectures on specialized usage topics."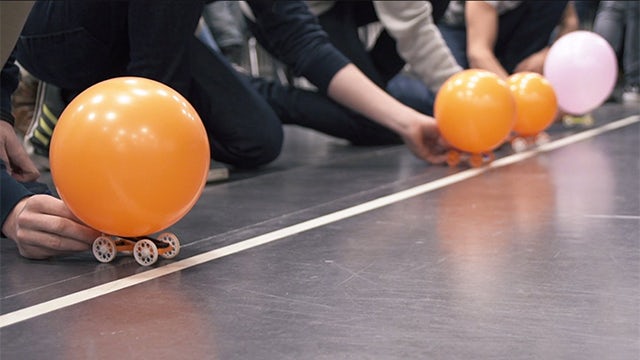 In the first semester CAD course, students designed, built and raced balloon-powered model cars using NX for design work.