Case Study
ESN increases safety and reliability for large piping systems
Using Simcenter Flomaster to apply dynamic analysis for piping networks to promote sustainability
ESN
ESN is a Hamburg-based specialized engineering service provider that helps large oil and gas, energy or energy-related and petrochemical companies to make the right decisions regarding their energy use. It specializes in working with large piping networks to transport gas and liquids into energy or to cool off power generation installations.
http://www.esn-gmbh.com/en
Headquarters:

Hamburg, Germany

Products:

Simcenter Products, Simcenter Flomaster

Industry Sector:

Energy & utilities
Transforming energy to promote sustainability
The word energy holds a lot of weight today. Most people blindly rely on energy: you can heat or cool your house, drive your car, switch on lights or buy products that have been produced in large energy-consuming factories. Environmental changes and other situations have made it clear that energy supply is not something to take for granted and needs a major transition to be sustainable and reliable in the future. The pressure this puts on the energy industry cannot be underestimated since there are many options and alternatives to evaluate, while still taking safety, reliability and economic impact into account.
ESN is a Hamburg-based specialized engineering service provider that helps large oil and gas, energy or energy-related and petrochemical companies make the right design decisions for their infrastructure. It specializes in engineering large piping networks to transport gas and liquids, for example, cooling water for power generation. These piping networks are often not visible and buried in the ground but they are crucial to supplying energy for all consumers.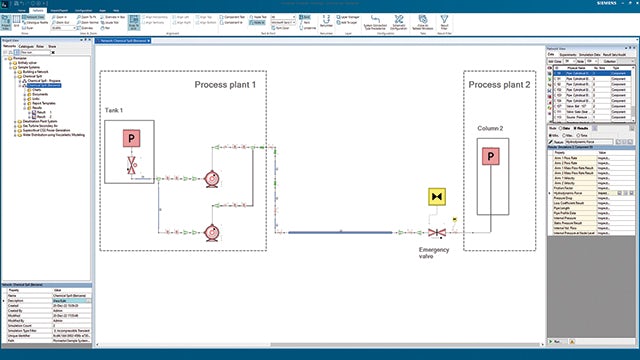 Simcenter Flomaster model to study spillage of chemicals due to rupture of a pipe and subsequent closure of an emergency valve.
Any issue during operation can immediately halt energy supply, causing a massive impact on many residential and industrial consumers. ESN used Simcenter™ Flomaster™ software to identify issues in piping networks and address challenges related to flexibility and analysis. Simcenter Flomaster is part of the Siemens Xcelerator business platform of software, hardware and services.
Most of these networks were previously engineered based on steady-state analysis. For example, this could be determining whether the right amount of fluid is provided to a heat exchanger, or if the pipes could withstand the pressures inside or the related stress levels of the materials. However, dynamic effects that are caused by a fast-closing valve, for example, can have serious consequences if they are underestimated while sizing and dimensioning the system.
In 2004, before the dynamic analysis was even mentioned in the industry codes, ESN realized that by not connecting structural loads to hydrodynamics, you're looking at your network with only one eye. ESN understood that opening both eyes and involving a more dynamic type of analysis would become increasingly important in the future. The ESN team decided to use Simcenter Flomaster for this analysis. "Using Simcenter Flomaster gives us the full picture, it's like our second eye in our engineering activities," says Veit Bockemühl, owner of ESN GmbH.
Since then, ESN has used Simcenter Flomaster to increase piping network safety by analyzing the effect of hydrodynamic loads on the mechanical properties of the pipes. This resulted in more accurate estimations about pipe strength and potential failures during the operation and for the personnel to make sure there was no environmental impact during operation.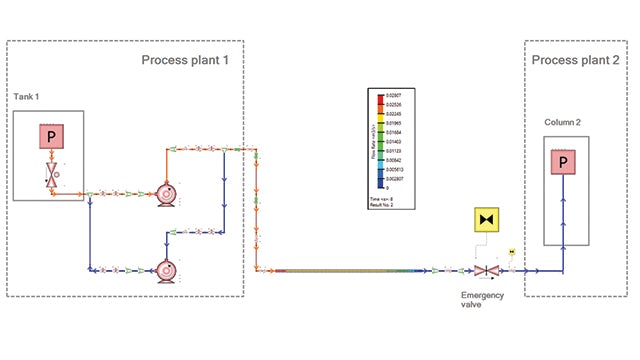 Result: Flow rate at 8 seconds.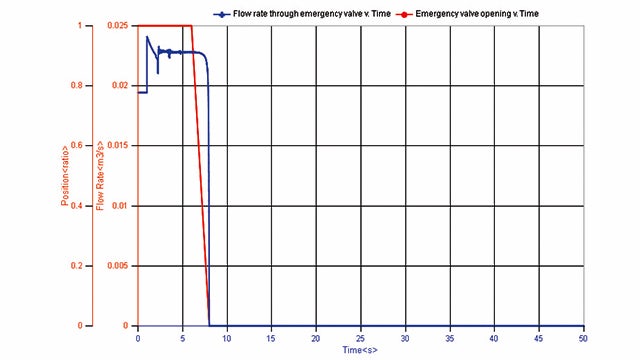 Result: Emergency valve opening and flow rate.
Using Simcenter Flomaster to increase simulation techniques
The ESN team was initially using Simcenter Flomaster for steady-state analysis, but ESN knew the importance of hydrodynamic loads and how it could use Simcenter Flomaster to master these loads. These loads can be related to pump starts and failures, filling empty systems and safety scenarios for firefighting systems.
Using Simcenter Flomaster helped the company transform itself into a recognized leader and trusted engineering partner for its customers, leading to many new business opportunities. "Being able to combine the steady-state structural simulations with the transient hydraulic simulation still places us in a unique position in our industry," says Bockemühl. "It has been one of the best decisions we ever made to start using Simcenter Flomaster, you could say that it brought the company to where it is today."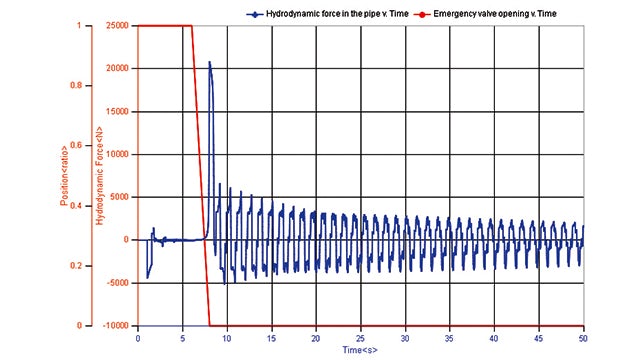 Result: Emergency valve opening and hydrodynamic force in the pipe.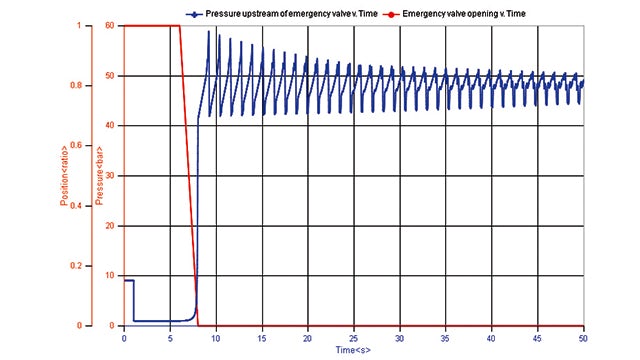 Result: Emergency valve opening and upstream pressure.
Out of all the hydraulic simulations done by ESN, now they use Simcenter Flomaster to calculate 90 percent of transient analysis. Standard structural simulations are often the first step, but in many projects, these results reveal that hydrodynamics might play a more important role in the piping network. For example, the expansion and contraction of gasses and liquids due to temperature changes in the network might have a severe impact on the structural integrity. Using Simcenter Flomaster helps facilitate this flexibility during projects and delivers fast and accurate results. "By using Simcenter Flomaster in our projects, we establish credibility, not only with our customers but also with the authorities and notified bodies who have to check our work," says Bockemühl.
"We consider the database approach of Simcenter Flomaster as the most powerful in the industry. It helps us to update models of our large piping networks in a few mouse clicks instead of spending two days or more," says Bockemühl.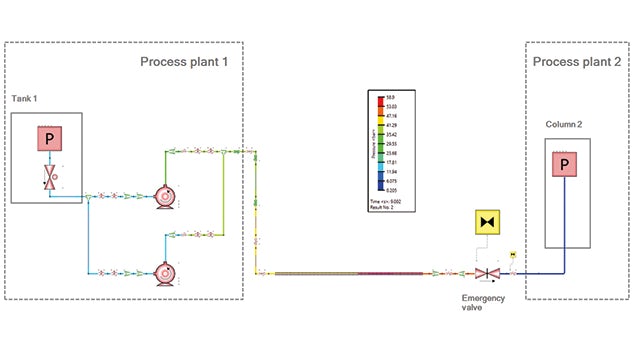 Pressure distribution in the system at 9.15 seconds, which shows the pressure wave traveling backward from the emergency valve.
Looking ahead
Many industries rely on natural gas and fossil fuels but are currently making the transition towards green and sustainable energy, and ESN is at the heart of it to support its customers. The company expects to see growth in the demand for hydrogen for all steps between generation, distribution and consumption and prioritizes this as its main goal for the coming decades.
Developments and knowledge about these systems are evolving rapidly and lead to more opportunities to fine-tune but can also increase complexity during the development phases. ESN believes it is critical to develop its knowledge and experience to support its customers in making the right decisions. Although the application is changing drastically, the piping networks for gas transmissions are not fundamentally changing, putting ESN in a position to continue building on its existing expertise.