Case Study
EIGSA reduces engineering development time by 60 percent with Siemens Digital Industries Software solutions
EIGSA improves customer response times by 20 percent
Equipos Industriales del Golfo SA (EIGSA)
Equipos Industriales del Golfo SA designs, manufactures and maintains equipment used in the oil and power generation industries, including fuel gas conditioning packages for turbines, gas measurement packages, gas separator packages, and cooling and heating packages.
http://www.eigsa.com.mx
Headquarters:

Cárdenas, Tabasco Ciudad del Carmen, Campeche, Mexico

Products:

NX, Simcenter Nastran, Simcenter Products, Solid Edge

Industry Sector:

Energy & utilities
A major supplier of process equipment for energy industries
Equipos Industriales del Golfo, S.A. (EIGSA) is a Mexican company dedicated to the design, manufacture, maintenance and installation of pressure vessels, heat exchangers, air coolers and gas separators. The company was founded in 1988, focusing primarily on the repair of process equipment such as air coolers and heat exchangers. In 1996, EIGSA expanded the scope of its business to include thermal and mechanical design, detailed design and complete manufacturing of equipment.
EIGSA's vision is to maintain leadership in the design and supply of process equipment for Mexico's energy industry, using research and development to deliver technologically advanced solutions at competitive prices. The company's main customers are Petróleos Mexicanos (PEMEX), the state-owned petroleum company, and Comisión Federal de Electricidad (CFE), the state-owned electric utility. EIGSA works with PEMEX in all of the company's business segments, including petrochemicals, refining, exploration and production and secondary petrochemicals. Over the past five years, EIGSA has focused more on exploration and production, particularly on process equipment used in offshore oil installations.
EIGSA also provides equipment and services to major oil, gas and process engineering, procurement and construction (EPC) firms including ICA Flour, McDermott, Cameron, Schlumberger, Cotemar, Avanzia and Demar.
Reducing cycle time
As the company's business expanded, EIGSA sought to improve efficiency and reduce cycle times in design, procurement and construction of its specialized process equipment. The goal was to reduce errors in manufacturing and improve customer response time. "Reducing response time is very important because technical and commercial offers in the public sector are governed by laws of acquisitions, leases and services, and completion times are therefore very limited," explains Gerardo Espinosa Bravo, chief operating officer at EIGSA.
To achieve its objectives, EIGSA began a search for advanced-technology solutions for design, analysis and manufacturing. After a comparison of offerings from several vendors, EIGSA selected product lifecycle management (PLM) specialist Siemens Digital Industries Software as its preferred vendor.
EIGSA decided to work with Siemens Digital Industries Software for several reasons. Siemens offers a full suite of integrated solutions that address the entire design-throughmanufacturing process, and the applications are scalable, enabling EIGSA to optimize its economic investments and expand the system based on project needs. In addition, EIGSA valued the fact that Siemens owns and develops Parasolid® software, the widely used geometry engine for 3D solutions.
EIGSA first implemented Solid Edge® software in its design engineering group, and later expanded use of the software to detailed engineering and manufacturing. "We started with one license of Solid Edge, and now we have 14 licenses," says Espinosa Bravo. "We also acquired NX and Simcenter Nastran solutions, and with them we have managed to reduce the cycle times in engineering development by 60 percent."
Some features of the Siemens Digital Industries solutions are especially useful in EIGSA's development process. One example is the weld design capability, which enables engineers to map weld locations, taking into account the materials and machines involved in the welding process. The weld maps aid in visualization of the manufacturing process and also help quality managers to develop documentation required for quality records.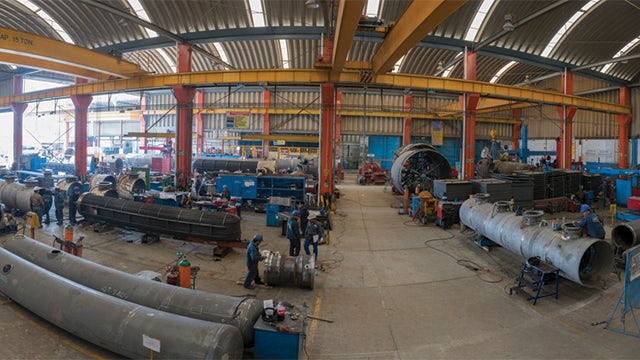 Analysis skills and significant savings
Siemens Digital Industries Software solutions include advanced computer-aided engineering (CAE) tools. EIGSA has implemented finite element analysis (FEA) simulation to validate the structural performance of its equipment designs. The use of analysis and 3D design has helped improve performance and quality, reduced EIGSA's reliance on physical prototyping, and improved customer response times by 20 percent.
Training and support: key elements
In addition to providing solutions and applications, Siemens Digital Industries Software also offers consulting and training courses for all EIGSA employees, enabling the team to take full advantage of the benefits offered by the platform. With the training, EIGSA was able to increase the time spent performing analysis and develop a process of continuous improvement, which has resulted in substantial savings in the costs of components and significant reductions in the weight of the equipment.
The training program has benefited EIGSA employees in their professional development and facilitated better and new competencies through technical experience with leading-edge technology.
Success with NX
Two years ago, EIGSA acquired an advanced Leica 3D laser scanner − a very powerful tool for capturing data from physical equipment. Specifically, the scanner enables the company to quickly obtain point clouds of data that can be used to streamline modeling of equipment, piping, structures and other components. The point cloud data can be used and edited directly in NX™ software for product development.
EIGSA is a pioneer in the use of 3D scanning tools in industrial facilities. The use of NX with scanned data in large-scale construction enables the company to design and assemble equipment according to the requirements of the site, and to generate construction plans with a margin of error of one millimeter.
With Siemens Digital Industries solutions, EIGSA can provide better service and exchange information with customers more easily. Because Siemens Digital Industries Software solutions can read files from other programs most commonly used in the industry, EIGSA can readily perform finite element simulation, use 3D scanning technology, take advantage of 3D visualization, and perform other tasks to better serve its clients.
"With Siemens Digital Industries, we have the latest design tools and can offer our customers high- performance solutions," says Espinosa Bravo. "Siemens Digital Industries Software solutions help us reach the highest quality standards at the international level."