Case Study
Elevator maker's competitive position is going up with new product configurator
Using Siemens Digital Industries Software helps Edunburgh Elevator develop products virtually in 3D
Shanghai Edunburgh Elevator
Shanghai Edunburgh Elevator is engaged in R&D, manufacturing, sales, installation and maintenance of elevators, escalators and car parking equipment. The company is actively expanding integrated services for comprehensive energy-saving and environment friendly building equipment such as intelligent systems, low-voltage apparatus, energy-saving LED lighting and fire extinguishing systems.
Headquarters:

Shanghai, China

Products:

Simcenter Nastran, Simcenter Products, Femap, Solid Edge

Industry Sector:

Industrial machinery
Design challenges drive search for new system
Shanghai Edunburgh Elevator Co., Ltd., (Edunburgh Elevator) headquartered in the Shanghai Caohejing development zone, is engaged in research and development (R&D), manufacturing, sales, installation and maintenance of elevators, escalators and car parking equipment. The company distributes products throughout Europe, the Middle East, Southeast Asia, and China.
Elevators differ from other large, integrated electromechanical products in that they feature sheet metal processing and partial assembly with a high degree of customization, complex product configurations and product design efficiency factors that directly impact new product R&D.
Edunburgh Elevator faced a string of product development problems in the areas of R&D, engineering change management, design analysis, collaboration and more. In addition, in an increasingly competitive market, the company also needed to be able to deliver quotations quickly and accurately based on customer requirements.
The company therefore sought 3D computer-aided design (CAD) software and simulation technology that would substantially improve its product development processes. Edunburgh Elevator chose Solid Edge® software and Simcenter™ Femap with Nastran® software, both from product lifecycle management (PLM) specialist Siemens Digital Industries Software, to address its challenges.
"For many years, our company has applied 2D CAD software for product design," says Mao Zhongwei, chief engineer of R&D at Edunburgh Elevator. "Engineers normally start the product design process after receiving customer orders and confirming requirements. Our older designers are generally accustomed to using 2D CAD. While it is possible to handle a small quantity of orders using 2D software to draft product drawings, the downside of using 2D software becomes increasingly apparent as the workload grows.
"To make even the smallest alteration to a design, such as changing a dimension from 2 to 3 millimeters, sometimes we had to go back to the very beginning for redrafting. Plus, when designing a new part, the impact of a change on a design could not be readily understood. Designers would have to build a physical prototype first and then change the design based on the prototype. Then they would make another physical prototype for verification. This repetitious process led to a long design cycle. Without a uniform 3D design platform, it was common for engineers to have difficulty communicating with each other, especially because they used diverse design platforms. As a result, our prior process sometimes seriously delayed order delivery."
Wang Ke, information director at Edunburgh Elevator, adds, "The R&D challenges we faced continued to grow, making it apparent to management that 2D CAD software could no longer meet our design requirements, nor could 2D serve to effectively facilitate engineering innovation. We urgently needed to upgrade to a common 3D design platform to bring about a meaningful and compelling product development process transformation. Considering our needs and Siemens Digital Industries Software's reputation for outstanding design, engineering and manufacturing software, we chose Solid Edge with its powerful synchronous technology capabilities and Simcenter Femap with Nastran for early and effective simulation and analysis."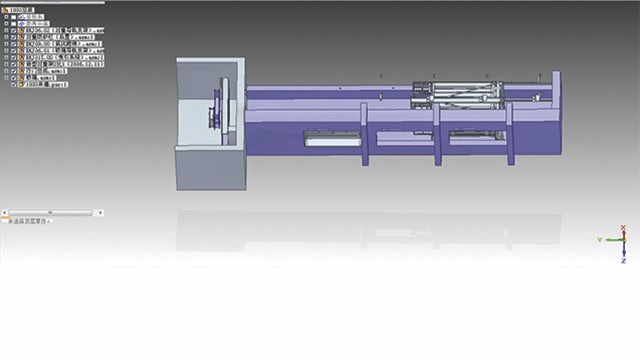 Realizing exceptional productivity gains
Edunburgh Elevator's designers have been using the new product development technology for about 1 ½ years. Moreover, they are quickly and skillfully engaging Solid Edge for elevator design, and using Simcenter Femap with Nastran to simulate and analyze their designs. The designers are delivering more innovative products and, importantly, now verifying and optimizing design results before manufacturing.
The engineers now use 3D to model most products and parts, which enables them to simulate the whole elevator unit using Solid Edge. This has sharply reduced the number of physical prototypes needed and significantly shortened the average new product R&D cycle. In addition, the use of Solid Edge is helping engineers discover any design issues in real time and make immediate changes.
Ke explains, "Solid Edge is easy to operate and provides exceptional design functionality, especially synchronous technology, which makes it easy to edit design models created using other 3D software systems. Such re-use of previous design models, after simply changing certain parametric information, greatly simplifies our design work and notably boosts productivity.
"The unique capabilities of synchronous modeling helped us cut two months off the new product R&D cycle, from 1 year to about 10 months," says Zhongwei. "This significant improvement in product development efficiency has given our engineers greater freedom to explore innovative design ideas and improve product quality, and we are seeing the results."
Zhongwei adds, "The use of Simcenter Femap with Nastran clearly improves design verification. Compared with our prior approach, when design verification was conducted using physical prototypes, we can now evaluate a virtual assembly and immediately conduct program evaluation and design optimization. This has reduced costs and material waste by 18 percent."
Quick quotation system boosts competitive edge
With the help of Siemens Digital Industries Software partner Shanghai Shark Networking Technology, Edunburgh Elevator is also utilizing Solid Edge, via a 3D model library, as the basis for a product configuration system that enables quick quotations. Edunburgh Elevator's quick quoting system is integrated with both its PLM technology and enterprise resource planning (ERP) system.
Here's how it works: First, a user logs in, entering the configuration system through an Internet Explorer® browser window. The system is used to drive the whole configuration, automatically generating a model that the customer can immediately review. Given the go-ahead, the system is used to finalize the design and generate a bill of materials (BOM). The user can then directly invoke the ERP database to automatically calculate a unit price and generate a quotation. Once the customer is satisfied with the product's rendering and the quotation, all engineering drawings can be produced directly and automatically from the system.
When bidding for a project using its prior approach, the company's sales department would transfer the required parameters from the customer to its technical department, which would produce a BOM based on previous similar projects. The BOM would then be handed over to the financial department for cost estimation. The whole process would take about half a month before the sales department could give a quotation. Today, an Edunburgh Elevator sales representative can present a quotation within one or two hours. That improved turnaround greatly sharpened the company's competitive edge.
"The use of Solid Edge has helped optimize our product design and manufacturing business processes," says Ke. "Our employees are delivering faster, better results, enabled by smarter decision-making. We have a very positive atmosphere inside the company regarding our technological solutions and business strengths."
He adds, "We are now working with Shark Networking on delivering a quick configuration capability for complex products. We plan to further improve our customer responsiveness, and with this enhancement, we envision a new round of rapid growth."