Case Study
Reducing simulation time for human body behavior from days to hours
EDAG Group uses Simcenter Madymo to speed time-to-market for new pedestrian safety systems
EDAG Group
The EDAG Group provides services to the automotive industry during the entire development process, from strategy development through the concept phase and series to production planning and optimization.
https://www.edag.com/en
Headquarters:

Munich, Germany

Products:

Simcenter Products, Simcenter Madymo

Industry Sector:

Automotive & transportation
Pedestrian safety is vital
The EDAG Group supplies automotive, mobility and industrial solutions to companies across the globe. A key element of any vehicle is the safety of occupants and other road users, including pedestrians. The EDAG Group has a specialist team called the CAE and Safety department that supports customers in achieving the highest safety levels for their vehicles, meeting legal requirements and realizing high customer ratings for a particular region or company.
Nearly 20 percent of road accident fatalities in the European Union (EU) are pedestrians, and head injuries are often the cause of death. To tackle this, car manufacturers are required by law to show they are doing everything possible to minimize the risk of serious injury to pedestrians. Many modern vehicles have a narrow space between the inside surface of the hood (bonnet) and the rigid parts of the engine compartment. This makes for a more streamlined vehicle, but it is an added danger for pedestrians. If a vehicle hits a pedestrian and their head strikes the hood, they are much more likely to suffer a severe head injury as they will hit the rigid components underneath.
Activating the active hood system
Lifting up the hood and creating a greater distance between the inside surface and the rigid components can significantly reduce the head injury criterion (HIC). However, manufacturers don't want to have permanently raised hoods as this will impact the aerodynamics and aesthetics of their designs. Instead, systems called active hoods can be developed that trigger the hood to pop up in the case of an impact with a pedestrian. Developing an active hood is a complex process as it requires sensors that can identify contact with a pedestrian and send the necessary signals to force the hood to pop up before the head strikes it.
Stefan Hundertmark, project manager at EDAG Group, states, "Simcenter Madymo saves lives." From the first contact with the pedestrian until the head hits the hood is around 40 or 50 milliseconds. Within that time, the sensor must send the signal to a CPU that determines if it is a pedestrian and then sends another signal to the hinges that activate the pop-up hood.
"When dealing with milliseconds, response times are critical. Simcenter solutions combine the power of multibody modeling with the detail of finite elements and CFD in one solver to achieve that."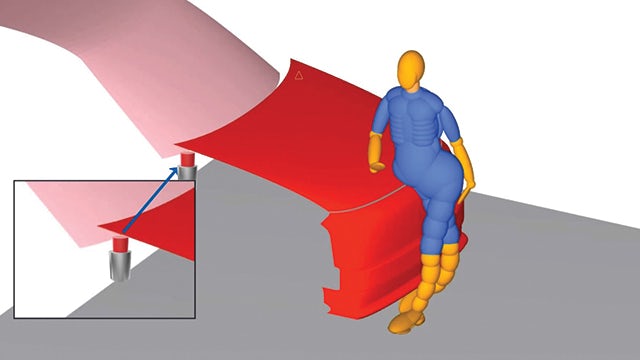 Simulating the human body
To satisfy legal requirements and achieve the highest customer ratings, manufacturers need to show the hood is completely popped up before the head strikes it, creating enough deformation space to protect them from the engine beneath. To prove this, you need to have a simulation that accurately predicts the behavior of a human body when it is hit by a vehicle. Physical crash test dummies aren't suitable because they require many prototype cars in expensive crash tests to tune the activation time. Whereas with human simulation models, many rapid virtual tests can be carried out earlier in the design cycle, allowing a quicker time-to-market for a fraction of the costs.
Previously, the EDAG Group modeled the entire body kinematics. "The old software worked but the simulations took a long time to run because the models were so complex," says Hundertmark. The EDAG Group needed a high-performance solution that would simulate only the parts of the body they were interested in – the kinematic behavior – as this would create simpler models and lead to much faster processing times.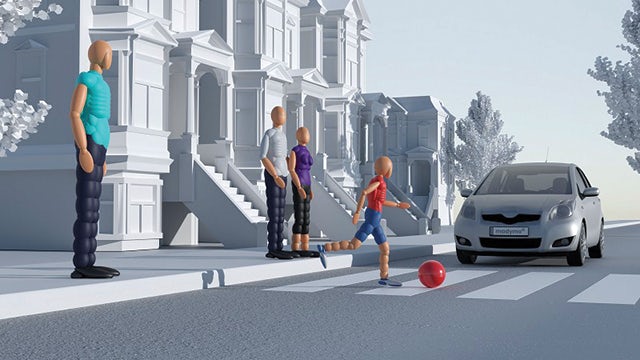 Fine-tuning the simulation
EDAG Group uses Simcenter™ Madymo™ software for human body models, which is part of the Siemens Xcelerator business platform of software, hardware and services.
These models meet the validation requirements outlined in the European New Car Assessment Program (Euro NCAP) protocol, predicting the likelihood of injuries during a collision. This is a performance assessment program that manufacturers must comply with to demonstrate the safety of their vehicles. Euro NCAP has the toughest requirements of any similar program worldwide and defines strict specifications for virtual dummies used in simulations. The EDAG Group and Siemens Digital Industries Software engineers have worked closely using Simcenter Madymo to make sure they comply with these protocols so the simulation results will be accepted by Euro NCAP.
Simcenter Madymo is a leading software in occupant and pedestrian safety simulation that helps companies limit prototype testing with accurate, efficient and versatile simulation solutions. It integrates multibody dynamics, finite element method (FEM) and computational fluid dynamics (CFD) technologies in a single solver and includes an extensive human body model (HBM) database. The Simcenter Madymo solution includes an active HBM but more importantly, it also includes an entire family (large male, average male, small female and a 6-year-old child) of HBMs that are specifically designed for pedestrian simulation and meet all Euro NCAP Technical Bulletin (TB024) specifications. This makes it much easier for the EDAG Group to achieve certification.
Hundertmark explains how using this solution has significantly improved development time: "With Simcenter Madymo we can model just the kinematics and that's all we need to confirm a pedestrian has been hit and send the signal to activate the hood in time. Using Simcenter Madymo allows an analysis to be run much quicker than with the finite element pedestrian HBMs. Results are delivered in a matter of hours instead of days."
Saving time and money
By drastically reducing simulation time, the EDAG Group has not only saved on engineering time and cost, but also enabled their customers to get new products to market much faster, giving them a competitive advantage. With complete confidence in the accuracy of the simulations, customers can ensure that all vehicles have active hood designs that meet the highest safety standards.
Hundertmark also points to the ease of use of the software: "The positions of the dummy and the different angles you have to achieve are very strict. With Simcenter Madymo it's much easier to handle and adapt the dummy as needed. The speed of the simulations also allows us to process more iterations faster so we reach the optimum design much sooner. Ultimately, this helps our customers produce a better product at a lower cost, which is the most important thing to them."
More virtual models mean fewer serious injuries
Although the EDAG Group successfully used simulation for this aspect of pedestrian safety, many manufacturers are still using physical dummies for most other safety tests. Hundertmark believes this will change in the future: "Safety authorities such as Euro NCAP realize these virtual models perform truer to life than physical dummies. We'll see more testing projects shift from physical to virtual simulation as it gives more accurate results."
Siemens engineers are already working on proposals and a joint industry roadmap for using more HBMs in virtual simulations that will lead to certification. These plans have been presented to Euro NCAP and other relevant authorities. In the coming years, the industry will shift toward tests being conducted by simulations of HBMs instead of physical models. So it's only a matter of time before these are adopted and safety testing is taken to the next level.
Hundertmark says the ultimate goal is a global movement called Vision Zero, targeted at ending traffic-related fatalities and serious injuries by taking a systemic approach to road safety. As fully autonomous vehicles come to the market, accidents should certainly be reduced. However, it's likely they will be sharing the road with human-driven cars for many years yet, so the idea of eliminating accidents is still a ways off. In any case, there will always be the possibility of collisions with pedestrians.
As vehicles change, so will pedestrian and occupant protection. By using simulations with accurate full human body models, Siemens will be able to assist manufacturers in making their vehicles as safe as possible. Autonomous vehicles may one day prevent all accidents, but until then we need to do all we can to minimize serious injuries and fatalities.