Case Study
Academic race car manufacturer excels at Formula Student competitions with Siemens Digital Industries Software inspired designs and economic sustainability
E-Motion Rennteam Aalen uses NX, Teamcenter and Simcenter solutions to streamline electric race car design...
E-Motion Rennteam Aalen
Founded in 2009 by students of Aalen University of Applied Sciences (Aalen UAS), the E-Motion Rennteam Aalen is a registered club and nonprofit organization. Its members design and build a new electric race car every year to compete in the Formula Student series. In 2019, the club started participating in the driverless class.
http://www.emotion-rennteam.de/
Headquarters:

Aalen, Germany

Products:

NX, Simcenter Products, Teamcenter

Industry Sector:

Automotive & transportation
Qualifying ready-to-race engineers
Education at the Aalen University of Applied Sciences (Aalen UAS) is not limited to theoretical knowledge. From digital networking, health, and e-mobility to renewable energies, photonics or robotics, Aalen UAS educates students to become the highly qualified specialists local companies require.
To acquire the top-notch design skills to meet job market demand, Aalen UAS engineering students also participate in the electric vehicle racing series. Founded in 2009 as a registered club and nonprofit organization, the E-Motion Rennteam Aalen is one of over 600 global university teams competing in 18 races with cars they design and build from scratch.
Formula Student is the world's biggest competition for engineers. Winning is not simply judged by finishing first after a set number of laps. In addition to an acceleration race and skid pad cornering, as well as an autocross qualifying race and a 22-kilometer endurance race, the engineers must present their car and explain its development process. A panel of celebrities from the automotive industry and professional racing judge design and manu-facturing, the underlying business plan and cost analysis.
From the start, E-Motion Rennteam concentrated on electric race cars, presenting their first model in 2012. In 2018, the club also developed a car to compete in Formula Student's driverless class.
"In an organization with various departments from mechanical and electrical engineering to finance and marketing, students from various faculties collaborate to achieve a common goal under pressure from deadlines and limited resources," says Felix Herzog, chief technology officer (CTO), E-Motion Rennteam Aalen. "Leaving the university, they are ready-to-race engineers who can become productive in a short time."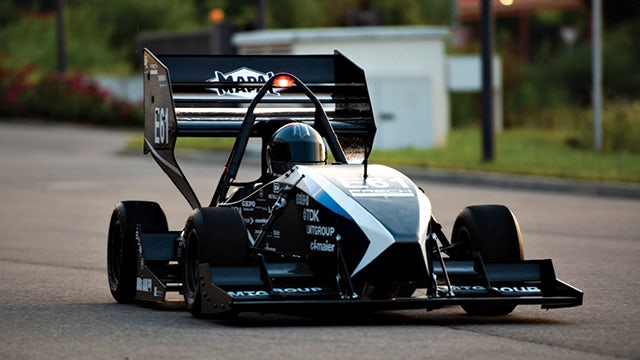 The E-Motion Rennteam Aalen is a group of students at the Aalen University of Applied Sciences who design and build electric race cars to compete in the Formula Student racing series.
High fluctuation as an engineering challenge
The E-Motion Rennteam consists of 55 members from Aalen UAS faculties. The engineering students among them design hundreds of parts for each car.
"The multi-CAD environment we had used until 2014 came with a number of challenges," says Carolin Reichelt, former E-Motion Rennteam chief executive officer (CEO) and Aalen UAS alumnus. "Our engineering students had to familiarize themselves with the different user interfaces of several software packages, and standardizing to neutral file formats such as Step meant reducing the level of detail of the models."
Another challenge was the high level of fluctuation. "Many students only stay on the team for a semester or two," says Herzog. "Whatever they learn within a racing season, they share so their knowledge remains with the team and does not get lost."
To provide students with the means to master these challenges, the E-Motion Rennteam standardized their computeraided design (CAD) software and introduced product lifecycle management (PLM) software. To make the transition as smooth as possible, a rollout of the new software was prepared in a master's thesis.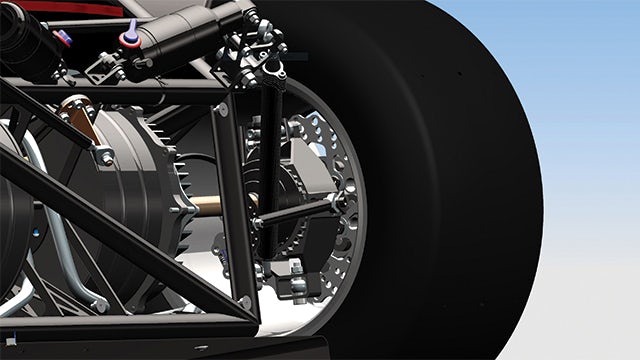 For all mechanical design work and some verification, E-Motion Rennteam Aalen uses NX software.
NX and Teamcenter for successful designs
Using NX™ software from Siemens Digital Industries Software for CAD, E-Motion Rennteam engineers create extremely complex 3D models of their vehicles. "From the very start, all our models include every single screw, flange or cable tie," says Herzog. "Their great wealth of detail prevents unpleasant surprises during manufacturing."
For part production, the team utilizes the university's infrastructure. While sponsors manufacture many machined parts, the team produces all carbon fiber reinforced plastic (CFRP) body work at their own workshop.
"The superior quality and richness of the CAD models created using NX reduces the time and effort required to achieve a high level of workmanship," says Herzog. "This substantially contributes to our success in endurance competitions." They use Teamcenter® software, also from Siemens Digital Industries Software, for product data management and workflow-driven collaboration. This PLM system connects people and processes with a digital thread for innovation, eliminating the traditional barriers between functional silos.
"All of our team members take part in the race car development processes using the software's intuitive user interface," says Herzog. "Deeply integrated with all Siemens Digital Industries Software solutions, including NX, Teamcenter makes it easy to manage, document and track the entire product development process through all versions, variations and alterations of a design."
To make it easy for all team members to use Teamcenter, including those with non-technical tasks, E-Motion Rennteam implemented the software with an extremely slim process structure. "This makes it possible for students pressed for time between lectures and exams to catch up with the current project status without a meeting," adds Reichelt. "As this saves a lot of time, Teamcenter is the most central tool for all E-Motion Rennteam members."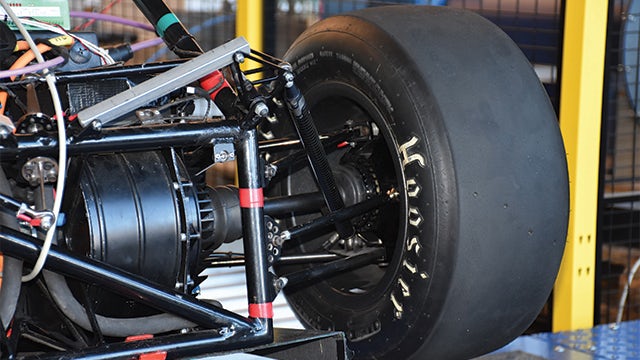 Design work at the E-Motion Rennteam Aalen involves all engineering disciplines and includes vehicle assembly in a workshop provided by at the Aalen University of Applied Sciences. Photo: P. Kemptner
Predicting thermal behavior and costs
Using Teamcenter helps E-Motion Rennteam engineers avoid repeating errors. So does performing various kinds of simulation. To verify the design of their cars' cooling systems, they use Simcenter Amesim™ software from the Siemens Digital Industries Software Simcenter portfolio for modeling and analyzing mechatronics systems.
"Simcenter Amesim uses equations representing the system's hydraulic, pneumatic, thermal, electric or mechanical behavior to describe models," says Herzog. "This allows us to simulate the behavior of the cooling system before modeling its geometry in every detail in CAD."
Predictability is important to the commercial viability of a race car project. As cost is a decisive factor in any product design, Formula Student events include a cost and manufacturing discipline. In a cost analysis event, participating teams are required to provide and defend a written cost report covering the calculative size of the vehicle, its components and the necessary manufacturing steps.
E-Motion Rennteam management implements the Teamcenter® product costing solution from Siemens Digital Industries Software. This software provides a platform for creating and managing calculations and provides the ability for data exchange between enterprise resource planning (ERP) and PLM solutions. Product costing uses calculation methodology based on a detailed product structure and defines the use of materials as well as process costs. It allows various departments to collaborate using Teamcenter.
Encouraged by the success of the Teamcenter implementation, this is again prepared scientifically. Business engineering student Andreas Gayer, who had led the E-Motion Rennteam cost report team for two years, wrote a preparatory bachelor's thesis. He is in charge of the software rollout that will enhance the chances of the E-Motion Rennteam to win Formula Student contests.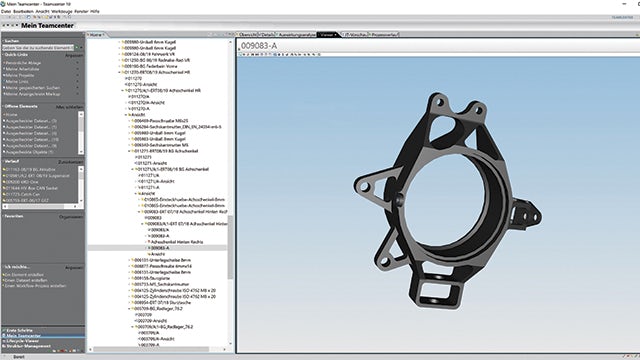 Using Teamcenter, E-Motion Rennteam Aalen members share the knowledge required to build a digital twin of the cars and their components