Case Study
Quote on custom production within seven days is key to high value-added business
Tool wagon manufacturer uses Solid Edge to verify customer ideas faster and reduce response and quotation time
E-Make
E-Make specializes in the research, development and manufacturing of tool and parts chests, wagons and accessories.
http://www.e-make.com.tw
Headquarters:

Taichung City, Taiwan

Products:

Solid Edge

Industry Sector:

Industrial machinery
Response time to customer inquiry reduced from a month to a week
A visit to the factory of E-Make Co. Ltd. (E-Make) in Shen-Kang, Taichung City, Taiwan is certain to make a visual impression. At the factory of the specialized maker of mid- and large-sized tool and part wagons, cabinets, chests and related accessories, the demo hall is full of bright red wagons and cabinets. A commandingly large poster of Petter Solberg, the world champion rallycross driver, is posted on one of the walls. Chen Gongzheng, general manager at E-Make, is a huge rally fan himself, and managed to make his hobby into a business opportunity, introducing the company's Taiwan-made roll-around tool cabinets to international rally teams and thus becoming a behind-the-scenes enabler of champion teams. The large tool cabinets are used by mechanics and technicians when working on cars.
Gary Huang, vice general manager at E-Make, notes that the company is involved in sheet metal processing, the main material used in the company's wagons, chests and cabinets. When E-Make's legacy 2D design software proved inadequate for sheet metal design, E-Make decided to upgrade and implement 3D solid modeling software. The company selected Solid Edge® software from product lifecycle management (PLM) specialist Siemens Digital Industries Software.
Up to 95 percent of E-Make products are produced for export. One challenge is that foreign clients are accustomed to making product inquiries using simple freehand drawings, and typically request a reply as soon as the next day. The fast turnaround posed problems, as it was impossible to determine from a hand sketch whether a design was practical, and without an accurate estimate of the manufacturing cost, the company could waste time and effort. Solid Edge presented a solution.
With the original process, E-Make typically needed at least one month to reply to an inquiry. The company first had to make a drawing, verify its feasibility, and then calculate the material cost as well as the cost of outsourced processing. With new tools and processes, E-Make now needs only about seven days on average to make a sample, covering the whole process from 3D design, sheet metal processing, and precise calculation of the total cost of production (including external processing), down from the 30 to 40 days required using 2D technology.
Building a service chain with 3D software
E-Make's wagons are divided into American standard (traditional rectangular-shaped) and European standard (often with greater design and styling requirements). "To win over European clients, we need not only quality products, but excellent service as well," notes Thomas Jao, the factory chief at E-Make. "We must satisfy all kinds of customization requirements put forward by a client within the shortest time possible. Such service capability is possible only with powerful 3D software such as Solid Edge, to help enhance the quality and productivity across the whole service chain."
Jao believes that one significant change made possible by the use of Solid Edge is the ability to quickly verify the feasibility of a concept. E-Make's core product is a 26-inch wagon, with maximum sizes ranging up to 53 inches. To avoid lowprice competition, add value and maintain differentiation, the company uses in-house patented technologies in every wagon it makes.
An example is the unique in-house technology embedded in the design of a top cabinet. E-Make has spent significant time and effort developing ball bearing slides, and developed a crimp-on, quick-release version for which the company has obtained a patent. The new design uses inserted inner panels that enable direct track changing or adjustment of the higher or lower position of a cabinet while avoiding any damage to the cabinet during assembly, thus offering users the flexibility to use drawers of different sizes.
Visualizing any requirement of the client
The president of E-Make has an aerospace industry background, and always imposes high standards for its products in terms of quality, robustness and precision. Thanks to the easy-to-use interface of Solid Edge, the company has significantly reduced inquiry response time, improved the accuracy of production cost estimates, gained proficiency with the manufacturing capabilities of the software, and accelerated the production cycle.
The main benefits from the use of Solid Edge lie in time saving and error reduction. Now, E-Make engineers can create a 3D model of a new idea, render it, and then present the client with an animation that rotates the model to clearly communicate the appearance of the design and of every internal detail from all angles. Regardless of the number of modifications required, they can all be incorporated in the 3D model, avoiding the expense and time of repeatedly reworking physical samples. In addition, the animations created with Solid Edge also help reduce assembly errors and material waste.
As the company gets more and more familiar with Solid Edge, the benefits are becoming increasingly obvious. These include faster quotation and ordering. Huang cites an example: "We were contacted by a U.S. client, and received two images. One was a picture of a parts cabinet that contains only height, width and depth dimensions, and the other a hand-drawn plastic drawer combination structure, a patent of theirs. And they insisted we use them in a new design."
With such simple inputs, E-Make immediately created 3D models. The team looked up the patent drawing on the internet, modeled it using Solid Edge, used the interference checking function of the software to detect errors and modified the design accordingly and as early as possible.
For example, if a hole is too deep for spot welding, Solid Edge can be used to identify interference and alert engineers to change the design, so that the process won't be delayed at the sample-making stage.
"We are now able to make a quotation within one week," says Huang. "What's more, since we know precisely what the cost will be at any point throughout the production and processing workflow, we can now avoid the difficult situation where we have to fulfill an order at a loss just because the quotation has been made based on a rough estimate."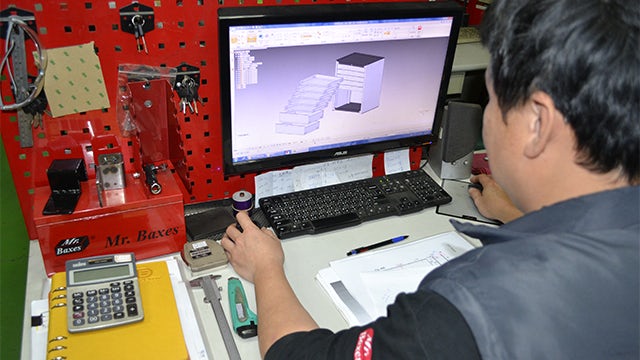 Improved sheet metal design and molding
The use of Solid Edge has also enabled E-Make to improve mold design and molding processes. In the past, to make a small, precision cast aluminum component, engineers used plastic materials for trial production, and then used actual material to fill the mold only when they had confirmed that the size and functionality were appropriate, to avoid material waste.
"In the early days, we typically had to modify the mold at least three times due to repeated design changes," says Jao. "Two-dimensional software is adequate for making stamping dies, but to make an injection mold, we need a precise 3D part model to produce a physical proof; we won't open the mold until we have confirmed everything is right. This process improvement has saved us a great deal of time and money."
The sheet metal module of Solid Edge enables E-Make to easily unfold and dismantle a 3D object for accurate processing afterwards. Yang Richang, a research and development (R&D) engineer at E-Make, particularly appreciates this capability. Even before the deployment of Solid Edge at E-Make, Yang had already decided to learn 3D CAD on his own and later joined the R&D department. Because he has only limited sheet metal expertise, the sheet metal module of Solid Edge is the right tool for helping him precisely process models for fabrication.
E-Make plans to convert thousands of 2D part drawings the company has accumulated over more than 20 years to 3D models, and gradually build its own 3D parts library. In the long run, the complete conversion is expected to significantly improve design efficiency and service quality.