Case Study
Motorbike manufacturer acquires reliable data and closes the loop with simulation
Ducati Corse uses Simcenter test and simulation solutions to optimize design of its racing bikes
Ducati Corse
Founded in 1926, Ducati Motor Holding SpA manufactures sport motorcycles featuring innovative design and leadingedge technology.
https://www.ducati.com
Headquarters:

Borgo Panigale, Bologna, Italy

Products:

Simcenter Products, SCADAS Mobile, SCADAS XS, Simcenter Testlab

Industry Sector:

Automotive & transportation
Racing royalty
Founded in 1926 as a radio component manufacturer, Ducati Motor Holding SpA (Ducati Corse) switched to the motorbike business in 1946 right after the end of World War II. Today, the company is part of the Volkswagen Group and sells over 55,000 bikes annually all over the world. Anyone can experience the story of this iconic brand by visiting its museum located in the Borgo Panigale headquarters near Bologna, Italy. The same building hosts the racing team of Ducati Corse, which is Automotive and transportation Ducati Corse Motorbike manufacturer acquires reliable data and closes the loop with simulation comprised of two groups: The first is in charge of competitions for purpose-built prototypes and purebred racing bikes (MotoGP), and the second manages motorbikes derived from standard production models (Superbike) that are ridden by world-famous riders. Vehicle development teams are committed to bringing new updates to the racing track and testing them before implementing them on official racing bikes.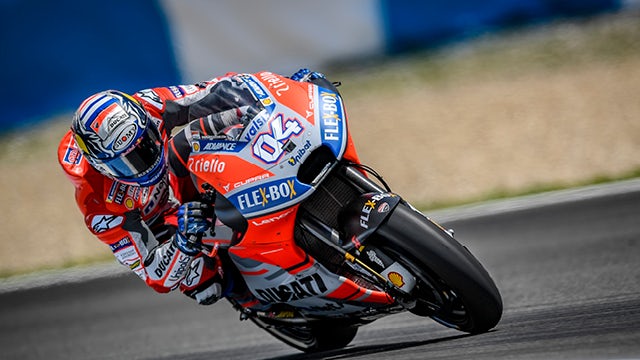 Behavior under the lens
Compared to regular road vehicles, racing bikes are subject to extreme loads. With high speeds, sharp turns and quick changes of direction, every move in a race puts extreme stress on the vehicle's components. To win a race, it is essential to predict the motorbike's behavior with 100 percent accuracy. Excessive vibration and resonance effects could lead to performance loss, or worse, component breakdown.
Racing teams study the frequency behavior of components to guarantee their in-race reliability. "To understand the frequency behavior of a component we apply finite element modeling to the chassis, fork and all load-bearing components of the motorbike," says Davide Fonte, indoor testing engineer at Ducati Corse. "However, the results of finite element analysis need experimental validation to ensure that the bike will behave according to expectation on the race track."
In 2016, Ducati Corse introduced experimental modal analysis to validate the finite element modeling (FEM) analysis of the frequency behavior of bike components.
"It was quite clear that we needed a solution to validate FEM results," says Marco Liberati, vehicle and data analysis manager, Ducati Corse. "We had already executed some pilot projects before 2014. We achieved poor results, but we realized that it was necessary to approach a technology and a product that suited our purposes."
With the pilot projects, the team tried out several options in order to compare experimental analysis with FEM results. Most of these options required extensive, timeconsuming computations.
"Those lengthy time schedules did not meet the requirements of a racing team," says Liberati. "But through that experience we identified the Simcenter modal analysis and correlation solution with features and capabilities that suited our needs."
Simcenter from Siemens Digital Industries Software helps companies handle product complexity by integrating advanced mechatronic simulation and testing solutions into their product development lifecycle.
Next to real-life measurements on the race track, the team also performs laboratory tests, where Ducati Corse adopted the compact yet versatile Simcenter SCADAS Mobile hardware to capture the data. In those tests, the component under scrutiny is excited with a hammer or shaker. For the racing team, it is crucial to implement a fast and easy testing procedure that delivers accurate results. It starts with quick but precise localization of the best excitation points. Ducati relies on LMS Virtual.Lab software, also part of the Simcenter portfolio, for pre-tests.
The virtual key
For acquisition of the experimental data, the Ducati Corse team chose to rely on Simcenter™ SCADAS hardware. For track tests, the smart and portable Simcenter SCADAS XS was selected. Small enough to fit on the back of a racing bike and rugged enough to withstand tough racing conditions, the Simcenter SCADAS XS flawlessly records all data needed for the analysis.
"Our racing team uses Simcenter SCADAS XS to accurately measure accelerometer data directly on the racing track," Liberati says. "The Simcenter SCADAS XS offers optimal flexibility and performance for our track tests. It wirelessly interfaces with a tablet application, lets users quickly adjust acquisition parameters, supports mobile diagnostics and guides even non-expert users to solve potential problems on-site."
"The pre-test functionality in LMS Virtual.Lab helps us easily optimize excitation points, based on FE model data," says Fonte.
Data acquired by Simcenter SCADAS is imported into the Simcenter Testlab™ software for experimental modal analysis. "We really appreciate the Simcenter Testlab workflow," says Fonte. "This structured workflow speeds up data analysis, so we can extract huge amounts of useful information very quickly: a key benefit for a racing team!"
Experimental data is then used to validate and update the FE model. Fonte explains: "During our selection, we evaluated alternative solutions to acquire signals and perform experimental data analysis. However, none of these solutions offered a simulation tool for the validation of the finite element model. Siemens offered this technology with the LMS Virtual.Lab (software)."
With LMS Virtual.Lab, Ducati Corse engineers can build accurate simulation models, simulate mechanical design behavior, quickly assess multiple design alternatives, optimize designs before prototype construction, accurately detect weak spots and efficiently explore multiple design alternatives.
"With the Simcenter modal analysis and correlation solution, we have confirmed the validity of our FE models, which did not require any adjustment," Liberati says. "Even if we would identify critical issues, our engineers would be able to change the FEM parameters easily using LMS Virtual.Lab optimization."
The Ducati Corse engineers appreciate the ease of use and the fast learning curve of the Simcenter suite.
"For most basic information, the software is plug-and-play," says Fonte. "Operations in standard applications are easy and intuitive, even for those who have not attended any training course."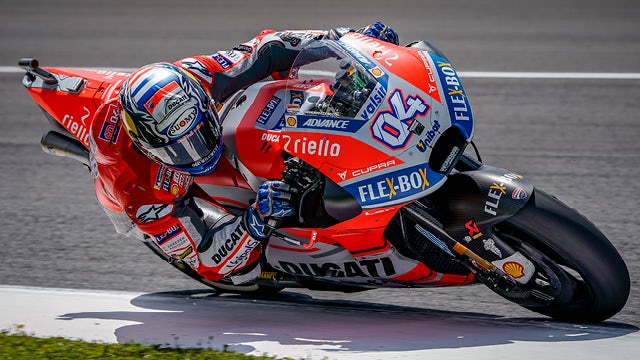 Future-proof choice
Ruling out calculation tools developed inhouse, the Ducati Corse engineers adopted the solution that offered the greatest promise. After evaluating the hardware and software products offered by Siemens for a few months, Ducati Corse decided to adopt the Simcenter portfolio. Further, the companies decided to enter into a sponsorship agreement for the racing team.
"We recognized the long-term potential of the Simcenter solution," says Liberati. "Talking with other designers and analysts from the automotive industry, we found out that Simcenter represents the state-ofthe-art in experimental modal analysis. The data quality is excellent and useful information can be extracted very quickly. For instance, with the Simcenter SCADAS XS, data is acquired with 24 bits, which is higher than with the acquisition device we used before. As a result, signal-to-noise ratio and dynamic range are higher; we can measure lower signal levels from the same sensor. When analyzing specific vibration phenomena, this gives us more information from a single test run." All data coming to FEM and then to Simcenter Testlab for experimental modal analysis are authored with Siemens' NX™ software, which Ducati Corse has been using for a long time for 3D vehicle modeling, including aerodynamic surfaces, drafting and data export in Siemens' or standard Step/Iges formats. This data is shared with other business units or external suppliers. As a result, the racing team can leverage a fully-integrated, bi-directional process from the design department to track tests, providing valuable feedback for motorbike optimization and, ultimately, for success in a competitive discipline.
"Simcenter testing solutions contribute to generate a full picture of the motorbike dynamic behavior and to deliver accurate predictive analysis," says Liberati. "Besides improving reliability and the prediction of component life and durability, the solution provided by Siemens promises interesting developments for the performance of our motorbikes. Definitely, we have achieved the results we expected from this solution, as witnessed by the excellent performance of our riders in the 2017 MotoGP season."