Case Study
Doosan Heavy Industries & Construction enhances its competitiveness with Siemens Digital Industries Software solutions
DHIC overhauls the design process to transform plants into digital factories
Doosan Heavy Industries & Construction
Doosan Heavy Industries & Construction delivers integrated solutions that provide water and electricity for the better lives of people.
http://www.doosanheavy.com
Headquarters:

Changwon, South Gyeongsang Province

Products:

NX, Teamcenter

Industry Sector:

Heavy equipment, Industrial machinery
Global leader in energy and freshwater sectors
Doosan Heavy Industries & Construction (DHIC) is a leading engineering, procurement and construction (EPC) company that provides a broad range of products and services, including casting and forging, power generator equipment, desalination facilities and plant construction all around the world. For the last five decades, DHIC has been at the forefront of Korea's industry by building industrial plants in Korea and overseas.
Building on technological expertise accumulated over the years, the company has concentrated on EPC projects that encompass design, engineering, equipment production, deployment, and trial runs. The company has also seen considerable success in overseas power generation and desalination markets.
On the technological front DHIC has developed proprietary technologies for essential equipment in power plants, including boilers, turbines and power generators. The company is also developing future environment-friendly power generation technologies, including boilers, wind power, energy storage devices, microgrids and integrated gasification combined cycle (IGCC), a technology that converts coal and other carbon-based fuels into pressurized gas. For hydropower plants, DHIC delivers integrated services including design and equipment supply, and also conducts trial runs for desalination and water treatment plants.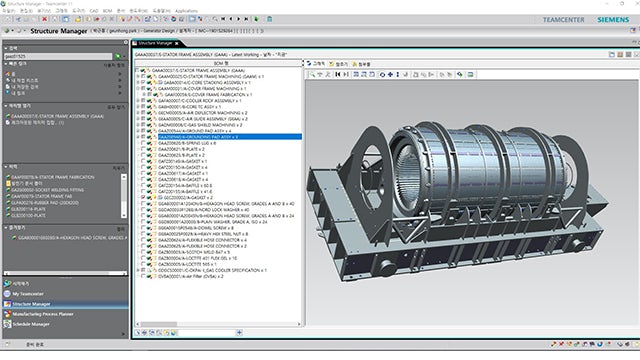 Building the foundation for the digital factory
DHIC is driving company-wide innovation and preparing for the future by transforming its plants into digital factories. The company aims to use the digital information in the design stage to digitalize all processes in product manufacturing, addressing all issues (including human errors and production problems) digitally, before the actual product is produced. DHIC sought to improve operational and production conditions and reduce problem-solving costs to gain a competitive edge in the global market.
As a prerequisite to going digital, DHIC established a complete 3D design system to help overhaul and improve its design process, infrastructure and capabilities. Because there were no clear guidelines for 3D design processes, some major machines were designed using 2D techniques; designers created 3D models only for verification purposes. Without a complete 3D model, the final versions of the 3D model and the 2D drawings were inconsistent and difficult to check. In addition, 3D design files were not adequately managed and were often misplaced, making it difficult to provide accurate final design data when requested by production divisions. This situation posed a serious problem for interdivisional collaboration.
To address this problem, DHIC began introducing a product lifecycle management (PLM) solution to manage design data. The company adopted Teamcenter® software for digital lifecycle management and NX™ software for product development, a fully integrated solution from Siemens Digital Industries Software. DHIC also leveraged Siemens consultants with vast field experience and design expertise to provide insight into projects.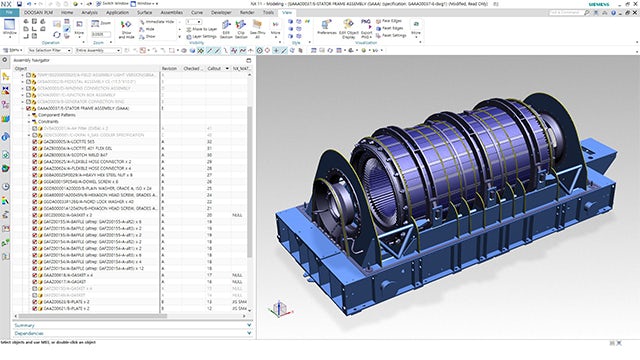 Optimizing 3D design systems and processes
The DHIC design team and Siemens consultants defined a set of specific goals. They analyzed the existing system and identified necessary process improvements and detailed measures including bill of material (BOM) management. Together they built an integrated 3D design and collaboration solution that digitally linked all stages of the development process, from design to production.
DHIC faced many obstacles along the way, but the company made the most critical decisions and changes regarding BOMs. There are typically tens of thousands of components that comprise a DHIC product. In the previous process, many different types of BOMs were created and managed manually, including BOMs for ordering, procurement, production and contract management. This manual BOM process was repetitive, inefficient and prone to human error. After evaluating various divisions and workloads, DHIC decided to combine all BOMs into a single unified BOM that was linked to 3D design data. The unified BOM dramatically reduced workloads by eliminating manual and repetitive tasks and improved accuracy by reducing errors.
Another challenge was managing the different types of documents and product information generated in the design process. This information was saved and managed in multiple separate systems that forced employees to search through many systems when they needed data. To address this issue, DHIC created a single standardized structure for all design information and developed a system in which all information was generated and centrally managed from the initial planning stage.
Building digital factories with Siemens solutions
Siemens Digital Industries Software's Teamcenter solution delivers infrastructure designed to promote collaboration and product lifecycle management. With Teamcenter, DHIC built a concurrent design environment that enabled interdivisional data sharing so that the company could check work status in real time. Design and production divisions could share up-to-date 3D design and materials data to improve communication. That data sharing significantly reduced quality issues, resulting in a 53 percent reduction in design errors that boosted the company's competitiveness.
Teamcenter provides management features (including copying, property changes, change and impact tracking and revision checks) that enabled systematic management of BOMs, design data and technical documents. DHIC now leverages standardized numbering systems and templates when drafting various documents including 2D drawings, customer documents and design guidelines. These tools enable the company to easily identify and locate relevant information.
Design data created with NX is systematically managed by Teamcenter, then transferred to the in-house BOM management system, which makes it available for use in component purchasing. Design data managed by Teamcenter can be used immediately in the production stage, creating digital interconnection between design engineering and the factory. The data managed in Teamcenter is then transferred to an integrated design system, allowing it to be used for EPC design throughout the company.
In addition to establishing a 3D design management environment, Siemens offered professional consulting services aimed at strengthening employees' competence in 3D design, including how to construct 3D models and how to improve and disseminate 3D development techniques. DHIC leveraged these consulting services to standardize and optimize its 3D design methodology, and to automate 2D drawing creation to improve data consistency and reduce errors.