Case Study
Empowering the next generation of smart manufacturing talent
Siemens Digital Industries Software solutions help DGUT cultivate students for digital transformation
Dongguan University of Technology
The Dongguan University of Technology was established in 1990 in Dongguan, Guangdong Province with Chen-Ning Yang, a Nobel Laureate in physics, serving as honorary president. It was among the first universities to be included in the Excellent Engineer Training Program, the New Engineering Research and Practice Project, and the 100 Universities Program of China's Ministry of Education, and was also one of the first universities to be honored as a High-level University of Science and Technology in Guangdong Province.
http://www.dgut.edu.cn
Headquarters:

Dongguan, Guangdong Province, China

Products:

Mechatronics Concept Designer, NX, Opcenter, General, Teamcenter, Process Simulate, Tecnomatix
Driving digital transformation
Digital transformation of industrial enterprises is a complex, cross-disciplinary process. Realizing intelligent digital transformation is not as simple as deploying software systems and purchasing equipment; it also involves making detailed plans and choosing comprehensive solutions in a holistic, step-by-step manner with the bigger picture in mind. In addition to key technologies and comprehensive solutions, digital transformation requires versatile talent and professional consulting services.
Located in China's Pearl River Delta, Dongguan is widely recognized as "the world's factory" for its large base of manufacturing enterprises. The city's manufacturing industry urgently needs to upgrade and digitally transform operations using advanced technologies, solutions, consultation, services, and human resources for smart manufacturing.
Dongguan University of Technology (DGUT) is the first university in Dongguan, established in 1990. An educational research and development institution jointly built by the provincial and city governments, DGUT is tasked with cultivating talent and providing technological support for local enterprises to make Dongguan a powerhouse of science and technology.
DGUT chose Siemens as its core partner in supporting the industrial sector in 2012. In 2017, DGUT and Siemens Digital Industries Software signed an agreement to jointly build the DGUT School of Smart Manufacturing. The school was founded in July 2018 and enrolled its first students in September of that year. The collaboration has created a leading-edge curriculum and student development model. In March 2019, DGUT's application for an undergraduate program in Smart Manufacturing Engineering was approved by China's Ministry of Education, making it one of the first undergraduate universities to gain that approval.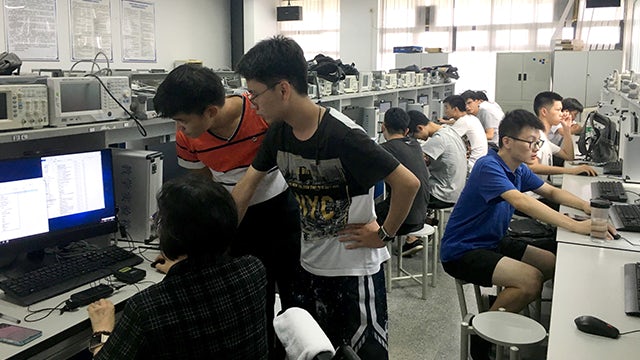 A curriculum for smart manufacturing
As a leader in smart manufacturing technologies, Siemens Digital Industries Software offered DGUT School of Smart Manufacturing its full support for curriculum design and has developed 12 courses covering various aspects of smart manufacturing. Courses on digital product design leverage the tools in NX™ software for computer-aided design (CAD). For a course on integrated mechanical and electrical design and virtual commissioning, students use NX Mechatronics Concept Designer™ software. Siemens Digital Industries Software has also designed courses on process simulation, plant simulation, and virtual commissioning technology using Process Simulate and Plant Simulation in the Tecnomatix® portfolio of digital manufacturing solutions. SIMATIC WinCC software for supervisory control and data acquisition is used in a course on industrial data acquisition and management, and Opcenter™ software is used in a course on manufacturing operations management. Throughout the coursework, students use Teamcenter® software for product lifecycle management. All of the software solutions are from the Siemens Xcelerator business platform of software, hardware and services.
Through studies in these aspects of smart manufacturing, DGUT students build their comprehension of the big picture of enterprise digitalization while gaining proficiency in the use of leading-edge industrial software solutions.
Training a faculty for smart manufacturing instruction
With the curriculum established, the DGUT School of Smart Manufacturing needed a competent faculty. Siemens Digital Industries Software enrolled teachers in its teacher certification program. Because two years of curriculum rely heavily on Siemens software solutions, all courses that lacked teacher resources were taught by experienced engineers and technicians from Siemens Digital Industries Software in the first year. DGUT encouraged young teachers to take part in the certification and granted rewards to those qualified. As the number of certified teachers grows, the DGUT School of Smart Manufacturing will have an adequate faculty to assume all of the teaching work.
In the typical university development approach, students majoring in engineering are required to finish basic disciplinary courses in the first two years. The first 80 students of the DGUT School of Smart Manufacturing were selected from those who had finished two years of basic courses in mechanical design and manufacturing, electronic engineering, automation, and software engineering. By working with these departments, the DGUT School of Smart Manufacturing has developed specialized training models for students from different majors with different career aspirations. Every course is assigned certain credits, and students can enter the next learning cycle after they have acquired the proper credits. Students can select courses for further study according to their interests.
Certifying student proficiency
After finishing the courses, students take the Siemens Digital Industries Software digital engineer certification examination, and those who pass receive a vocational certificate. The purpose of the certification exam is to verify learning outcomes and to offer students a professional qualification that is widely recognized by the industry.
The digital engineer certification system includes accreditations for design engineers, manufacturing engineers, and operational engineers, and is a comprehensive assessment of smart manufacturing talent from three dimensions – technical skills, management ability (including self-management, interpersonal relationship, team capacity, and professional ability) and communication skills.
Combining instruction with hands-on practical experience
At the DGUT School of Smart Manufacturing, cultivating versatile talent for smart manufacturing is more than teaching theoretical knowledge and software application skills – practical exercises that apply the multidisciplinary integration required by the digital enterprise are also important. The school makes internship and hands-on project experience a key part of its student development model. The school teaches the real-world application of technologies in the industry using technological application scenarios, business scenarios, and business logic to help students understand the value and role of smart manufacturing and digital transformation.
Students of the DGUT School of Smart Manufacturing can familiarize themselves with Siemens Digital Industries Software's solutions at the Smart Manufacturing Innovation Center, their practice base, at the theoretical learning stage. In their fourth academic year, students engage in practical experience as interns at Siemens Digital Industries Software, partner companies, and other enterprises for a year. Through internships, the students can quickly apply what they have learned in classrooms with the help of experienced engineers and technicians and acquire first-hand project and work experience, which accelerates their adaptation from school to enterprise. After the internship, the students finish their graduation theses based on their own project experience.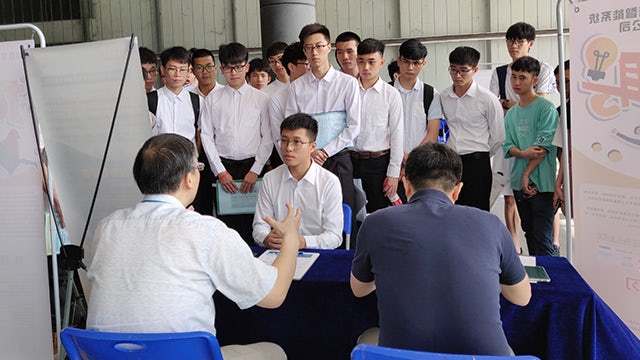 Unique talent development model
The unique talent cultivation model jointly developed by Siemens Digital Industries Software and DGUT features multidisciplinary, multi-specialty integrated courses; a new concept for university-industry cooperation, integration, and collaborative student development; and practical teaching guided by projects and oriented to ability. In 2019, the Siemens-DGUT collaboration was recognized by the Ministry of Education as an exemplary project of the New Engineering Major initiative.
Industry-university collaboration
With extensive experience in running specialized engineering schools and working with leading enterprises, President Ma Hongwei of DGUT was invited to deliver a keynote speech promoting his university's success at the 2019 Industry-Academia Cooperation and Collaborative Talent Cultivation Project Partnering Conference of the Ministry of Education. His speech highlighted how specialized engineering schools jointly built and run by universities and industry can focus on the requirements and development needs of regional industrial clusters and specific industries and cultivate high-quality engineering and technical personnel. DGUT is striving to build a world-class application-based talent training system within seven years.
The first students enrolled at the DGUT School of Smart Manufacturing will be graduating in 2020. Besides those graduates working for enterprises based in Dongguan and Guangdong province, many others will be working for well-known enterprises in Beijing, Shanghai, Zhejiang, Fujian, and Sichuan contributing to the transformation to smart manufacturing.
"The Smart Manufacturing Innovation Center enabled by Siemens Digital Industries Software provides local enterprises in Dongguan with access to the most advanced technical support and the most professional consultation and planning services that enable them to technologically upgrade businesses," says Ren Bin, dean of the School of Smart Manufacturing at DGUT. "The establishment of the School of Smart Manufacturing has fundamentally addressed the shortage of qualified talent required by these enterprises, providing the much-needed talent support for the industry's growth. All in all, the partnership between DGUT and Siemens Digital Industries Software has not only helped local enterprises with their intelligent digital transformation, but also provided a talent cultivation platform for smart manufacturing, constantly and forcefully driving the overall industrial upgrading of Chinese enterprises."