Case Study
Using Simcenter to solve time-critical problems with CFD in the cloud
DNV Maritime Advisory leverages on-demand cloud services to accelerate simulations
DNV Maritime Advisory
DNV Maritime Advisory is the largest maritime advisory company with a global presence. Its experienced staff of almost 300 has leading technological expertise across all ship segments. DNV Maritime Advisory supports its customers in mobilizing the full potential of maritime operations throughout an asset's life cycle.
https://www.dnv.com/maritime/advisory/index.html
Headquarters:

Oslo, Norway

Products:

Simcenter Products, Simcenter Cloud HPC, Simcenter STAR-CCM+

Industry Sector:

Marine
DNV Maritime Advisory offers a wide range of analysis and consulting services across the marine sector. From hull resistance and propeller cavitation to topside aerodynamics, seakeeping and slamming, its team of experts work on challenging projects and select the most suitable simulation and testing approaches to help customers.
Simulation enables operability and sustainability
As well as working with shipyards to perform analysis for design and production, the DNV Maritime Advisory team is also frequently engaged later in the lifecycle. "We often carry out projects with ship owners to troubleshoot issues encountered during service or to evaluate modifications to improve efficiency," says Cosmin Ciortan, principal specialist at DNV Maritime Advisory.
With the global shipping industry under pressure to reduce emissions and environmental impact, simulating ship hydrodynamics and propulsion systems has played a big role in reducing fuel consumption. A lot of that simulation work uses high-fidelity computational fluid dynamics (CFD) of the full-scale vessel.
Starting in 2023 the International Maritime Organization (IMO) will require all vessels over 400 gross tons to undergo measurement of the energy efficiency design index (EEXI) to identify ways to improve fuel efficiency. Calculating this accurately requires the vessel's Vref value, measured at a specific draft. "We have seen a push towards EEXI compliance recently and CFD simulation is the only way that this can be addressed, especially for existing vessels where towing tank models or test data are not available," says Ciortan.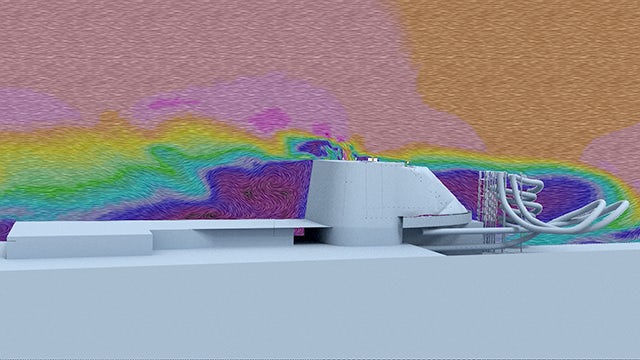 Aerodynamic simulation of exhaust gas on a cruise ship using Simcenter STAR-CCM+.
Modeling the complexity
The DNV Maritime Advisory team are also engaged on projects concerning other aspects of ship operation and maintenance, often to be found much further from the waterline. Many of these projects require aerodynamic analysis of the ship superstructure – in some cases involving mind-boggling geometrical complexity.
To be ready for any engineering challenge, the DNV Maritime Advisory team uses Simcenter™ STAR-CCM+™ software, an integrated solution for CFD-focused multiphysics simulation. Simcenter is part of the Siemens Xcelerator business platform of software, hardware and services.
Flexibility is an important factor. "We never find ourselves limited by the physics and complexity that we can model using Simcenter STAR-CCM+. One of the things we like the most about the software is the ability to see what is happening with a simulation in real time. If something is wrong with the setup, it becomes much easier to find," says Ciortan.
Surface preparation can be the most time-consuming part of the simulation workflow for complex geometries. "Imagine a floating production, storage and offloading vessel which has a 300-meter-long deck full of pipes and all kinds of structures – it's almost impossible to manually prepare a clean surface for simulation," says Ciortan. In such cases, the team relies on using the surface wrapper feature in Simcenter STAR-CCM+ to get the job done. "Right now, I'm on a project where the geometry is one of the worst I have ever seen. Without using all of the surface preparation options in Simcenter STAR-CCM+, some projects would be impossible to complete in the time available," says Ciortan.
Exploring the possibilities
Over a lifetime at sea, ships experience a constantly changing seascape of environmental conditions. Assessing performance over such a large operational envelope is a natural fit for simulation. This is not only cheaper and faster than model testing, but simulation can be carried out at full scale and using more realistic wave and wind conditions.
In practice, even the most extensive testing and simulation campaign cannot cover all combinations of possible environmental factors. It is still possible to uncover vulnerabilities once a vessel is several years into its service life. "We were recently contacted by a ship owner who had found that, under certain conditions, exhaust gases were being drawn into HVAC intakes. This is of course a serious safety concern and time was of the essence to understand the problem and find a solution," says Ciortan.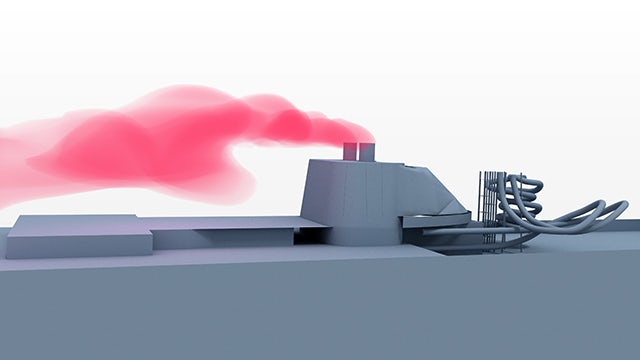 Simulations showing the exhaust gas plume before (above) and after (below) a funnel extension is added.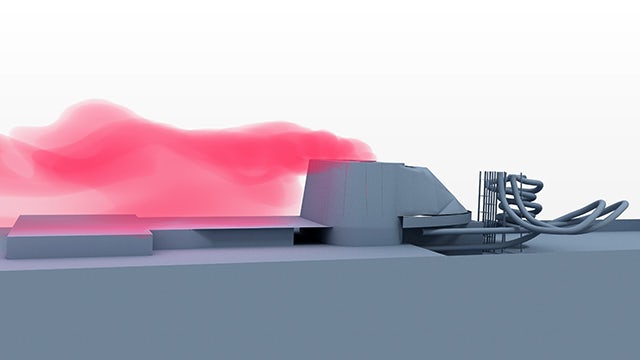 Going faster
The urgency was clear – taking any com- mercial vessel out of service to undertake engineering work is extremely expensive and disruptive, particularly in the case of a cruise ship with thousands of passengers on board. If the team could turn the problem around fast enough and validate a solution that could be implemented using manpower and facilities available on board or while in port, there was an opportunity to rectify the problem quickly enough to avoid disrupting the schedules.
The team reproduced the same scenario in CFD, based on observations from the ship's officers. They confirmed that they captured all the same problems the customer was seeing. Next, they worked with the ship owner to tackle the problem. "There were several ideas, but the most promising one was to extend the height of the pipework inside the funnel," says Ciortan. "For a modi- fication to be made to this area without access to shipyard facilities and cranes, the materials used would need to be carried on board, through corridors, along decks and up flights of stairs. The critical questions then were how much material needed to be added exactly and where."
Finding a viable solution involved running through many options with the client, refining the design and retesting. To assess each option, the DNV Maritime Advisory team ran simulations covering the problematic range of conditions, including different wind speeds, directions and engine load condi- tions with associated exhaust discharge rates. When a solution was found, they continued to validate it over a wider range of conditions to make sure it did not introduce other undesirable behavior.
Ciortan needed to look beyond the HPC resources that DNV Maritime Advisory had access to on-premise to do all of this analysis in the timeframe needed. The team had been trialling Simcenter Cloud HPC, a turn- key solution for running CFD simulations on the Amazon Web Services (AWS) cloud, direct from inside Simcenter STAR-CCM+. By leveraging this technology, Ciortan was able to submit runs on preconfigured cloud hard- ware with just two clicks, allowing the team to run more simulations simultaneously than previously possible. The team could quickly communicate results with the customer and find a solution in the time frame available.
"Using Simcenter Cloud HPC for this project was a good experience for me because I could run every simulation I needed to, whenever I needed it. Sometimes I might be lucky when using our in-house cluster, but it's not reliable when a project is really time critical like this one. I don't think we could have turned the project around as quickly as we did without Simcenter Cloud HPC. And it really delivered – we had a solution and a happy customer at the end of it."
A turnkey solution
As well as affecting time-critical projects, Ciortan finds that relying only on DNV Maritime Advisory's in-house cluster can also cause problems during busy periods or when larger models need to be run. "The workload is often bumpy and unpredictable, so we can easily go from say 90 percent capacity to 120 percent of what is possible to do with the resources we have," says Ciortan. Additionally, even when the cluster is not full, it can still prevent work from progressing. "All of a sudden, we can have an extremely heavy simulation to run, needing a lot of cores and we often cannot access them. If the cluster has 200 cores free, but we need 400, then for us it is as good as full."
The team had previously made occasional use of cloud providers to access additional HPC resources. "One of the things we struggled with was to get the setup optimised for CFD, to get good scaling and value for money. It's hard to get that right when you are only using it occasionally, you want something that just works," says Ciortan.
For the DNV Maritime Advisory team, the value is in having a solution that combines accessibility, flexibility and scalability altogether. "Simcenter Cloud HPC is quick and easy to use. The simulations start immediately so we know when we will get results and we don't need to worry about how it works in the background," says Ciortan.
Looking to the future
When thinking about how the team can manage simulation workloads in the future, they see value in using both on-premise hardware and cloud resources. "For an organization of our size, there are routine workloads which are more efficient to run on-premise, particularly for smaller models or when we are exploring and testing new methods. We also often take on confidential projects where data must remain on our premises at all times. For us, using Simcenter Cloud HPC makes a lot of sense when we are at peak workload. I can imagine that for smaller companies it could be cheaper to run everything using Simcenter Cloud HPC without investing in an on-premise cluster," says Ciortan.
For time-sensitive projects, the benefits are clear to Ciortan. "I was recently speaking to a client who needed simulation work carried out particularly urgently. I told them that the only way to get it done as quickly as possible is to run on the cloud. There's no other way because otherwise we have limited resources, limited licenses, limited everything. With Simcenter Cloud HPC that's not the case."