Case Study
Blasting into space by completing a modal survey test in less than four days
DLR uses Simcenter Testlab and Simcenter SCADAS Mobile to validate finite element model together with AIRBUS Defence & Space in near real time
DLR
DLR is the space agency that plans and implements the German government's national program and performs research work and aviation projects. By driving scientific excellence and harnessing technological expertise, DLR aims to enhance the commercialization and competitiveness of Germany's space industry.
https://www.dlr.de/DE/Home/home_node.html
Headquarters:

Göttingen, Germany

Products:

Simcenter 3D Software, SCADAS Mobile, Simcenter Testlab

Industry Sector:

Aerospace & defense
Moving to the space sector
Deutsches Zentrum für Luft- und Raumfahrt (DLR) is the German space agency and runs the government's national program. By driving scientific excellence and harnessing technological expertise in its work, DLR aims to enhance the commercialization and competitiveness of Germany's space ndustry.
DLR's Institute of Aeroelasticity is a leading research institute that regularly performs specialist structural dynamic experiments and testing for third parties, such as aerospace entities. Based in Göttingen, Germany, the institute has traditionally focused on aviation testing, with expertise in, and facilities for ground vibration testing (GVT), multi-axis vibration excitation, unsteady signals measurement and test rigs for wind tunnels. More recently, the institute has evolved to also conduct activities such as modal survey tests (MST) for the space industry.
"We are well placed to apply our broad experience and proven testing methods we use to study aircraft and perform rapid, reliable and cost-effective testing within the space sector," explains Julian Sinske, DLR's structural dynamics testing lead.
For DLR, the ability to generate accurate test results within short timeframes is essential for the high-quality analysis and modeling the institute prides itself on delivering. To that end, DLR has used Siemens Digital Industries Software's testing solutions for several years. "We are now very familiar with Siemens testing products and enjoy significant benefits from the opportunity to integrate them with in-house techniques and algorithms," says Sinske.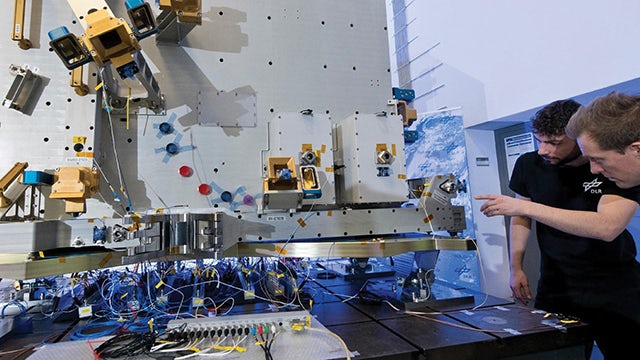 Taking up space
A good example of this is the Bartolomeo project for Airbus Defense & Space, which explores the potential commercial use of the International Space Station (ISS). In the test, DLR used the 192-channel Simcenter™ SCADAS™ Mobile hardware, which is part of the Siemens Xcelerator business platform of software, hardware and services, as the critical measurement equipment for a modal survey test that was meant to update the finite element (FE) simulation model of the Bartolomeo satellite. This enabled the team to simulate and predict aspects that could only be done using simulation and analysis, such as how the platform would couple with the launcher. Therefore, reliability was key.
To do this, DLR needed to capture accurate experimental data to validate or improve the fidelity of the FE model. The Simcenter SCADAS Mobile setup featured two mainframes and was able to measure 192 signals simultaneously. Having switched from Simcenter SCADAS 3 to Simcenter SCADAS Mobile in the past year, this was DLR's first major industrial test using the powerful yet compact and flexible hardware.
"In our experience, Simcenter SCADAS has always been issue-free and reliable, so we were extremely confident in the updated system," Sinske confirms. Transitioning to Simcenter SCADAS Mobile provides extra flexibility for handling different types of tests. The data acquisition system is versatile and can be used for modal survey tests, GVT tests or others without any issues.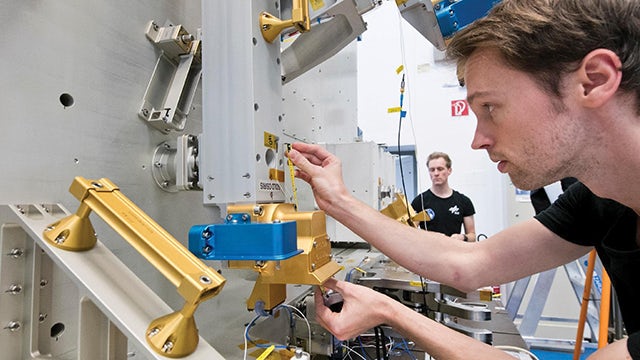 Flexibility and speed
According to Sinske, the open architecture of Simcenter also came into play when configuring test data with Simcenter Testlab™ software.
"Simcenter Testlab is well-suited to large-scale tests like this one, particularly with the flexibility to customize what it offers," says Sinske. For example, alongside Siemens' PolyMax algorithm running in the background, DLR was able to plug its own algorithms into Simcenter Testlab to adapt it to specific test needs. The DLR team also customized the user interface (UI) and projected the results onto the wall of the laboratory in for a good overview of the test progress. With the first measurements available in less than an hour after installation, the overall setup brought significantly quicker test results than comparable testing scenarios.
Overall, the test, which was completed in less than four days, delivered quality, reliable results at unprecedented speed. The resulting structural dynamic data set enabled Airbus to determine the appropriate modal model, identify nonlinearities and update the finite element model (FEM). In fact, AIRBUS Defence & Space was able to begin updating the model while the measurements were still running. "Airbus had very high expectations, which thanks to having the right tools available to us, we were able to meet," Sinske points out. "We could actually analyze around 80 percent of the data for the final test report immediately.
"The entire test went according to plan. We needed to work as fast as possible to swiftly deliver the data that was required. Simcenter SCADAS Mobile and Simcenter Testlab helped us achieve this."
On course for future success
By applying tested methodologies and trusted tools to its testing capabilities, DLR's Institute of Aeroelasticity has created a replicable testing approach that allows it to segue easily from aviation to space. "We use the same hardware and software for both GVT and MST and we have a plan in place," says Sinske. "Projects like this give us added confidence in how we work and the tools we're using."
Now the team is building on this momentum to introduce new test methods and technologies for the future, including those incorporating artificial intelligence (AI) and automation.
By leveraging the agility of Simcenter SCADAS Mobile and the flexibility of Simcenter Testlab, DLR has successfully created a blueprint for fast, effective and reliable testing in the aerospace field – for structures on either side of the Kármán line, the boundary between Earth's atmosphere and outer space.
"I hope there will be many more projects like this," says Sinske. "We had a solid process, good planning and strong testing tools at our fingertips, which meant fewer mistakes and quick results."