Case Study
Automating simulation processes to streamline automotive design workflows
DENSO uses the Simcenter 3D and NX integrated process to reduce component simulation time by 80 percent
DENSO
DENSO Corporation is a global automotive components manufacturer. The company is the world's second largest parts and systems provider in terms of sales. In 2022 it had $45.1 billion in consolidated nets sales. The company's core technologies are electrification, connected driving, advanced safety and automated driving and factory automation/agricultural technology.
https://www.denso.com/global/en/
Headquarters:

Kariya, Aichi, Japan

Products:

NX, Simcenter 3D Software, Simcenter Products, Teamcenter

Industry Sector:

Automotive & transportation
Automotive industry seeks innovation
It has been generations since a large automotive manufacturer built every part in-house. Today hundreds of companies around the globe contribute to production, no matter the home country of the original equipment manufacturer (OEM). Over the years, each of these companies found their own path to engineering automation.
DENSO Corporation (DENSO), the second largest automotive parts and systems provider in terms of sales in the world, is no exception. Founded in 1949 as a Toyota group company, it has become an independent auto parts supplier to nearly all leading OEMs. It also works in other markets, including household heating equipment and industrial robots. It is a member of the Fortune Global 500 and has more than 200 consolidated subsidiaries around the globe. It is a trusted supply chain partner for many of the world's largest automobile brands. DENSO also works closely with its automotive partners in research and development (R&D) for electric and hybrid vehicles.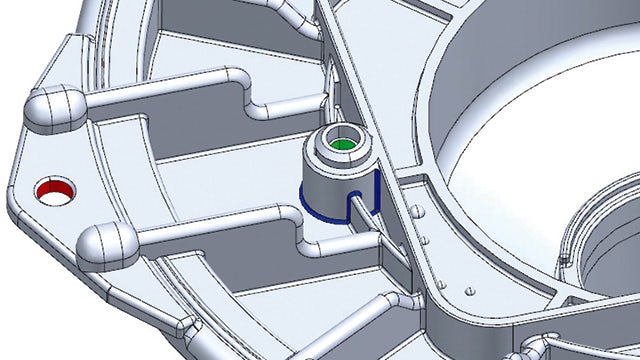 CAD Geometry with color-coding.
The simulation bottleneck
A major challenge today is to improve productivity in the design and simulation of automotive parts. Even before the rise of software solutions, designers focused on geometry and turned to analysts to test and validate performance. However, simulation teams have always been much smaller than design teams – creating a bottleneck in the development process.
In recent years, advancements in computational power and software have made it possible to streamline the process. Most analysis software can be used to solve a complex analysis in a matter of hours instead of days. But the back-and-forth between the design and simulation groups still exists. It is not unusual for analysts to clarify aspects of the model, or to ask Results (continued) Identified and corrected design problems resulting in improved quality overall Eliminated errors due to manual processes and data translation designers to modify the shape to achieve a better result. The aforementioned bottleneck means each cycle could take days or weeks, depending on the complexity of the part or product.
"We have an issue with long lead times for CAE in product design," states Yuichi Kondo, project assistant manager, DENSO. "It takes time to communicate." Kondo is referring to the back-and-forth between design and computer-aided engineering (CAE) teams to create the initial analysis request, transfer data to the CAE system, respond to several inquiries, create and run the simulation model, generate analysis reports and revise the design. Usually there are multiple rounds of designing and testing as the team closes in on a solution, with multiple translations going back-and-forth between CAD and CAE formats. It is a considerable workflow bottleneck that companies have been putting up with for years.
If design teams could perform basic simulation early on their own, it would free up time for the simulation teams to focus on more complicated analyses.
Seeking the way forward
DENSO has been a long-time partner of Siemens Digital Industries Software, starting with using NX™ software for design and manufacturing and Simcenter™ software for simulation. NX and Simcenter are part of the Siemens Xcelerator business platform of software, hardware and services.
DENSO uses NX modules to support every aspect of product development from concept design to manufacturing and is an integrated toolset that can be used to coordinate disciplines and preserve design intent. DENSO also uses Simcenter 3D for simulation, which is a comprehensive, fully-integrated solution for multidiscipline simulation. Simcenter 3D shares a common platform with NX.
With Siemens tools, DENSO saw an opportunity to streamline the traditional workflow between design and engineering analysis, uniting the disciplines. This was particularly true for component design and analysis where simulation processes are more routine. DENSO's goal was to reduce or eliminate the iteration with a new workflow.
An integrated platform approach
Since Simcenter 3D and NX share a common platform, geometry can be seamlessly passed from CAD to the CAE environment and back. The simulation model is associated with the design geometry so the simulation model can easily be updated with changes made to the upstream design geometry. By itself, this connectivity between the main part and the CAE model saves DENSO considerable time previously spent on part translation, communication between teams and all the necessary documentation generated by these iterations.
Encouraged by this level of improved workflow, DENSO is now moving to another level of innovation. The company is developing what it calls the NX CAD and Simcenter 3D integrated process. Analysts understand the simulation processes, which are repeatable for certain types of components. The simulation team captures modeling and process best practices and packages these up into simulation templates that are leveraged by designers using NX. These templates require the designers to provide some input before the template can produce CAE data.
As in the past, designers start by creating a model in NX. However, designers are required to color-code some critical geometry features of the model, such as where there may be narrow blends or where the model will have a fixed constraint. When the designer is ready to analyze part performance, he/she applies a finite element method (FEM) template that automates the creation of the FE mesh based on a set of rules in the template. This is governed by the color-coding of geometry features to ensure a good quality mesh.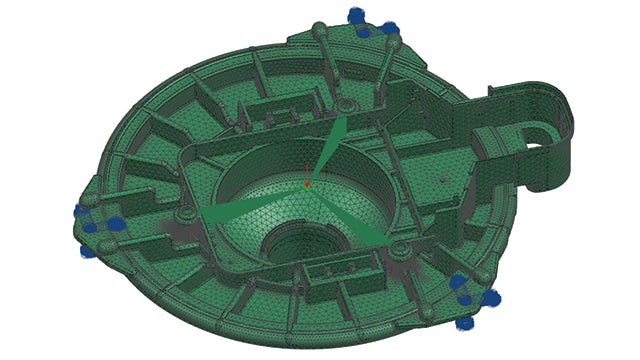 Complete simulation model with loads and boundary conditions defined from SIM template.
Next, the designer applies the sim template, which also uses the color-coding of geometry features to set up the appropriate boundary conditions and required simulation parameters.
Then the designer simply runs the simulation model and can view the results. Based on the results, the designer might make geometry changes to reduce stress or improve other aspects of performance, and then rapidly rerun the simulation templates and analyses to confirm results. Subsequent analysis iterations go even faster since the model is already color-coded so the designer doesn't need to do any additional work.
"This is a major advantage of the NX CAD and Simcenter 3D integrated process," says Kondo. The color-coded information is part of the modeling feature history, allowing the designer to choose to suppress it when doing design work. When the designer is ready to run the simulation, he/she can reverse the suppression of the color-coding features. "This makes it very easy for the designers to understand and re-use the color-code information," Kondo continues.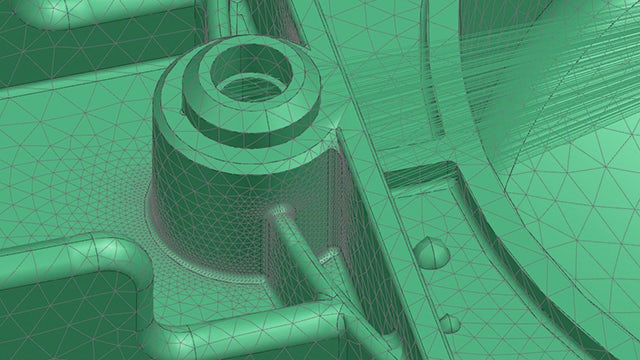 FE mesh created from FEM template based on color-coding rules.
Extending the integrated process
The Simcenter 3D and NX integrated process can also be applied to assemblies. An early test involved more than 30 components in an assembly. The goal was to prepare the models and perform linearstatic analysis. Because each component of the assembly has color-coded geometry features, the total number in an assembly can be quite large. Even though the geometry models are large, the simulation templates accurately set up the mesh, boundary conditions and parameters across the entire assembly based on the color-coding. This provides a benefit of scale when using the templates.
Overall, DENSO found significant advantages in using a semiautomated template system to guide designers in preparing models for basic simulation and analysis. Designers only have to set the color-coding once, then it is available for as many simulations as needed. The color-coded sections are areas where the analyst would have in the past been required to manually edit some settings when creating a simulation model. Now that all these details are captured and automated by the template, the greater the amount of color-coding in a model represents more potential time savings for that model compared to the original process. "The larger the number of color settings, the greater the reduction in work hours," notes Kondo.
DENSO estimates the average time for analysis was reduced up to 80 percent by using the integrated process. Reducing file sharing and other communications between departments meant decreasing human error. The company also noticed the integrated process led to increased quality because design problems are identified earlier and can be corrected before the project advances.
"By using the NX CAD and Simcenter 3D integrated process and CAE template, we reduced the time spent for CAE analysis by up to 80 percent," says Kondo.
Looking ahead to simulation data management
Looking ahead, DENSO is working on extending the use of the integrated process into data and lifecycle management. DENSO uses Teamcenter® software, which is also part of the Siemens Xcelerator business platform, for all design data management. Before adopting the integrated process, the master model was stored in Teamcenter, but analysts were working outside Teamcenter using a separate storage and management system. In this system, the CAD data inside simulation and the simulation data itself were not being tracked.
"This process has two main issues," Kondo continues. "It takes time and effort to export and import the CAD data from Teamcenter." Analysts need to make sure they are using the right geometry files for their simulations. Data related to CAD variant needs to be tracked manually. If team members change, it is often necessary to start over and create a new simulation model.
"Because data is managed by individual analysts, new users cannot find the existing CAE data which was created by other analysts," says Kondo. "So the new analyst has to create new CAE data every time when there's an engineering change."
The new proposed workflow is to save all the various data versions – simulation data files and the related templates – in Teamcenter. This eliminates the need to export and import CAD data every time there is an analysis.
Using Teamcenter provides an additional benefit. Model data can be viewed in the JT™ data format, designed for fast viewing without the host software (NX or Simcenter 3D). JT files are small compared to the original data files they represent, sometimes by a factor of 50. This enables team members who are not regular NX or Simcenter 3D users to make quick work of a design review.
DENSO continues to roll out both the NX and Simcenter 3D integrated process and the Teamcenter extension of this workflow. It anticipates continuing to reduce working hours and increase quality that has already been achieved at early adoption sites.