Case Study
Engineering firm fulfills customer requirements flexibly with native data
Degner + Partner uses NX 2Go to flexibly handle project orders in product development and 3D measurement
Degner + Partner
Degner + Partner is an engineering office and apprenticing company with about 20 employees. The firm was founded in 1999, focusing on mechanical engineering, medical technology, aviation and the automotive industry, which they expanded early on to include services in 3D measurement of objects and buildings
https://www.degnerpartner.com/engineering/
Headquarters:

Hofheim, Germany

Products:

NX, Xcelerator Academy

Industry Sector:

Aerospace & defense, Automotive & transportation
Working in the preferred environment
Brothers Armin and Martin Degner have been running an engineering company since 1999, focusing on mechanical engineering, medical technology, aviation and the automotive industry, which they expanded early on to include services in 3D measurement of objects and buildings. From 3D scanning with fringe light or laser to reverse engineering and parametric redesign, including manufacturing drawings, they support customers in many industries, as well as in building information modeling (BIM). The engineers, technicians and technical draftsmen in the development and design department use their wealth of experience to support customers on site, but they also work at 15 internal workstations, each equipped with one of four computer-aided design (CAD) systems.
"This requires not only a large initial investment, but also ongoing costs for upgrades, maintenance and support," says Martin Degner. "But every customer expects our staff to work on their projects in their preferred environment."
Customer commitment due to compatibility
This also applies to the various Siemens AG groups, which have agreed internally to use the leading 3D CAD environment NX™ software and the product lifecycle management (PLM) system Teamcenter® software, which are part of the Siemens Xcelerator business platform of software, hardware and services. Depending on the individual case, native formats contain more information and offer greater benefits than imported models. This was demonstrated when Degner + Partner was commissioned by Siemens' Smart Infrastructure distribution Systems Operations Gas Insulated Switchgear (GIS) to measure components at the Frankfurt, Germany site using product manufacturing information (PMI). The gas-insulated switchgear for medium-voltage power is mainly used in public and industrial energy networks at the primary transmission level to feed energy into distribution networks. The measurement of the plastic parts contained in them is used to evaluate failure and initial samples based on test reports.
"We realized if we received the data in NX, we could save costs for re-engineering, importing and recreating the respective components," reports Philipp Berger, a development engineer in Siemens Development with a focus on plastic parts. Berger and Frank Peter Müller, head of global PLM projects who drives the NX CAD and Teamcenter PLM program at the GIS plants in Frankfurt, Wuxi, China and Goa, India with a total of 750 users, suggested NX 2Go as an innovative solution to Degner + Partner.
"Business partner access for our NX environment would not have paid off in the time-limited project," explains Müller.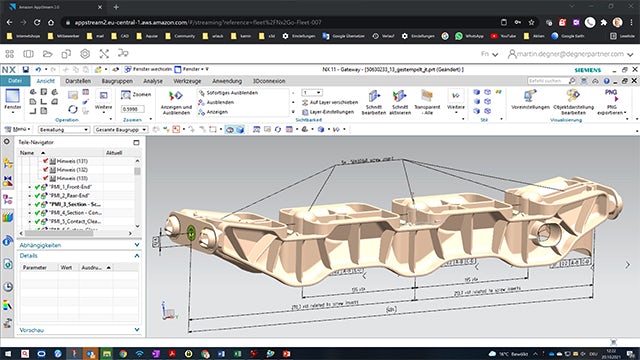 The measurements of a reference part are checked through 3D survey.
NX 2Go on Amazon AppStream
With NX 2Go, Siemens Digital Industries Software offers suppliers of all divisions preconfigured software as a service (SaaS). It can be used as an AppStream from Amazon Web Services (AWS) on any device with a browser, including tablets or even smartphones. An account is created within one to two days; usage is billed by the day and can be scaled as needed. In the NX MACH 1 Product Design package the scope of services includes the functions for creating typical mechanical design models and assemblies, including wizards for stress and motion analysis. In addition, NX Mach 3 product design with product modeling information (PMI) is available as a high-performance solution that includes more advanced functions for assembly management, free-form surface definition and surface analysis. The respective version of NX can be selected on a day-to-day basis so each project can be tailored precisely to the customer's requirements. Likewise, selected add-ons can be added via tokens. Support is provided by the integrated eLearning platform Xcelerator Academy.
Fast, successful implementation
After a presentation in February 2021, Degner + Partner seized the opportunity to target NX users more specifically with NX 2Go. "I took a look at the system myself. The tidy interface of NX 2Go can be customized, and the structure is state-of-the-art," says Martin Degner. "Thanks to the Xcelerator Academy and an experienced NX design engineer, our employees were able to work with it independently within 14 days."
The project involved sheet metal parts for housings, which are manufactured with laser cutting and bending. Not only were employees able to easily design in their home offices, but they could also choose to collaborate with customers online or on-site.
"The optimal infrastructure ensures that we don't notice whether the large files are on the server or in the cloud," says Martin Degner. "With alternating work in the home office, design office and at our customer's site, the cloud was a big advantage for us – you save loading, saving and backing up the extensive data."
Another key benefit is the encrypted data transfer between the end devices and the cloud application. In the meantime, the project has been successfully completed. But Degner + Partner is tapping into new customer groups with the new CAD offering. Other NX users, such as a major automotive manufacturer, are recognizing the benefits of flexible collaboration.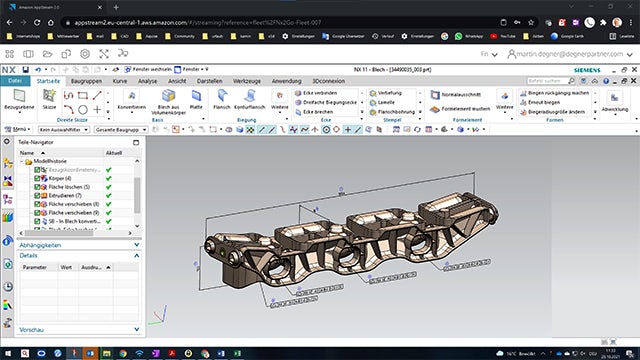 The plastic parts for gas-insulated switchgear for medium-voltage facilities were designed in NX 2Go.
Flexibility as competitive advantage
To ensure that Siemens' suppliers can also satisfy their customers' individual requirements, a support team takes care of their concerns. For Degner + Partner, as an example, BCT Technology's Inspector software was integrated to stamp drawings with release notes – allowing the same numbers to appear in the PMI as in the initial sample inspection reports. At the moment, the team is working on how NX 2Go can be even better connected to customers' Teamcenter installations.
A daily updated selection of the desired NX version, the quick extension of access authorizations and the consistent billing based on usage time are unique selling points of NX 2Go. "This not only saves us costs, but also the entire administrative overhead with updating, care and maintenance of the various hardware and software," Martin Degner says. "While it often takes weeks before we can actually use new software licenses, NX 2Go can be scaled at short notice."
Just a few years ago, Martin Degner could not have imagined the CAD application in the cloud. But technology has developed rapidly and the high costs of a new CAD workstation can hardly be allocated to the project hours of a time-limited collaboration.
"For us as a service provider, I consider NX 2Go to be the optimal solution, combining flexibility and manageable costs," says Martin Degner. "It will definitely be the future for us."
Development and construction of industrial slide scanner prototypes in NX 2Go.