Case Study
Cultivating engineering talent for enterprises
CQU-UC Joint Co-op Institute uses NX to enhance engineering students' technical expertise
CQU-UC Joint Co-op Institute
Established in October 2013, the CQU-UC Joint Co-op Institute leverages Chongqing University's advantages in engineering education and reforms the traditional approach to training engineering talent. They are the first in China to introduce the advanced co-op mode from the University of Cincinnati. All courses are taught in English and adopt the American teaching style.
http://uc.cqu.edu.cn/English/
Headquarters:

Chongqing, China

Products:

NX
China has an abundance of engineering and technical talent. However, with China's rapid industry growth, the demand for industrial enterprises to transform and upgrade has increased. This drives enterprises' need for engineering and technical talent.
Wang Sibao, PhD and postdoctoral fellow of the National University of Singapore, research fellow in the One Hundred Talent Program and doctoral supervisor at Chongqing University, states: "Typically, it would take some time for graduates of the engineering major trained under the traditional mode to adapt to the enterprises' requirements for talent." Sibao notes that an overwhelming majority of students at Chinese universities lack work experience in enterprises and on-site knowledge. This points to the two common problems universities face with adopting the traditional development mode.
On one hand, students under the traditional development mode lack self-knowledge. This approach generally focusses on classroom and adopt-a-science teaching methods. These practices can make students lack a clear understanding of what they have learned and lose the drive to study.
On the other hand, with the engineering development approach, there is minimal access to advanced technologies, latest developments and practical enterprise processes in the industry. Therefore, they lack expertise, sensitivity to business issues and a basic understanding of the development status quo in the industry. To a large extent, graduates have a minimal understanding of enterprise requirements and are unequipped to fully leverage what they have learned to solve practical issues that enterprises face.
The University of Cincinnati pioneered cooperative education (co-op) in 1906. Under the co-op mode, the university works directly with enterprises to offer sufficient internships enabling students to apply what they have learned in enterprise operations. This experience allows them to expand their vision and expertise about the industry from experiential learning. The University of Cincinnati prioritizes helping students understand the cutting-edge technology of the industry and integrating industry-leading industrial software in teaching and experimentation.
This is why the University of Cincinnati partnered with Siemens Digital Industries Software decades ago. They have since incorporated industrial software like NX™ software, Solid Edge® software and Teamcenter® software, which are each a part of the Siemens Xcelerator business platform of software, hardware and services.
Chongqing University has worked with the University of Cincinnati for years on a variety of academic disciplines and with an advantage in engineering education. Around 2012, they introduced the co-op mode from the University of Cincinnati and established the Chongqing University-University of Cincinnati Joint Co-op Institute (CQU-UC Joint Co-op Institute). This offers courses for two undergraduate majors (electrical engineering and automation and machine design manufacturing and automation), commencing the reform of the traditional engineering education model.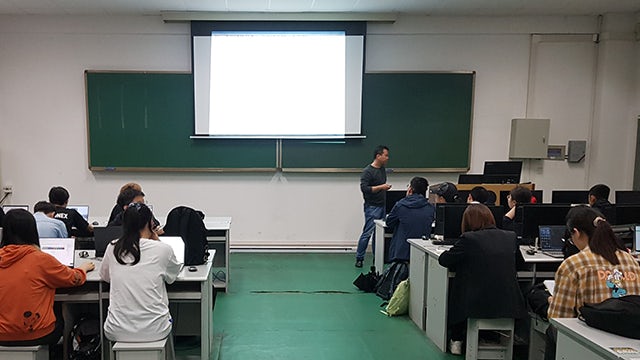 "Our aim is to improve our students' capacity for engaging in engineering work, enable them to have a deeper understanding of the engineering major and help them better understand themselves as early as possible through university-enterprise collaboration," says Zhang Zhiqing, doctoral supervisor of the College of Materials Science and Engineering at Chongqing University and dean of the CQU-UC Joint Co-op Institute.
The CQU-UC Joint Co-op Institute began enrolling students in 2013. The institute implements a five-year education system, which involves spending the first four years at Chongqing University and the University of Cincinnati for the fifth year. "In the first year, which is divided into two semesters, our students will receive the same education as one from a common university. However, from the second to fourth years, there will be fundamental changes," Zhiqing explains. At the CQU-UC Joint Co-op Institute, a year is divided into three, four-month-long semesters from the second to fourth years.
In addition to introducing the co-op mode, the CQU-UC Joint Co-op Institute also began working with Siemens to integrate industrial software into school learning for the first year and four semesters. Currently, the engineering design graphics course teachers use NX for over 100 students. The institute also plans to use industrial software from Siemens to teach courses like the heat transfer theory, kinematics and dynamics and the statics and particle dynamics. Approximately 400 students will be taught the relevant courses each year and will be able to use the software after the class is completed.
"By incorporating advanced industrial software into our course teaching, we have not only innovated our course teaching, but also solved the shortage of teaching resources. More importantly, it has played a very positive role in both upgrading our teachers' knowledge reserve and strengthening our students' engineering capabilities," says Zhiqing. "The training aims to solve engineering issues. By enabling our students to get a hold of the latest, cutting-edge industry software, we help them understand the most advanced tools commonly employed in the industry and the software that enterprises are acutely in need of as early as possible. This equips them to solve the practical issues that they may encounter in their future enterprise work and radically changes their engineering capabilities and awareness."
Sibao is teaching the engineering design graphics and manufacturing methods courses and states: "The engineering design graphics course is intended to teach students how to draft parts, assembly and engineering drawings, which is a required skillset for engineering design. It will also develop their basic knowledge of the projection theory and graphics. This course mainly covers geometric elements, point-line-surface-body, sketching, 3D modeling, the three-view drawing projection theory, dimensions and tolerances and so on." Sibao believes the integration between industrial software and course learning enhances students' interest in learning and, by combining dull theories with interesting computer operations, makes it easier for teachers to discover problems students encounter when using the software. It also allows teachers to gain insight into the blind spots and deficiencies in classroom learning.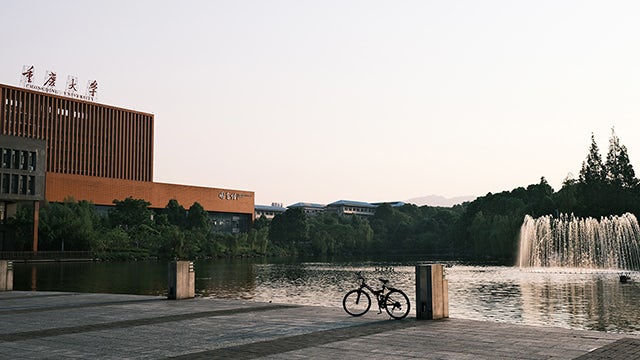 Sibao states: "In teaching the course, we use Siemens NX software to help students visualize physical spaces in their minds, which can significantly improve their imaginative powers and facilitate the course teaching as well." This also applies to the teaching of the manufacturing methods course: "Using NX to teach students about the machining methods makes it easier for them to grasp the relevant concepts and knowledge points and strengthens their understanding with its powerful visualization functionality."
In fact, the most difficult part of training is equipping students with a well-rounded understanding of the enterprise business process. This establishes their ability to meet the business requirements' for using software tools and logical problem-solving skills. Ultimately, the goal is to improve their capabilities and ways of handling industrial enterprise business processes.
The CQU-UC Joint Co-op Institute aims to reform the teaching method, optimize the curriculum with advanced software and tools and integrate industrial software into teaching methods. They hope students can validate and compare issues they will encounter during internships and the business optimization logic embedded in holistic software solutions. This will allow them to develop the core engineering qualities as early as possible.
"As a matter of fact, in many enterprises, one may not necessarily have the chance to get a glimpse of or understand their actual business on the factory floor," says Sibao. "Nowadays, there is something called a digital twin that can collect signals from the processing floor through sensors and then display them in the software through data arrangement. Siemens offers digital twin technology and a variety of industrial software ranging from design software, programmable logic controller (PLC) development, simulation and analysis, to network computer (NC) systems and production planning. This covers all aspects of enterprise digitalization. Students can logically align knowledge about enterprise business processes to form a complete closed loop of business by applying industrial software. They will be able to look at their work and the enterprise-wide business from the perspective of a complete industrial process rather than purely a design point of view. They will have a full understanding of themselves and the industry as qualified engineering talent."
Industry and research institutions at home and abroad have continuously recruited CQU-UC Joint Co-op Institute graduates since its establishment in 2013. Sibao believes graduates of the co-op education can better align engineering expertise with enterprise business operations. They have a clearer understanding of their own value and the role they play and are more equipped to rapidly meet enterprises' requirements. "They are significantly better than graduates from the past in their comprehension and application of knowledge," Sibao explains.
The CQU-UC Joint Co-op Institute speaks highly of the role industrial software plays in the co-op mode. As an educational expert, Zhiqing states: "I believe our collaboration with Siemens Digital Industries Software presents a successful and valuable case study of improving students' expertise and enhancing their capacity for applying specialist software." The CQU-UC Joint Co-op Institute hopes to further advance its collaboration with Siemens and set up a joint research lab at Chongqing University to extend the achievements they've made to other academic disciplines based on the experimental platform and provide more engineering talent for enterprises."