Case Study
Award-winning lens manufacturer uses Solid Edge to meet customer demand for new products
Siemens Digital Industries Software solution helps Cooke Optics manage complex parallel development processes
Cooke Optics
Cooke Optics Limited designs and manufactures camera lenses and has served the film industry for over 100 years.
http://www.cookeoptics.com
Headquarters:

Leicester, United Kingdom

Products:

Solid Edge

Industry Sector:

Electronics, Semiconductor devices
An Oscar for optical innovation
The golden statuette on proud display at its Leicester, England, office illustrates the contribution of Cooke Optics to the film industry. The company has been designing, developing and manufacturing lenses since the late 19th century, and at the 2012 Academy Awards® of Merit for Scientific and Technical, it was recognized for helping to define the look of motion pictures. Famous for the warm, natural "Cooke Look," the lenses also have a reputation for being accurate, reliable and easy to Electronics and semiconductors Cooke Optics Award-winning lens manufacturer uses Solid Edge to meet customer demand for new products maintain. Designed for artistic creativity in various filmmaking scenarios, they ease the technical challenges of shooting a movie. If, for example, a lens iris opens faster, it lets more light into the lens and filming can begin one hour earlier in the morning.
Cooke manufactures a full range of primes and zooms for 35 millimeter (mm), digital and super 16mm cinematography, plus a variety of large-format stills lenses. The first choice of cinematographers around the world, all Cooke lenses are hand-built to advance precision and quality. It is a constant challenge to fulfill the order book while meeting customer demand for new specifications. In particular, customers expect to see innovative developments every spring and fall at the two major film industry fairs.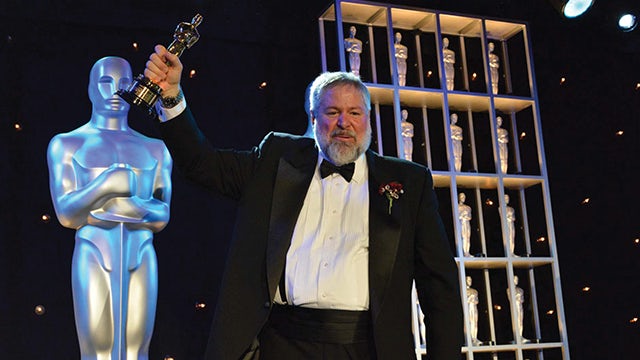 Solid Edge from day one
The present-day company stems from a management buyout of Taylor-Hobson's optical division in 1998. At that point, Solid Edge® software from product lifecycle management (PLM) specialist Siemens Digital Industries Software was first adopted, and since then it has been intrinsic to the development process.
Paul Nettleton, senior designer, explains the task at hand: "The engineering challenge is complicated. Each lens has about 15 different elements. These have slightly different curves that need to be set apart from each other at precise distances. In addition, we are creating complicated profiles to suit the system design."
The manufacture of glass has a longer lead time than the metal work. The Cooke design team has to manage a range of complex parallel processes as it works towards a target deadline for both. Using Solid Edge assists throughout the product development process, delivering accuracy, the agility to switch between 3D and 2D, the ability to use both synchronous technology and ordered environment, and visibility for all involved.
Accuracy to within 20 microns
Once the optical specification is confirmed, the mechanical engineering team has to design the glass to that specification and create the metal casing that holds the lens in position. The team needs to achieve tolerances of less than 20 microns. "At this stage we liaise closely with our optical specialists as we work through potential clashes until we all agree on the design," says Nettleton. "Some of Cooke's components have complex geometries, so there are lots of reference planes and this is where Solid Edge is very helpful with features such as tangents. Calculating the weight of the components and showing their 3D movements all aid the design process."
Choosing the best tool for the job
Cooke designers find that both the synchronous technology and ordered environment capabilities within Solid Edge play an important part. Designer Dave Payne describes synchronous technology as "a super feature."
"I am, for example, really impressed with assembly editing," says Payne. "In one move, I can steal geometry from another model. However, I would definitely use an ordered environment to create a sawtooth pattern in metal or edit a chamfer. What I might do is have a base feature that is ordered and then move into synchronous technology, for example, when I receive IGES files for the glass design to create the radius. Using the two approaches together means you have right tools for any job."
Moving smoothly between 2D and 3D
One of the huge benefits of Solid Edge is the ease with which everyone can move between 2D and 3D.
"With a new design, we start with 2D, turn it into 3D and then move back to 2D," says Nettleton. "Our designs are so complicated that we cannot simply refer to the 3D models. We use the model for geometry and the drawing for the tolerances. Because I can spend a month on a concept design layout, where not one thing is finalized, I am still heavily reliant on the 2D profile. In fact, much of our work goes on in the 2D environment, and Solid Edge is excellent for that."
Drawings are particularly important to suppliers, for example, when they are programming for coordinate measuring machine (CMM) inspection. Drawings are also crucial at the assembly stage. Staff members do not look at the computeraided design (CAD) model; they rely totally on drawings, and these are so complex that large-format prints have to be made so fine details can be seen properly.
Visibility for all
Steve Pope, engineering manager at Cooke Optics, appreciates the overview that he gains from using Solid Edge. "By viewing CAD models, I can see exactly what is going on and monitor progress," says Pope. "In particular, I can judge timescales, think about tooling design and plan testing. With sectioning I can become very familiar with a design and outline assembly process before we have even brought the metal and glass together."
Cooke shares 3D PDFs with metal suppliers who have a Solid Edge viewer. STEP files are exported from Solid Edge for CMM inspection for quality control.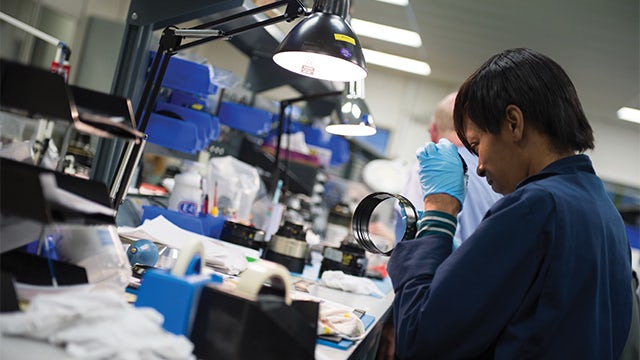 Integrated approach essential
Pope notes that there is no time for serial development; in order to meet targets every process has to overlap.
"We have to confirm the glass design, so that we can start manufacturing it while we are still designing metal," says Pope. "With Solid Edge, we have the confidence to do this, which means that we keep our lead time as tight as it can possibly be. Likewise, I have to begin designing the tooling when we still do not know about interfaces. From start to finish, there is extensive reworking and everything has to come together perfectly when it's all ready. This requires a totally integrated approach for design and development, and that's what we have with Solid Edge."
Each development project takes about one year, yet the company continues to bring out a new design every six months. Recent improvements include anamorphic lenses that allow widescreen shooting on standard 35mm film, illuminated focus rings and the use of distinctive black anodized aluminum coating. Every design evolves from a previous one, and is built on the digital data created using Solid Edge via the skill of Cooke's designers.
"Although we have to be speedy, efficient and precise, we do not have major issues," concludes Pope. "That is because we can anticipate and plan using Solid Edge; it is part of our success story."