Case Study
Simcenter solutions help simulation consulting specialists predict performance at a systems level
Simcenter Flomaster helps clients extend system simulation capabilities
Computational Sciences Experts Group
Computational Sciences Experts Group (CSEG) is a software and engineering consulting company serving clients in the automotive and aerospace industries.
https://www.cseg.us/
Headquarters:

Ann Arbor, Michigan, United States

Products:

Simcenter Products, Simcenter Flomaster

Industry Sector:

Aerospace & defense, Automotive & transportation
Extending clients' predictive analytics capabilities
So many products today are either systems or systems of systems that predicting operating performance at a systems level is important upfront of any design process. Unfortunately, predicting performance at a systems level is elusive for many compa-nies. Computational Sciences Experts Group (CSEG) is a software and engineering consulting company that helps companies develop predictive analytical capabilities for their product design cycles.
Founded in 2011, CSEG couples commercial off-the-shelf (COTS) engineering system simulation software with highly experienced industry professionals to provide unique and customized services to automotive and aerospace OEMs. CSEG's engineers have, on average, 15 years of advanced modeling and simulation experience, and are considered experts in those fields. The company's engineers regularly publish technical papers and present at industry conferences. They have at their disposal an array of leading simulation software solutions from Dassault, ANSYS, Gamma Technologies, The Mathworks, AVL and Siemens Digital Industries Software.
"We specialize in full vehicle-level system simulation models – thermo-fluid systems, multibody dynamics, control systems and external aerodynamics," explains Sudhi Uppuluri, technical director and co-founder at CSEG. "We aim to work with clients to help them leapfrog their existing simulation capabilities, typically from analyst users to provide 'power user' capabilities that add high value and functionality."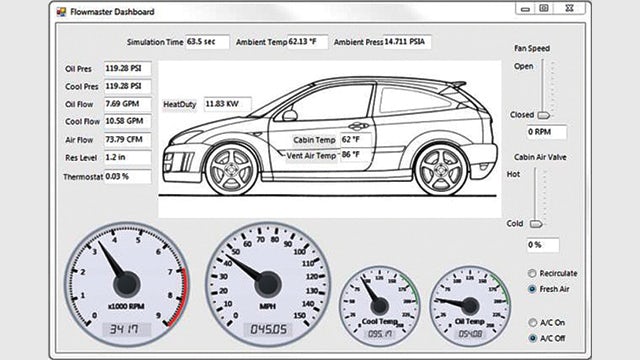 Thermo-fluid systems simulation with Simcenter Flomaster
For thermo-fluid systems simulation, CSEG relies on Simcenter™ Flomaster™ software. The software enables engineers to virtually simulate and optimize fluid flows to ensure efficient performance. Executed early in the development cycle, the simulations can reduce costs and time to market by addressing issues when changes can be most effective.
"By using a 1D model we can look at 500 studies typically in the same amount of elapsed time it takes to create and run a single 3D simulation model," Uppuluri says. "We look at full sweeps in our analyses to ask questions like 'is there enough flow at minimum idle time?' We create good detailed thermal models in Simcenter Flomaster and drive simulations like they should be. We find that physics is still king in 1D component modeling and codes with validated good physics inside them are the best to use."
Why Simcenter Flomaster?
CSEG selected Simcenter Flomaster for several reasons. "Simcenter Flomaster was the pioneer in the 1D thermo-fluid system simulation space 25 years ago and is still a strong player today," Uppuluri says. "It has one of the largest libraries of components and fluids in the business – the number of bends, junctions, orifices, et cetera. This really helps in geometry-based networks. The solver is also more robust than its competitors and has been validated to show a high degree of accuracy over a wide range of applications."
1D and 3D simulation
Uppuluri commends the value of 1D simulation in comparison and conjunction with 3D computational fluid dynamics (CFD) simulations. "The real world is three-dimensional, spatially," he says. "However, we put a man on the moon with 1D engineering correlations; we designed the Boeing 747 and nuclear power stations with 1D approaches and these products and processes are still being used effectively today. We've had 1D engineering correlations for over 100 years; they are still useful tools for representing 3D flows. CFD may be sexy and colorful but 1D thermo-fluid system simulation still has its uses. I would add that 1D systems modeling can be an art in terms of the user making judgments as to levels of abstraction to simulate, and in particular the deconstruction of a 3D object into constituent 1D components. I think it's ideal to have both 1D and 3D computer-aided engineering analysis tools under the same group of simulation engineers because they intuitively should fit together in a complementary way as different tools in your toolbox."
Emerging applications of 1D systems simulation
One of the key emerging applications for 1D system simulation is the modeling of hybrid and electrified vehicles. Uppuluri says that conventional vehicle powertrain heat transfer is relatively simple by comparison. "If you look at a conventional internal combustion engine car, it generates 30 to 40 kilowatts and has to operate at 120° Celsius. A hybrid battery car generates three to five kilowatts and operates at 20 to 30°. Electric motors operate at 1 kilowatt and 50°, and power electronics generates 0.1 kilowatt and operates at 60°. All have cooling problems. The hybrid battery in particular has to be cooled by a refrigerant to operate correctly. The high complexity involved with hybrid cars makes them more suitable to 1D simulation. 1D simulation is a very powerful technique for assessing the interaction between one variable and another quickly."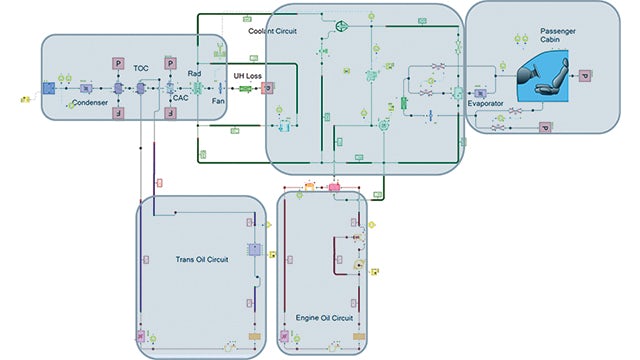 Assessing the future of system simulation
With growing complexity, faster innovation and tighter regulation, the automotive industry presents great challenges and opportunities for system simulation technology. "Around the world governments are imposing stricter vehicle drive cycles to cope with emissions targets and fuel efficiency demands," Uppuluri says. "We will see electric cars with 40 to 50 miles average daily commutes to work. We will also see answers to practical questions in the automotive industry like 'distance-to-empty' for a given electric battery on a hot or cold day. We will see embedded software more in cars and feed-forward loops. We will see more kinetic energy recovery systems in cars and the need to simulate them. Systems simulation will be touching control systems more and more in multiple industries. I believe we will see model-in- the-loop simulations in five years versus hardware-in-the-loop today. And we will also see a drive for more real-time systems simulation."