Case Study
Improving the visual appeal of quality testing machinery
Solid Edge helps Complete Precision Technology revolutionize test equipment designs and reduce cycle time by one-third
Complete Precision Technology
Complete Precision Technology Co., Ltd. specializes in the research and manufacturing of measuring equipment. Its main products are 2D/3D measuring instruments, tool microscopes, shape-testing instruments and various testing peripherals.
http://www.measuring.com.tw
Headquarters:

New Taipei City, Taiwan

Products:

Solid Edge

Industry Sector:

Industrial machinery
Testing enables greater precision and higher quality
Founded in 1978 and headquartered in New Taipei City, Taiwan, Complete Precision Technology Co., Ltd. (CPT) specializes in research, development and manufacturing of measuring equipment. The company operates service centers in mainland China, Southeast Asia and South Korea. CPT's main products are 2D/3D measuring instruments, tool microscopes, shape-testing instruments and various testing peripherals. CPT serves customers in a wide range of industries, including electronics, semiconductor, machinery, photoelectronics, printed circuit boards, and others.
The parts and components of most mechanical, automotive or electronic products must be measured and tested before sample preparation and mass production. Measuring and testing enable precise shapes and dimensions so that they can accurately fit in the subsequent assembly process, and reduce scrap and rework due to dimensional deviations. No matter how slight, deviations waste money and can delay delivery, even causing credit crises for supplier companies if deviations are serious.
Part and product shape designs are now becoming more and more diversified. Without the quality assurance provided by appropriate test equipment, it is very difficult for producers to begin mass production. This is especially true for the iron parts of mechanisms, which are becoming more and more common. It is impossible to discover dimensional problems or other abnormalities without imaging or contact probing with 2D and 3D integrated test equipment. This growing need is fulfilled by CPT and other test equipment manufacturers.
In 2014, CPT successfully introduced Solid Edge® software from product lifecycle management (PLM) specialist Siemens Digital Industries Software as its product design tool. CPT relied on expert assistance from the team at CADEX Technology, a Siemens Digital Industries Software solution partner, for system implementation and support. Compared to the company's former use of Pro/ENGINEER® software, Solid Edge has thoroughly improved the styling functionality and user-friendliness of design, making it much easier for CPT to provide customers with test devices that meet their quality requirements.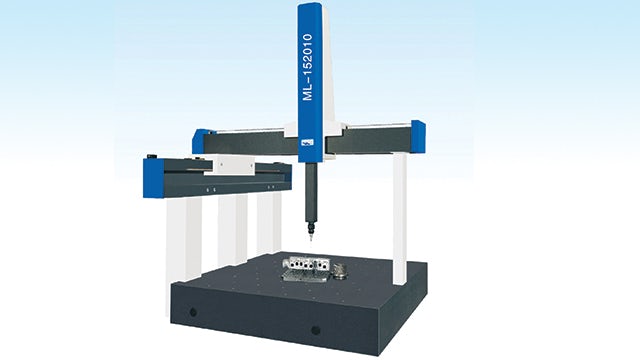 Customized designs win more orders; local services enable timely response
The competitive advantages of CPT are evident in the company's customized designs and local services. The company offers highly reliable and cheaper-than-import test solutions, specifically designed in extremely short time frames for the new products, components or processes described in customers' plans. In addition, CPT also provides local services that are valued by many high-tech companies in Taiwan Province.
High inventory turnover is typical in the high-tech industries in Taiwan Province, but product testing is still essential. With a full understanding of the importance of testing, CPT's technical service team responds quickly to service calls. "Customers no longer need to worry that high turnover will affect their testing quality," says Lin Hongyuan, General Manager at CPT. The speed and intensity of CPT's local service gives customers confidence and makes them willing to freely endorse CPT's products. The resulting publicity significantly increases CPT's business opportunities."
Significantly improved styling functionality cuts time-to-market by one-third
With Solid Edge, CPT design engineers benefit from an intuitive and easy-to-use interface, which streamlines dimensioning of parts, accelerates drawing creation and enables the easy generation of complex surface styles. "In this era when styling is important, testing instruments or devices need attractive styles or lines so as not to become boring for customers," says Lin.
The changes to the design process brought about by the use of Solid Edge are evident in the evolution of sheet metal component designs. "Traditionally, the outer covers of machines usually are dull rectangles," Lin explains, "but Solid Edge enables us to make arcs or trimmed angles that look vivid and fashionable. These arcs and angles, supported by metal- or fiberglass-reinforced plastic forming methods, provide more options. Now, it is indeed much easier to increase the appeal of test machines through design."
When developing and manufacturing new testing machines, CPT has reduced the time from design to machining and assembly by one-third. Using Solid Edge, cycle time has been reduced from three months to 60 days for small instruments, and from six months to 90 days for large machines. The reduced cycle time enables CPT to more rapidly respond to new business opportunities.
Reduced cycle times for customized products in emerging fields
In recent years, CPT's customers have become more and more diversified, covering a widening range of fields from liquid-crystal display (LCD) panels, smart phone shells and plastic molds, to automotive electronic parts and optical fiber materials. Finding suitable test devices for these emerging fields is difficult, so CPT has many opportunities to offer its custom designs.
For example, CPT's test equipment has considerably improved the test efficiency of an engine hood manufacturer from 80 engine hoods per day to 800, realizing a 1,000 percent increase in test efficiency. "Our customer delivers up to 40,000 engine hoods each year," says Lin. "Our test equipment requires only one-tenth of the time to deliver parts that meet safety standards. This efficiency produces tremendous benefits."
CPT also successfully customized a new measuring instrument to assist a customer in testing fiber optic conductor cables. In this project, CPT leveraged the streamlined tubing and wiring design capabilities of Solid Edge. "With Solid Edge, it is easy to draw and trim lines," Lin says. "Our next step will be to add plug-in tubing and wiring design software programs to develop cost-effective and visually pleasing wire test devices."
Aesthetically attractive, easy-to-use test devices
As a test equipment supplier, CPT has significant accountability for the quality of finished products. "When a commodity is found to be defective, the consumer usually complains to the brand owner, who will forward the complaint to the upstream parts supplier, and the parts supplier will check the operational precision and accuracy of the test equipment," Lin explains. "In other words, we are upstream of the whole supply chain, and shoulder the responsibility as the first quality controller. We are playing a very important role."
CPT continuously launches original designs to provide test devices with brand-new styles and user-friendly features. In addition, CPT emphasizes the ease-of-use of test devices and development of reliable designs to reduce operational barriers and errors for quality assurance workers. CPT management notes that the intent is to improve customers' product assembly efficiency, much as Solid Edge has helped to improve the company's product design efficiency.