Case Study
NX proves to be a popular choice for design and construction firm
Using Siemens Digital Industries Software solution enables Co. Me.A. to achieve maximum design flexibility
Co.Me.A.
Co.Me.A. specializes in the design and construction of mechanical equipment for the machining and dimensional control of mechanical parts.
http://www.comea.biz/en/homepage
Headquarters:

Molfetta, Bari, Italy

Products:

NX

Industry Sector:

Industrial machinery
Requesting NX
In the world of business it is often said, if not always sincerely meant, that "the customer is always right."Co.Me.A. srl, a firm that specializes in the design and construction of mechanical equipment for the machining and dimensional control of mechanical parts, would certainly agree with that sentiment.
"We selected NX software and launched an implementation project in 2009," says Pantaleo Petruzzella, the quality manager at Co.Me.A. "The decision was a result of a request from a customer who was already using NX and asked to receive our graphical materials in the same format. Then a second customer also requested that we provide models in 3D made with NX.
"We don't underestimate the importance and reputation of a brand like Siemens Digital Industries Software and the value of its portfolio in the industrial domain and beyond. We had no doubt when we made our choice, and results have proved us right."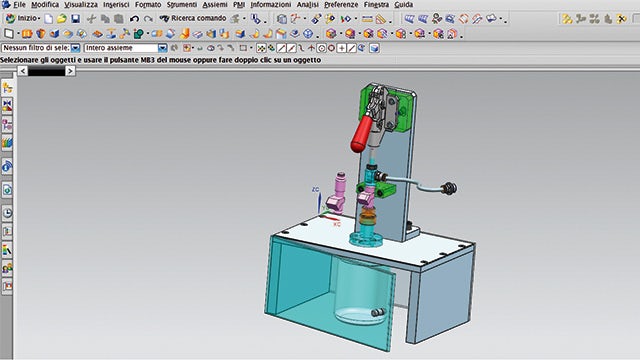 Providing advanced technology
Co.Me.A. has created an advanced organization for design and mechanical construction, leveraging a highly skilled staff, modern equipment and advanced generation information technology (IT) systems to manage all data for order execution.
Co.Me.A. handles everything from 2D drawings to 3D modeling; single components based on customer drawings to the delivery of entire mechanical equipment; and individual modifications to extensive machinery upgrades. Based in Molfetta, near Bari, Italy, Co.Me.A. provides its customers with leading-edge products and solutions tailored to their specific needs.
"Our mission is to provide advanced technology for the mechanical industry," says Petruzzella. "Whether it's components made to customer drawings or entire production lines designed and tested to meet the requirements of our customers, we develop advanced equipment across manufacturing industries, including aerospace, shipbuilding, automotive, and food and beverage. We approach every new project as an important challenge."
Meeting requirements
Customers turn to Co.Me.A. to create a new manufacturing line or to develop an upgrade to an existing line. The scope of supply can range from a single component designed by the customer, a spare part, a solution to a specific issue, or a complex mechanical concept.
"Our focus of operation is mechanical engineering," Petruzzella says. "We especially concentrate on the production of auxiliary equipment for manufacturing lines in the aerospace and automotive industries, such as handling trays, supporting equipment, tilting devices, workpiece pallets, test benches, small presses, spare parts for spindles and testing equipment."
Co.Me.A.'s engineering department works directly with the customer to identify a solution to a specific problem. As a design is being developed, customer requirements often change, necessitating the utmost flexibility to efficiently handle all requests.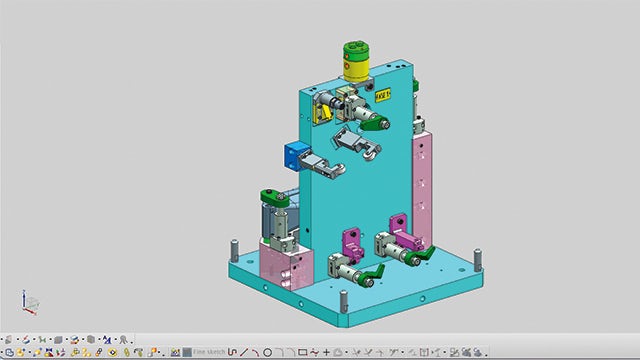 Recognizing benefits
The company used a conventional 2D drawing application for many years prior to looking for 3D software that could deliver an accurate and realistic representation of the final product.
"I joined the company in 1997, and our requirements have evolved over the years from several points of view," says Petruzzella. "On one hand, more and more customers ask to receive projects in 3D. On the other, we have developed the ability to deliver a visual representation of a line's expansion or modification project that is as clear as possible.
"We recognize the advanced options and key benefits that NX offers for product development, including exceptional design flexibility, a significantly faster change management process and great graphical representations that promote customer collaboration," says Petrezulla. "It's made a real difference for us in terms of customer delight and competitive advantage. Looking ahead, we would like to leverage the 3D model directly on the plant floor, expanding the scope of functionality to CAD (computer-aided design) and CAM (computer-aided manufacturing), so that we can use the solid model directly for machining operations."
Partnering for success
Auxo is the Siemens Digital Industries Software partner that supported Co.Me.A.'s implementation of NX™ software. Based in Terlizzi (Bari), Auxo is a dynamic company with a skilled team that is adept at problem-solving and strongly focused on achieving continuous improvement for its customers. Auxo's strengths include mechanical design, the application of European product directives and European Commission (EC) marking, machine safety and information and communication technology (ICT).
"Originally, Auxo was selected mainly because of how closely they were located to us," says Petruzzella. "However, the experience and expertise of Auxo's engineers has strengthened our partnership. When you adopt a sophisticated and powerful solution like NX, designers must figure out the working concept and layout in their mind. Auxo has been very supportive in this respect, providing implementation, training and problem-solving services. Auxo provides very effective support."